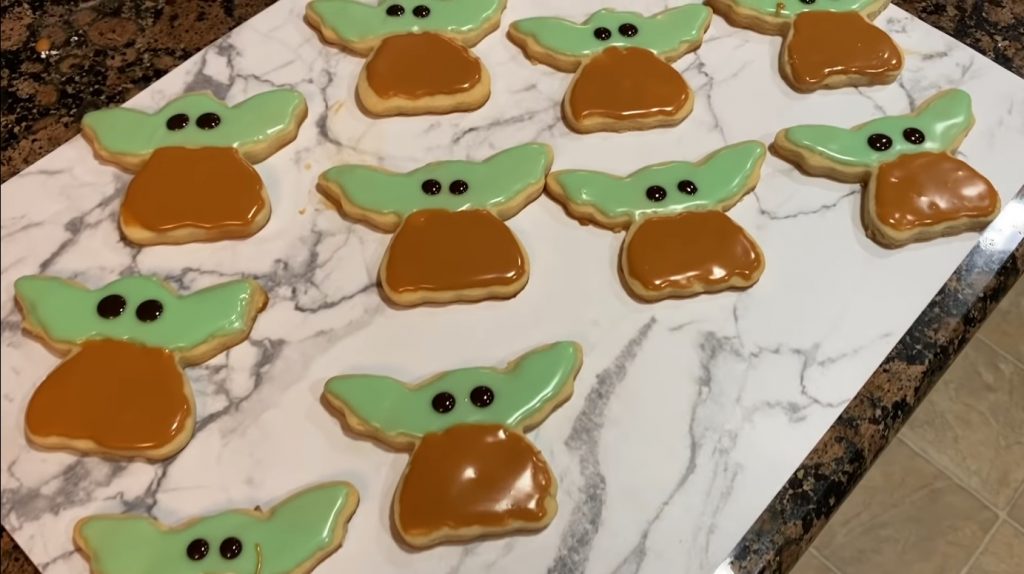 Baby Yoda Cookies Recipe
How To Make Baby Yoda Cookies
These baby Yoda cookies will surely spark joy with their cuteness! Each sugar cookie is decorated with a buttercream base and royal icing.
Ingredients
For Sugar Cookies:
¾

cup

unsalted butter,

at room temperature

¾

cup

granulated sugar

1

egg,

large

2

tsp

vanilla extract

2¼

cups

all-purpose flour

½

tsp

baking powder

¼

tsp

salt
For Buttercream Base:
1

cup

unsalted butter,

at room temperature

4½

cups

powdered sugard

¼

tsp

salt

2

tbsp

heavy cream,

or whipping cream

½

tbsp

vanilla extract
For Royal Icing:
3

tbsp

meringue powder

4

cups

powdered sugar

6

tbsp

water,

at room temperature

2

tsp

vanilla extract

water,

additional, to bring to flooding consistency
Instructions
Get started with the dough and have the ingredients at room temperature for a perfectly smooth consistency.

Cream the butter and sugar until well combined. Beat in egg and add vanilla, baking powder, and salt. Add flour in ½ cup increments to avoid a kitchen-dust-storm.

Once the dough is complete, generously flour the working surface and roll out the cookie dough to ¼-inch thick. Use a conventional Christmas angel cookie cutter to create the initial cut out, then transfer to a parchment-lined baking sheet. Now it's time for the dramatic battle scene, take a butter knife and chop off the angel's head and smooth the edges to form a mound.

Freeze cookie dough for at least 15 minutes. Pop it into the oven at 350 degrees F and bake for 10 minutes.
Buttercream Base:
While the cookies bake, start on the frosting options. Give each cookie a thin base layer of buttercream to build the canvas.
Royal Icing:
Beat the powdered sugar, water, and meringue powder on medium-high speed for about 3 minutes when stiff peaks start to form. Add the first 6 tablespoons of water to get the piping icing ready.

Set aside a ¼ cup of piping icing for each major, for outline on the cookie. Place the piping icing into a plastic sandwich bag.

Add a ½ tablespoon of water at a time until drawing a figure 8 in the frosting with a knife, which takes exactly 8 seconds to disappear back into the frosting is possible.

Once desired consistency is reached, partition the frosting into plastic sandwich bags and create the Yoda-green and space towel-brown colors with a gel coloring pack. Create a single bag with 1 tablespoon of flooding icing to make cute black eyes and keep at least 1 teaspoon of white flooding icing for the detailed specks on the eyes.

Start with the piping the outline of the Baby Yoda, which will likely set in about 5 to 10 minutes. By the time Yoda's are outlined, fill them in with the color flood icing to match. The flood icing may take longer to set.

Once the head and body of the cookie are filled out, return to complete the finishing touches. Using the small bag of black icing drop a small dot for each eye. Finish off each eye with a few tiny white specks placed with a toothpick dipped back into the original white frosting bowl.

Serve and enjoy.