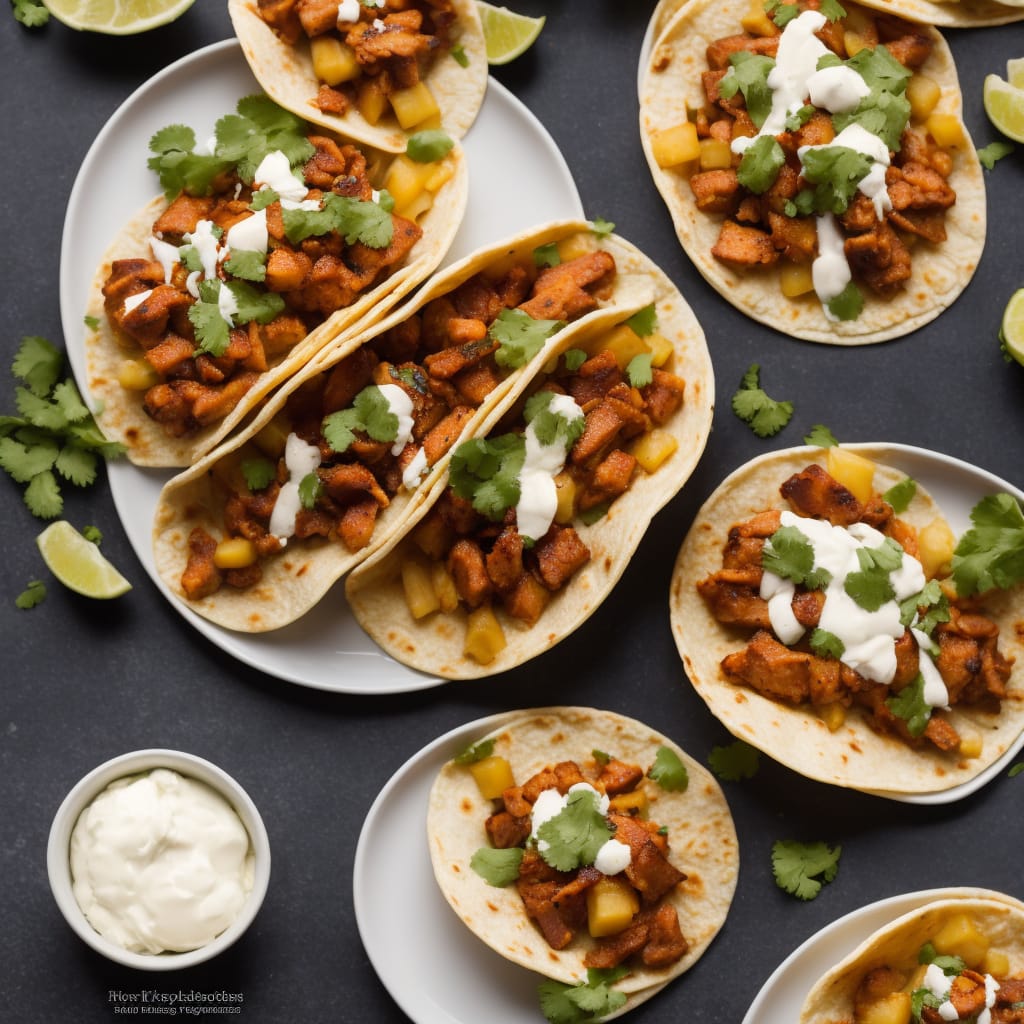 Home-style Tacos al Pastor (Chile and Pineapple Pork Tacos) Recipe
How To Make Home-style Tacos al Pastor (Chile and Pineapple Pork Tacos)
Spice up your meals with these easy-to-follow Mexican recipes! Explore a variety of dishes and new flavors to try out for your next big meals. We have it all from the classic tacos, crunchy empanadas, freshly made margaritas, and more. These exciting Mexican recipes are sure to please any crowd. So try them out for your next big gathering, or simply cook them up for when you're craving some Mexican cuisine.
Ingredients
1 pound pork shoulder, thinly sliced
3 dried ancho chilies
1 dried guajillo chili
1 cup pineapple juice
1/4 cup white vinegar
3 cloves garlic
1 teaspoon dried oregano
1 teaspoon ground cumin
1 teaspoon smoked paprika
1 teaspoon salt
1/2 teaspoon black pepper
1/2 cup diced fresh pineapple
1/4 cup finely chopped onion
1/4 cup chopped fresh cilantro
1 lime, cut into wedges
8 small corn tortillas
Vegetable oil, for cooking
Instructions
In a bowl, combine the ancho chilies, guajillo chili, pineapple juice, vinegar, garlic, oregano, cumin, paprika, salt, and pepper. Let the mixture sit for 10 minutes to soften the chilies.

Transfer the chili mixture to a blender and blend until smooth.

Place the thinly sliced pork in a resealable plastic bag and pour the marinade over it. Ensure the pork is evenly coated. Marinate in the refrigerator for at least 4 hours, or overnight for best results.

Preheat a grill or grill pan over medium-high heat. Remove the pork from the marinade, shaking off any excess, and grill for 4-5 minutes on each side, until cooked through and slightly charred. Remove from the heat and let it rest for a few minutes before slicing into smaller pieces.

In a separate pan, heat a tablespoon of vegetable oil over medium heat. Add the diced pineapple and onion, and cook until softened and slightly caramelized, about 5 minutes.

Warm the corn tortillas in a dry pan or over a gas stove flame until pliable.

To assemble the tacos, place a few pieces of the grilled pork on each warm tortilla. Top with the caramelized pineapple and onion mixture. Garnish with chopped cilantro and squeeze fresh lime juice over each taco.

Serve the Tacos al Pastor with additional lime wedges on the side.
Nutrition
Calories :

395kcal

Total Fat :

13g

Saturated Fat :

4g

Cholesterol :

66mg

Sodium :

485mg

Total Carbohydrates :

42g

Dietary Fiber :

7g

Sugar :

11g

Protein :

29g