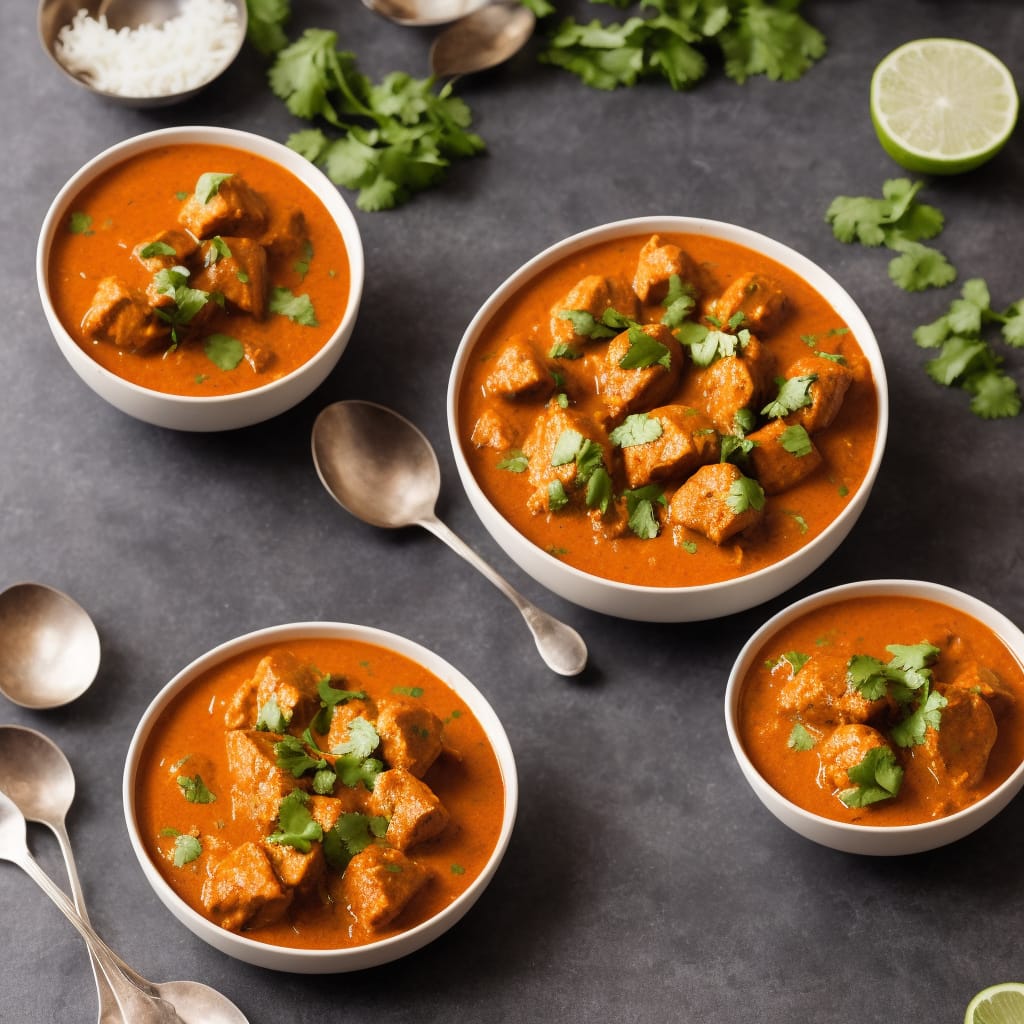 Indian Chicken Tikka Masala Recipe
How To Make Indian Chicken Tikka Masala Recipe
Take a quick trip to South Asia with our delicious Indian recipes! Make your own take on curry, biryani, and other famous Indian dishes with these recipes. Have fun cooking spicy and tangy Indian recipes like tikka masala or tandoori. We have all kinds of Indian curry recipes and even desserts too! So, what are you waiting for? Let's get cooking! 
Ingredients
500g boneless chicken, cut into cubes
1 cup plain yogurt
2 tbsp tikka masala paste
2 tbsp vegetable oil
1 large onion, finely chopped
2 cloves of garlic, minced
1-inch piece of ginger, grated
1 can (400g) diced tomatoes
1 tsp garam masala
1 tsp cumin powder
1 tsp coriander powder
1 tsp turmeric powder
1/2 tsp red chili powder
Salt to taste
1/4 cup heavy cream
Fresh cilantro, chopped for garnish
Instructions
In a bowl, mix the yogurt and tikka masala paste. Add the chicken cubes and marinate for at least 1 hour or overnight in the refrigerator.

Preheat the oven to 400°F (200°C). Place the marinated chicken on a baking sheet and bake for 15-20 minutes or until cooked through.

Heat oil in a large pan over medium heat. Add the chopped onion, minced garlic, and grated ginger. Cook until the onions are soft and golden.

Add the diced tomatoes and cook for another 5 minutes. Then, blend the mixture until smooth using a blender or immersion blender.

Return the sauce to the pan and add the garam masala, cumin powder, coriander powder, turmeric powder, red chili powder, and salt. Cook for 5 minutes.

Add the baked chicken to the sauce and simmer for 10 minutes, allowing the flavors to meld together.

Stir in the heavy cream and cook for an additional 2 minutes.

Serve the Indian Chicken Tikka Masala hot, garnished with fresh cilantro. Serve with steamed rice or naan bread.
Nutrition
Calories :

310kcal

Total Fat :

16g

Saturated Fat :

4g

Cholesterol :

90mg

Sodium :

610mg

Total Carbohydrates :

11g

Dietary Fiber :

2g

Sugar :

7g

Protein :

30g