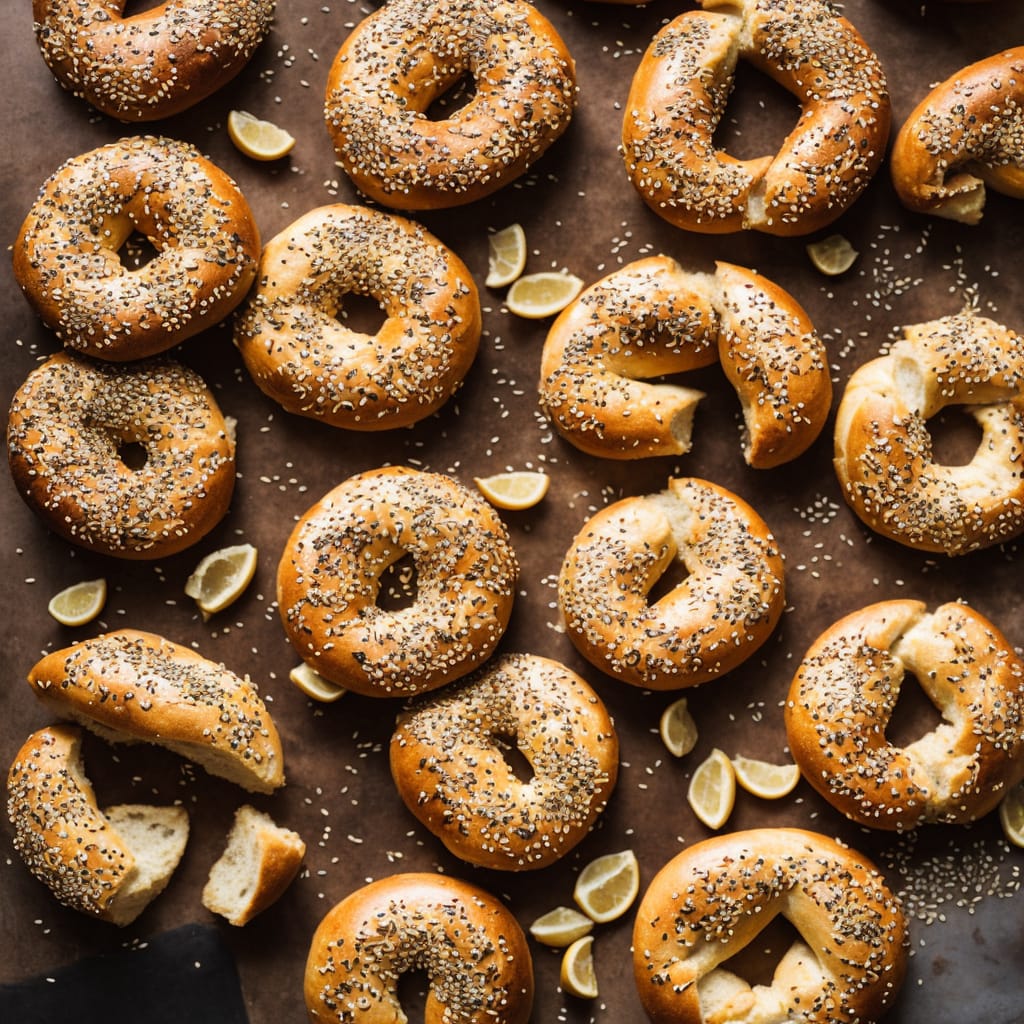 Real Homemade Bagels Recipe
How To Make Real Homemade Bagels
What's a better way to start the day than with our delicious bagel recipes? This chewy Polish bread is not only tasty but versatile too. You can have bagels for breakfast, or for lunch and dinner as well! We have some bagel recipes that use it as a sandwich, or even as chips. So, what are you waiting for? Try our bagel recipes now!
Ingredients
2 cups all-purpose flour
2 teaspoons active dry yeast
1 tablespoon sugar
1 teaspoon salt
1 cup warm water
1 egg, beaten (for egg wash)
Toppings of your choice (poppy seeds, sesame seeds, etc.)
Instructions
In a large mixing bowl, combine the flour, yeast, sugar, and salt.

Gradually add the warm water and mix until the dough comes together.

Knead the dough on a lightly floured surface for about 5 minutes until it becomes smooth and elastic.

Place the dough in a greased bowl, cover with a clean kitchen towel, and let it rise for about 1 hour or until doubled in size.

Preheat the oven to 400°F (200°C) and line a baking sheet with parchment paper.

Punch down the dough and divide it into 4 equal parts. Roll each part into a ball and use your thumb to make a hole in the center, stretching it slightly to form the bagel shape.

Place the bagels on the prepared baking sheet and let them rest for about 10 minutes.

Fill a large pot with water and bring it to a boil. Carefully drop the bagels into the boiling water, a few at a time, and cook for about 1 minute on each side.

Remove the boiled bagels from the water using a slotted spoon and place them back on the baking sheet.

Brush the tops of the bagels with the beaten egg wash and sprinkle your desired toppings.

Bake the bagels in the preheated oven for about 20-25 minutes or until they turn golden brown.

Remove from the oven and let the bagels cool on a wire rack before serving.
Nutrition
Calories :

260kcal

Total Fat :

1g

Saturated Fat :

0g

Cholesterol :

47mg

Sodium :

586mg

Total Carbohydrates :

52g

Dietary Fiber :

2g

Sugar :

2g

Protein :

9g