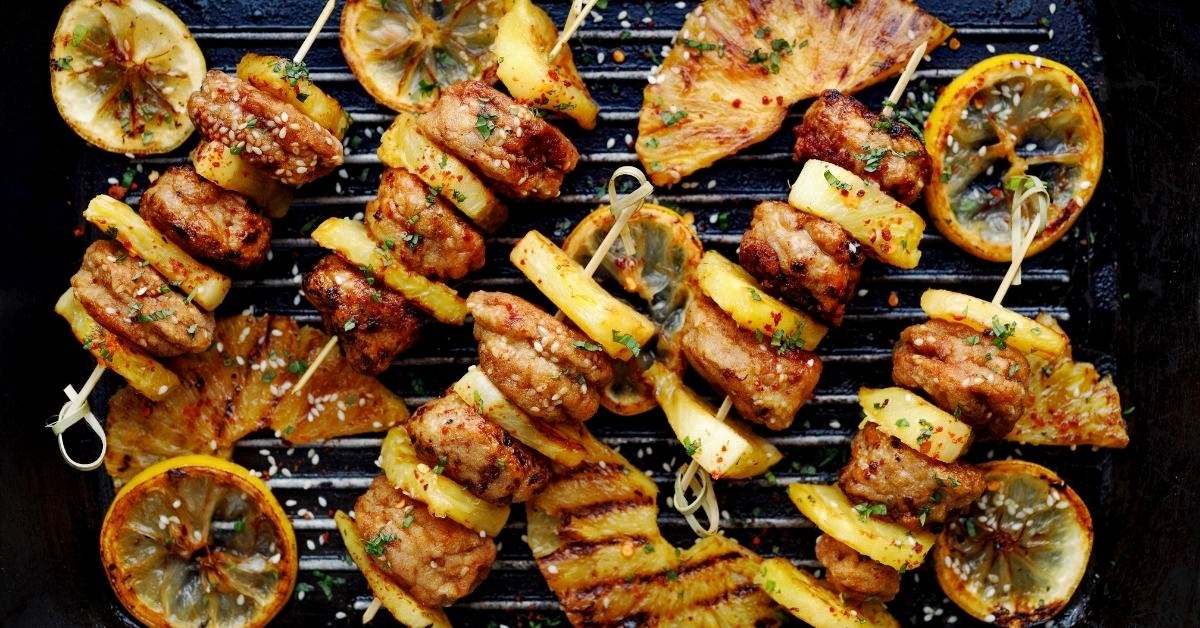 Top 20 Family Barbecue Recipes
Discover the Ultimate Collection of Barbecue Recipes for Your Family Gatherings
Summertime is the perfect season for gatherings with family and friends, and what better way to celebrate than with a mouthwatering barbecue feast? Whether you're hosting a backyard cookout or planning a picnic in the park, we have curated a list of the top 20 family barbecue recipes that will surely impress everyone at your table. From juicy burgers to tender ribs, these recipes are guaranteed to satisfy even the pickiest palates. Let's fire up the grill and dive into these delicious dishes!
1. Classic Cheeseburgers
Nothing says barbecue like a classic cheeseburger. Take your grilled patties to a whole new level by adding your favorite cheese, crispy lettuce, juicy tomatoes, and tangy pickles. Serve them on fluffy buns and watch your family devour them with delight.
2. Sticky BBQ Ribs
Tender, fall-off-the-bone ribs smothered in a finger-licking sauce are a barbecue essential. Whether you prefer baby back ribs or spare ribs, marinate them overnight and slow-cook them on the grill until they're incredibly succulent and caramelized.
3. Grilled Chicken Kebabs
Skewered chunks of marinated chicken, teamed with colorful bell peppers, onions, and zucchini, make for a visually appealing and delicious dish. Brush them with your favorite barbecue sauce while grilling for an extra burst of flavor.
4. Sweet and Spicy BBQ Chicken Wings
These crispy, sticky wings are a crowd favorite. Coat them in a flavorful blend of sweet and spicy spices, then grill them to perfection. Serve them with a side of creamy ranch dressing or tangy blue cheese dip for the ultimate finger-licking experience.
5. Grilled Vegetable Medley
Don't forget the veggies! Grill a colorful assortment of vegetables, such as zucchini, bell peppers, eggplant, and corn on the cob. Toss them in a light marinade and cook them until they're slightly charred and tender. They're not only delicious but also provide a refreshing balance to the meat-centric menu.
6. Grilled Shrimp Skewers
Elevate your barbecue spread with succulent grilled shrimp skewers. Thread jumbo shrimp onto skewers, brush them with a garlic butter sauce, and grill them until they turn pink. Serve them as an appetizer or as a tasty addition to your main course.
7. BBQ Pulled Pork Sandwiches
Tender pulled pork, slow-cooked in a smoky barbecue sauce, piled high on a soft bun—these sandwiches are the epitome of comfort food. Family and friends won't be able to resist a generous helping of this delicious meaty goodness.
8. Grilled Corn on the Cob with Herb Butter
No barbecue is complete without some grilled corn on the cob. Brush fresh ears of corn with herb-infused butter, wrap them in foil, and grill until they're tender and slightly charred. The delightful combination of sweet corn and herby butter will leave everyone wanting more.
9. BBQ Pork Ribs Pizza
Get creative with your barbecue leftovers and turn them into a mouthwatering pizza. Top a homemade or store-bought pizza dough with shredded BBQ pork ribs, caramelized onions, and a blend of cheeses. Bake it until the crust is crispy and the cheese is melted, creating a unique and delicious meal.
10. Hawaiian Grilled Chicken
Transport your taste buds to the tropics with this Hawaiian-inspired grilled chicken. Marinate chicken breasts in a pineapple-soy sauce mixture, then grill them to perfection. Serve with a side of coconut rice and grilled pineapple for a complete island-inspired meal.
11. Grilled Salmon with Lemon and Dill
For seafood lovers, grilled salmon is a stellar choice. Season fresh salmon fillets with lemon juice, dill, and a dash of salt and pepper. Grill until the fish is flaky and flavorful. Serve it with a squeeze of fresh lemon and a sprinkle of chopped dill for a light and healthy dish.
12. BBQ Beef Brisket
Indulge in rich, smoky flavors with a slow-cooked BBQ beef brisket. Rub the meat with a flavorful spice blend, then let it cook low and slow on the grill until it becomes incredibly tender. Slice it thin and serve it on a bun for an unforgettable barbecue experience.
13. Grilled Portobello Mushroom Burgers
Vegetarians and mushroom lovers will rejoice over these grilled portobello mushroom burgers. Marinate the mushrooms in balsamic vinegar, garlic, and herbs, then grill them until they're juicy and flavorful. Serve them on toasted buns with all your favorite burger toppings!
14. BBQ Pork Skewers
For a fun twist on classic barbecue, add some flair with grilled pork skewers. Marinate chunks of pork tenderloin in a tangy barbecue sauce, thread them onto skewers, and grill until they're nicely charred. They're sure to be a hit among both kids and adults.
15. Tangy BBQ Meatballs
These bite-sized BBQ meatballs are the perfect addition to your barbecue spread. Made with a blend of ground beef, breadcrumbs, and spices, they're smothered in a tangy barbecue sauce and baked until they're caramelized and delicious. Serve them with toothpicks for easy snacking.
16. Grilled Pineapple and Veggie Skewers
Add a burst of tropical sweetness to your barbecue with these mouthwatering grilled pineapple and veggie skewers. Alternate chunks of pineapple, bell peppers, onions, and cherry tomatoes on skewers, then grill until they're slightly charred. The tangy pineapple perfectly complements the savory veggies.
17. BBQ Chicken Quesadillas
Transform leftover grilled chicken into delightful BBQ chicken quesadillas. Layer shredded chicken, barbecue sauce, grated cheese, and diced onions between tortillas. Grill until the cheese is melted and the tortillas are crispy, creating a delectable fusion of flavors.
18. Grilled Caesar Salad
Put a barbecue spin on a classic Caesar salad by grilling the romaine lettuce. Brush halved romaine lettuce hearts with olive oil, then grill until they're slightly charred and smoky. Drizzle with Caesar dressing and sprinkle with Parmesan cheese for a unique and flavorful salad.
19. BBQ Beef Skewers with Chimichurri Sauce
Impress your guests with these tender and flavorful BBQ beef skewers, accompanied by a zesty chimichurri sauce. Marinate chunks of beef in a tangy barbecue sauce, thread them onto skewers, and grill until they're nicely seared. Serve with a side of vibrant chimichurri for a burst of freshness.
20. Grilled Berry Cobbler
End your barbecue feast on a sweet note with a delightful grilled berry cobbler. Toss mixed berries with sugar and lemon juice, then place them in a foil tray. Top with a buttery crumble mixture and grill until the berries are bubbling and the topping is golden brown. Serve with a scoop of vanilla ice cream for the perfect summer dessert.
There you have it, the top 20 family barbecue recipes to elevate your outdoor gatherings. From succulent meats to grilled veggies and mouthwatering desserts, these recipes are sure to please every member of your family. So fire up the grill, gather your loved ones, and create unforgettable memories with delicious food. Happy barbecuing!
FAQ:
What are some popular side dishes to serve at a family barbecue?
Some popular side dishes to serve at a family barbecue include grilled corn on the cob, coleslaw, potato salad, baked beans, grilled vegetables, macaroni and cheese, and cornbread. These dishes complement the main barbecue recipes and provide a well-rounded meal for everyone to enjoy.
Can you recommend any vegetarian barbecue recipes for families?
Absolutely! Vegetarian barbecue recipes are a fantastic option for families looking to try something different. Some delicious vegetarian barbecue recipes include grilled vegetable skewers, Portobello mushroom burgers, stuffed bell peppers with quinoa and cheese, grilled tofu skewers, and grilled halloumi cheese with honey and lemon. These recipes are sure to satisfy both vegetarians and non-vegetarians alike.
How can I make sure the meat is tender and flavorful when barbecuing?
To ensure tender and flavorful meat when barbecuing, there are a few things you can do. First, marinate the meat for a few hours or overnight to enhance the flavor and tenderness. Second, make sure to preheat your grill properly and maintain a consistent temperature throughout the cooking process. Lastly, allow the meat to rest for a few minutes after cooking to let the juices redistribute and ensure a tender bite.
Are there any barbecue recipes that are suitable for kids?
Yes, there are plenty of barbecue recipes that are kid-friendly. Some popular options include grilled chicken skewers, mini hamburgers or sliders, grilled hot dogs, barbecue chicken drumsticks, and grilled cheese sandwiches. These recipes are simple, flavorful, and sure to be a hit with the little ones at your family barbecue.
What are some dessert options that go well with a barbecue?
Desserts are a sweet way to end a delicious barbecue meal. Some popular dessert options that go well with a barbecue include grilled fruits like pineapple or peaches served with a scoop of vanilla ice cream, s'mores made on the grill, grilled banana boats filled with chocolate and marshmallows, fruit skewers with a honey yogurt dip, and grilled pound cake with fresh berries and whipped cream. These desserts are easy to prepare and add the perfect finishing touch to your family barbecue.