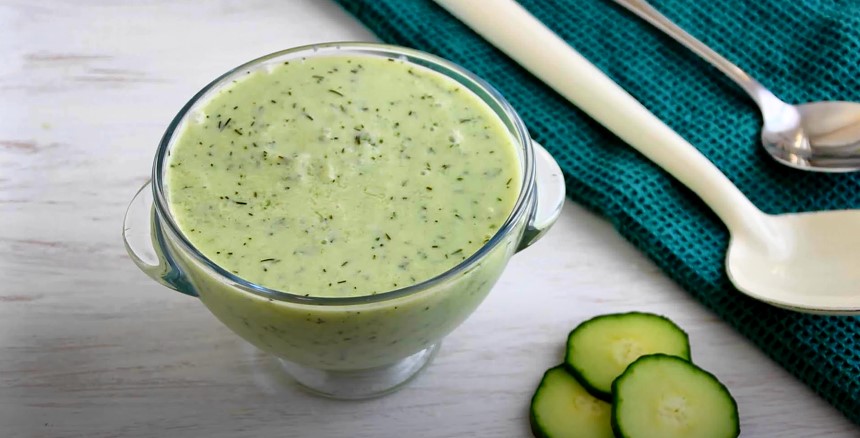 Cucumber-Yogurt Soup with Pepperoncini Recipe
How To Make Cucumber-Yogurt Soup with Pepperoncini
Made with whole milk yogurt, cucumbers, and buttermilk, this chilled cucumber-yogurt soup is given a tangy twist with pepperoncini.
Ingredients
1

lb

cucumbers

10

small pepperoncini

¼

cup

liquid from pepperoncini jar

¼

cup

dill,

chopped, plus 2 tbsp more

1

cup

plain whole milk yogurt

1

cup

buttermilk

¼

tsp

ground cumin

salt,

to taste
Instructions
In a blender, puree the chopped cucumbers with the chopped pepperoncini, the pickling liquid, 2 tablespoons of the dill, the yogurt, and buttermilk until very smooth.

Stir in the cumin and the remaining dill and season with salt. Refrigerate for about 30 minutes until chilled.

Ladle the soup into 6 bowls. Serve each bowl with a whole pepperoncini and cucumber spears on the side.
Nutrition
Calories: 

55.92kcal

Fat: 

1.84g

Saturated Fat: 

1.12g

Monounsaturated Fat: 

0.49g

Polyunsaturated Fat: 

0.10g

Carbohydrates: 

7.29g

Fiber: 

0.58g

Sugar: 

5.12g

Protein: 

3.41g

Cholesterol: 

6.94mg

Sodium: 

403.60mg

Calcium: 

117.00mg

Potassium: 

263.52mg

Iron: 

0.46mg

Vitamin A: 

23.28µg

Vitamin C: 

10.41mg
How To Make Cucumber-Yogurt Soup with Pepperoncini
Chilling Time:
30 minutes
Ingredients
1

lb

cucumbers

10

small pepperoncini

¼

cup

pepperoncini,

liquid from the jar

¼

cup

dill,

chopped

2

tbsp

dill,

chopped

1

cup

plain whole milk yogurt

1

cup

buttermilk

¼

tsp

ground cumin

salt
Instructions
In a blender, puree the chopped cucumbers with the chopped pepperoncini, the pickling liquid, 2 tablespoons of the dill, the yogurt, and buttermilk until very smooth

Stir in the cumin and the remaining dill and season with salt

Refrigerate until chilled, about 30 minutes

Ladle the soup into 6 bowls

Serve each bowl with a whole pepperoncini and cucumber spears on the side

 
Nutrition
Calories: 

58.53kcal

Fat: 

1.89g

Saturated Fat: 

1.12g

Monounsaturated Fat: 

0.49g

Polyunsaturated Fat: 

0.10g

Carbohydrates: 

7.86g

Fiber: 

0.73g

Sugar: 

5.12g

Protein: 

3.62g

Cholesterol: 

6.94mg

Sodium: 

406.01mg

Calcium: 

135.44mg

Potassium: 

297.70mg

Iron: 

0.97mg

Vitamin A: 

26.30µg

Vitamin C: 

10.93mg