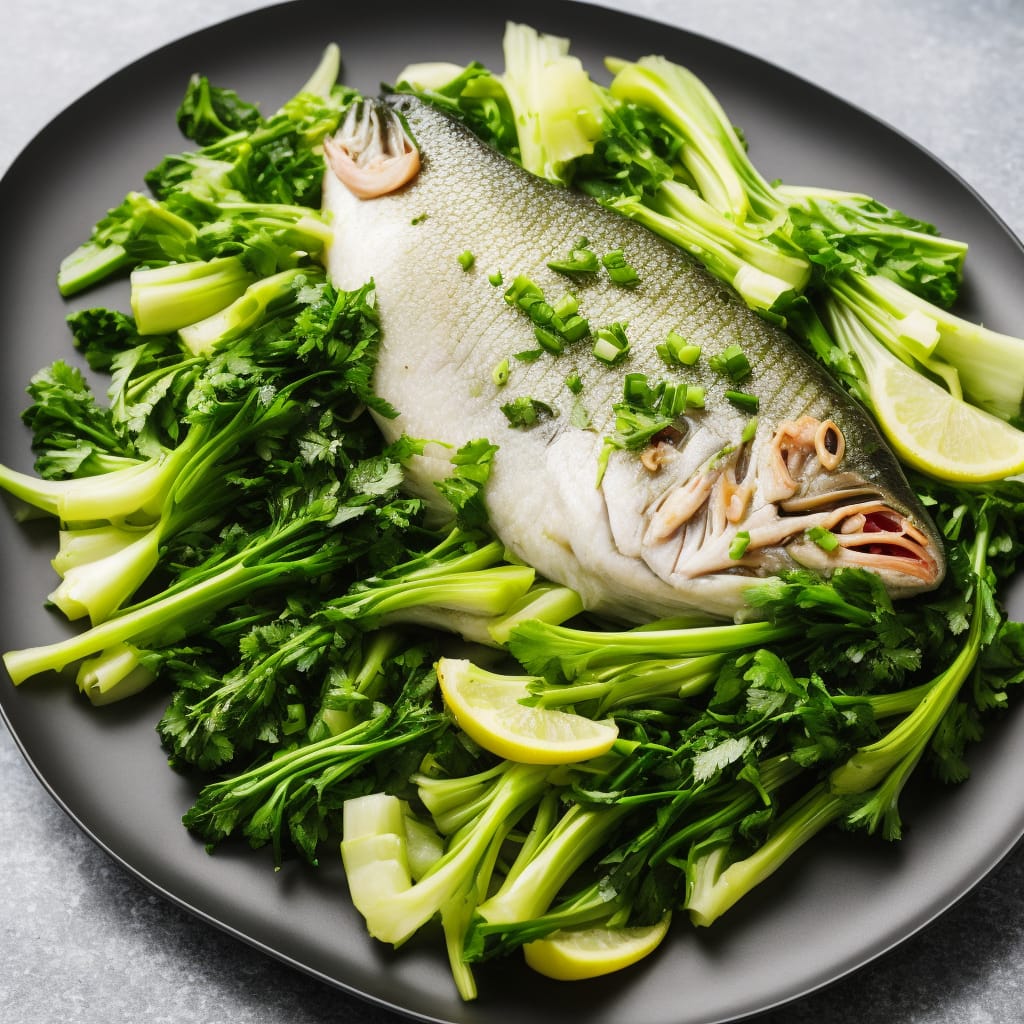 Steamed Bass with Pak Choi Recipe
How To Make Steamed Bass with Pak Choi
Cooking fish can be very tricky, especially if some are too delicate to be cooked. Well, with our fish recipes, it'll be easy as 1-2-3. We've got the details on different cooking methods for the perfect fish dish.
Ingredients
4 bass fillets
4 small pak choi
2 cloves of garlic, minced
1-inch piece of ginger, grated
2 tablespoons soy sauce
1 tablespoon sesame oil
1 tablespoon rice vinegar
1 teaspoon sugar
Salt and pepper, to taste
Fresh cilantro, for garnish
Instructions
Rinse the bass fillets and pat them dry. Season with salt and pepper.

Cut the pak choi in half lengthwise and rinse under cold water.

Place a steaming rack in a large pot and fill it with water up to the level of the rack.

Arrange the bass fillets and pak choi on the steaming rack, making sure they are not touching each other.

Mix together the minced garlic, grated ginger, soy sauce, sesame oil, rice vinegar, and sugar in a small bowl. Set aside.

Place the pot with the steaming rack on the stove over high heat. Once the water starts to boil, reduce the heat to medium-low and cover the pot. Steam the bass and pak choi for about 10-15 minutes, or until the fish is cooked through and the pak choi is tender.

Carefully remove the steaming rack from the pot and transfer the fish and pak choi to a serving platter.

Drizzle the sauce over the steamed bass and pak choi. Garnish with fresh cilantro.

Serve the steamed bass with pak choi hot.
Nutrition
Calories :

120kcal

Total Fat :

4g

Saturated Fat :

1g

Cholesterol :

50mg

Sodium :

400mg

Total Carbohydrates :

6g

Dietary Fiber :

3g

Sugar :

2g

Protein :

16g