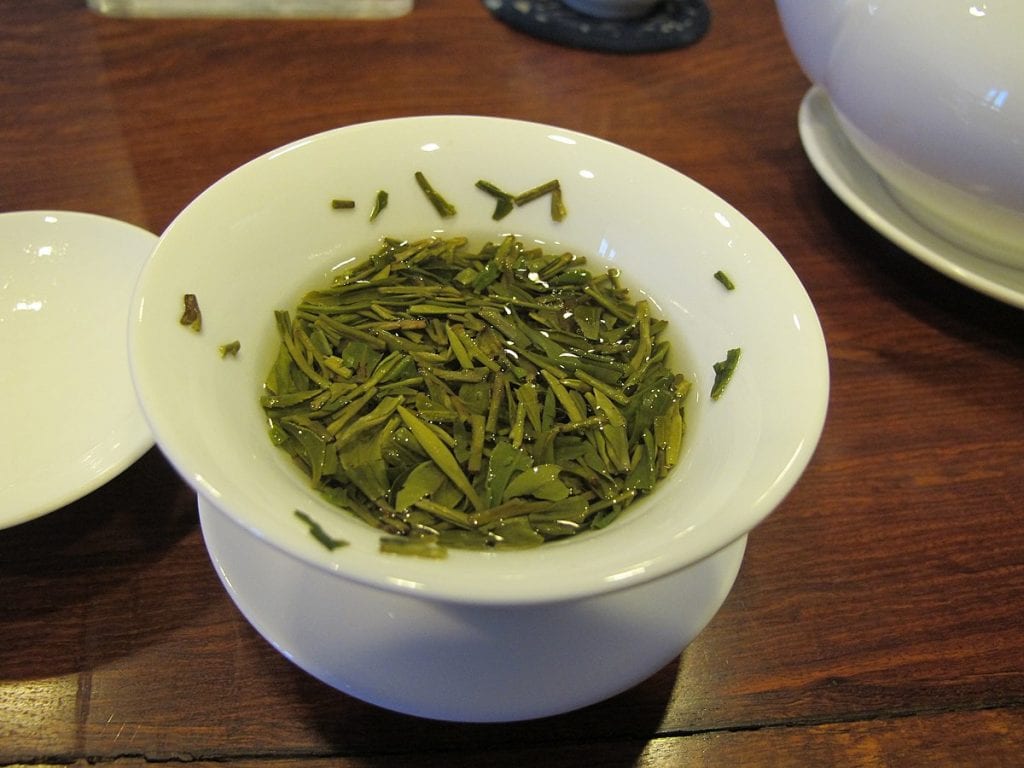 Wikimedia Commons | Gary Stevens
How To Make Longjing Tea (Dragon Well)
Literally translated as Dragon well tea, Longjing tea is a pan-roasted green tea from China. Make this sweet aromatic Chinese tea in just 10 minutes.
Ingredients
2

tsp

Longjing tea leaves

8

oz

water,

hot
Instructions
Fill gaiwan (Chinese-lidded cup) or glass about halfway with hot water to pre-heat it.

Tilt the cup a bit so that the water creeps up the side and then rotate it so the inside gets wet all the way around. Then pour the water out.

Cover the bottom of the gaiwan with a shallow layer of dry leaves, approximately 1 teaspoon. Use twice this amount if brewing in an 8-ounce glass.

Fill the gaiwan about ⅓ of the way with hot water. The temperature should be below boiling, around 176 degrees F.

Tilt the cup a bit and rotate, so that the leaves get wet all over. Then add more hot water until the gaiwan is 80 to 90% full.

Place the lid on the gaiwan and let the tea steep for 2 to 3 minutes. It is ready to drink when most of the leaves have sunk to the bottom of the cup.

Serve and enjoy.
Recipe Notes
After getting down to ¼ of the tea, refill the gaiwan with hot water of the same temperature as before and let it steep for 3 minutes.

Dragon Well Teas can do 3 to 5 infusions. Increase the steeping time by 30 seconds to 1 minute for each infusion.
Nutrition
:

:

Calcium:

3mg

Calories:

3kcal

Carbohydrates:

2g

Potassium:

17mg

Protein:

1g

Sodium:

6mg

Vitamin C:

1mg
Nutrition Disclaimer