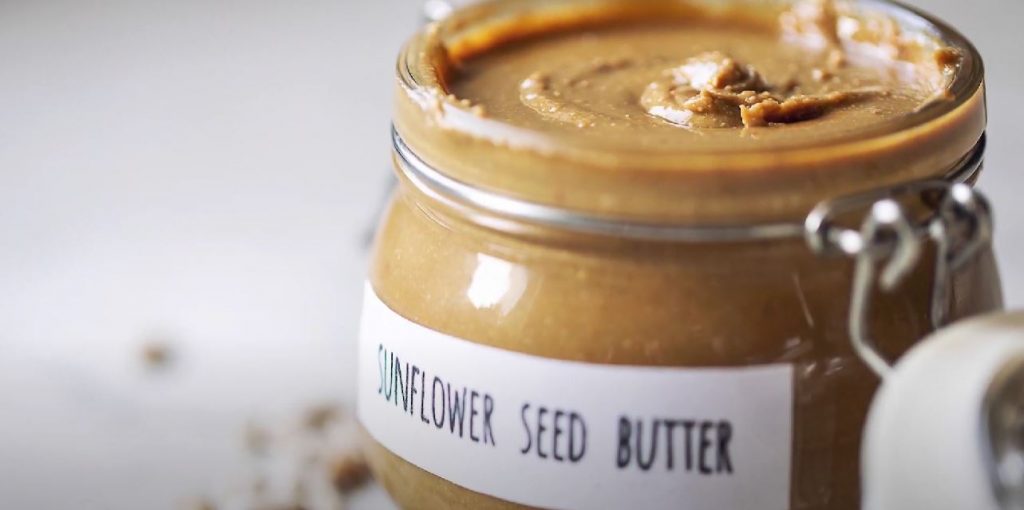 Creamy Sunflower Seed Butter Recipe
How To Make Creamy Sunflower Seed Butter
For this rich sunflower seed butter, the seeds are toasted then blended until smooth with cinnamon and sugar. Done in 10 minutes!
Ingredients
2

cups

hulled sunflower seeds

4

tsp

brown sugar

pinch kosher salt

pinch ground cinnamon

1

tbsp

coconut oil,

softened at room temperature but not melted or liquidy

½

tsp

pure vanilla extract
Instructions
Preheat the oven to 350 degrees F and spread the sunflower seeds on a large, rimmed baking sheet.

Toast the seeds for 10 to 12 minutes until they're lightly golden and begin to smell nutty and fragrant. Watch and stir the seeds every 5 minutes or so to prevent burning.

Once the seeds are toasted, transfer them to the bowl of a food processor and process on continuously for about 30 seconds until they form a fine powder.

Continue processing until the powder becomes clumpy, an additional 30 seconds to 1 minute.

Continue processing mixture for 2 to 3 additional minutes, or until it starts gathering together into a large clump or ball. If the machine starts getting hot, simply pause the process for a minute or so to let it cool down and proceed. 

Continue processing for an additional 2 minutes or so until the seed butter reaches a smooth, paste-like consistency.  

Now that the seed butter is smooth, add the salt, cinnamon, coconut oil, and vanilla extract and process for an additional 1 to 2 minutes, or until it becomes super smooth and spoonable.

Store in an airtight container on the counter for up to 2 weeks, in the refrigerator for up to 6 weeks, or in the freezer for up to 3 months.
Nutrition
Calories: 

353.48kcal

Fat: 

30.47g

Saturated Fat: 

7.93g

Monounsaturated Fat: 

8.92g

Polyunsaturated Fat: 

10.77g

Carbohydrates: 

15.35g

Fiber: 

4.04g

Sugar: 

7.16g

Protein: 

9.57g

Sodium: 

123.52mg

Calcium: 

42.68mg

Potassium: 

306.96mg

Iron: 

2.48mg

Vitamin A: 

1.40µg

Vitamin C: 

0.65mg