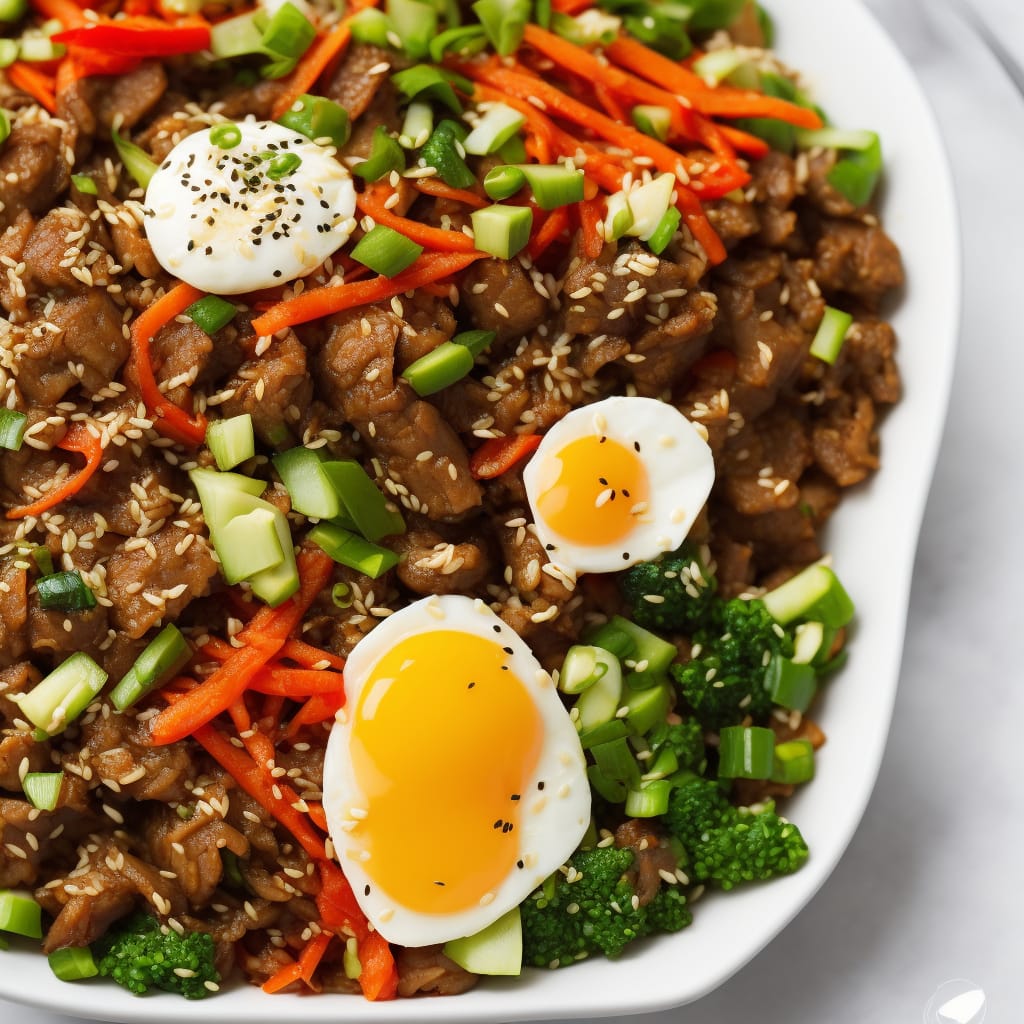 Bibimbap (Korean Rice With Mixed Vegetables) Recipe
How To Make Bibimbap (Korean Rice With Mixed Vegetables)
If you think K-pop is the only thing to stan about Koreans, then you haven't tried these cool Korean recipes yet. Make K-style fried chicken, wraps, and drinks with these Korean recipes.
Ingredients
4 cups cooked white rice
2 cups assorted vegetables (mushrooms, carrots, spinach, bean sprouts)
4 eggs
4 tablespoons gochujang (Korean chili paste)
2 tablespoons soy sauce
2 tablespoons sesame oil
2 tablespoons vegetable oil
Salt, to taste
Sesame seeds, for garnish
Instructions
Prepare the assorted vegetables by slicing or julienning them into thin, bite-sized pieces.

Heat a tablespoon of vegetable oil in a skillet or wok over medium heat.

Add the vegetables to the skillet and stir-fry until they are cooked but still slightly crisp.

Remove the vegetables from the skillet and set aside.

In the same skillet, heat another tablespoon of vegetable oil. Crack the eggs into the skillet and fry them to your desired doneness (sunny-side up is traditional).

In a small bowl, whisk together the gochujang, soy sauce, sesame oil, and salt to create a sauce.

Divide the cooked rice among four bowls. Top each bowl with a portion of the cooked vegetables and a fried egg.

Drizzle the gochujang sauce over the top of each bowl.

Garnish with sesame seeds, if desired.

Serve hot and mix everything together before eating to combine flavors.
Nutrition
Calories :

440kcal

Total Fat :

16g

Saturated Fat :

3g

Cholesterol :

186mg

Sodium :

1159mg

Total Carbohydrates :

58g

Dietary Fiber :

4g

Sugar :

4g

Protein :

12g