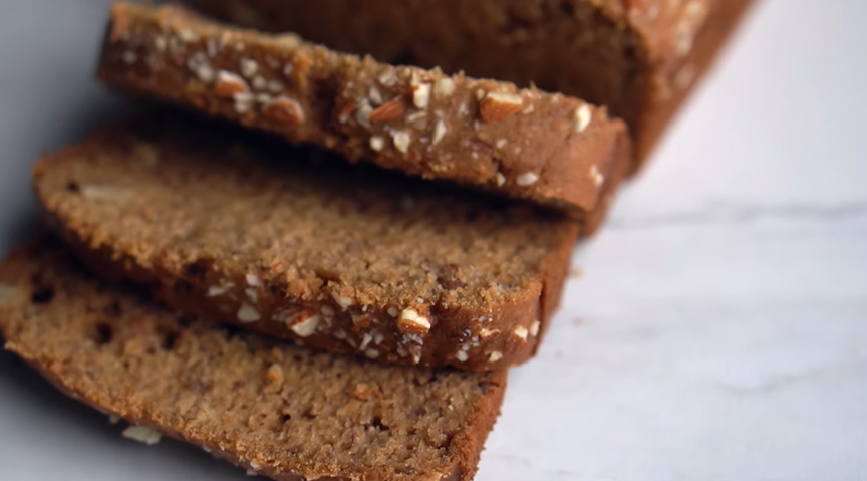 Starbucks Banana Bread Recipe (Copycat)
Among the many pastries that Starbucks has to offer, their banana bread is my absolute favorite. It's a delightful nutty bread to eat in the mornings, especially when I'm pairing it with their delicious . I always eat one of these when I'm rushing for work, but then realized that I could save more time if I were to make my own! That's why I'm sharing with you my easy homemade Starbucks banana bread recipe for a delicious and warm bread ready in the morning.
It's so simple to make this tasty and moist banana bread that's also packed full of chopped walnuts. I made mine in just less than an hour, and I got to enjoy a whole loaf instead of just a single slice. With my copycat Starbucks banana bread recipe, you can enjoy and savor the taste of this flavorful bread more at home. You don't have to go to the nearest Starbucks coffee shop to buy one because my recipe tastes just as delicious and wonderful as the original.
For this banana nut bread, it's important that you choose the right bananas. The best kind to use are overripe bananas. These are usually the ones with brown or black spots on its skin. Overripeness improves the overall flavor of the banana bread. That's why the darker the banana, the tastier the banana bread! If you don't have one available, then ripe bananas are also fine, although the taste won't be as sweet.
Once you have the bananas, the rest of the ingredients are easy to find. Most of the dry ingredients are common pantry staples like the flour, salt, sugar, and baking soda. Prepare a loaf pan and mix all of these with the remaining ingredients, and you're ready to bake. I used chopped walnuts for this recipe. It's the best nuts for banana bread, and the closest ingredient to the original recipe. But, feel free to mix in or substitute it with chocolate chips for that added sweet chocolate flavor. It's another tasty option for those who are allergic to nuts, or want to taste some extra nutty sweetness.
After a few minutes, my banana bread Starbucks copycat dish looked and smelled delightful. Each bite was just so good that I was happy I made a whole load of it. I had a lot of leftovers ready to eat over the week. It's definitely the best banana bread recipe for a breakfast-worthy dish. You can also enjoy it as a go-to snack for an afternoon munching.
How To Make How To Make Starbucks Banana Bread (Copycat)
This copycat Starbucks banana bread recipe lets you enjoy a tasty bread made with buttermilk and bananas topped with chopped walnuts.
Ingredients
2

cups

flour,

or bread flour

1

tsp

baking soda

¼

tsp

salt

1

egg

1⅛

cups

sugar

½

cup

vegetable oil

2

tbsp

buttermilk

½

tsp

vanilla extract

3

ripe medium-large bananas,

mashed

½

cup

walnuts,

chopped

⅓

cup

walnuts,

chopped, plus additional ½ cup, or chocolate chips
Instructions
Preheat oven to 325 degrees F. Grease a 9x5x3-inch loaf pan and dust with flour.

Blend the flour, baking soda, and salt; set aside.

Mix the egg, sugar, and vegetable oil until combined.

Add the flour mixture to the egg mixture and when blended, add the buttermilk, vanilla, and mashed bananas; mix well.

Fold ½ cup of chopped walnuts and pour batter into prepared loaf pan.

Top the batter with the remaining chopped walnuts.

Bake for 45 to 60 minutes until a toothpick comes out clean.

Serve and enjoy!
Nutrition
Calories: 

397.67kcal

Protein: 

4.57g

Cholesterol: 

20.15mg