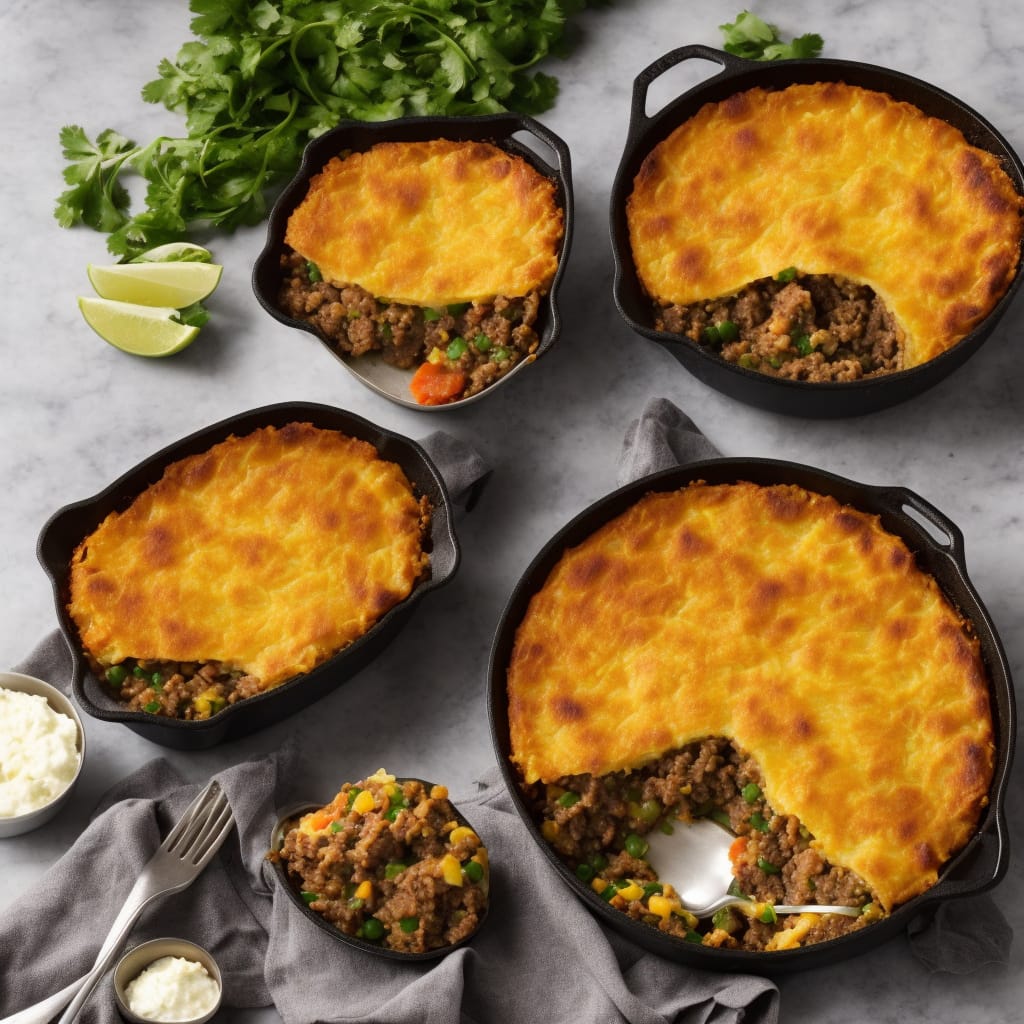 Mexican Shepherd's Pie Recipe
How To Make Mexican Shepherd's Pie
Spice up your meals with these easy-to-follow Mexican recipes! Explore a variety of dishes and new flavors to try out for your next big meals. We have it all from the classic tacos, crunchy empanadas, freshly made margaritas, and more. These exciting Mexican recipes are sure to please any crowd. So try them out for your next big gathering, or simply cook them up for when you're craving some Mexican cuisine.
Ingredients
1 lb ground beef
1 small onion, diced
1 bell pepper, diced
2 cloves garlic, minced
1 tsp cumin
1 tsp chili powder
1 cup corn kernels
1 cup black beans, drained and rinsed
1 cup diced tomatoes
1 cup shredded cheddar cheese
2 cups cooked mashed potatoes
Salt and pepper to taste
Optional toppings: sour cream, chopped cilantro
Instructions
Preheat the oven to 375°F (190°C).

In a large skillet, brown the ground beef over medium heat.

Add the diced onion, bell pepper, and minced garlic to the skillet. Cook until the vegetables are softened.

Stir in the cumin and chili powder, and season with salt and pepper to taste.

Add the corn, black beans, and diced tomatoes to the skillet. Mix well and simmer for a few minutes to warm through.

Transfer the beef and vegetable mixture to a baking dish.

Sprinkle shredded cheddar cheese over the top.

Spread the cooked mashed potatoes evenly over the cheese layer.

Bake in the preheated oven for about 25-30 minutes, or until the shepherd's pie is heated through and the cheese is melted and bubbly.

Serve hot, optionally topped with sour cream and chopped cilantro.
Nutrition
Calories :

420kcal

Total Fat :

14g

Saturated Fat :

6g

Cholesterol :

78mg

Sodium :

475mg

Total Carbohydrates :

36g

Dietary Fiber :

6g

Sugar :

5g

Protein :

28g