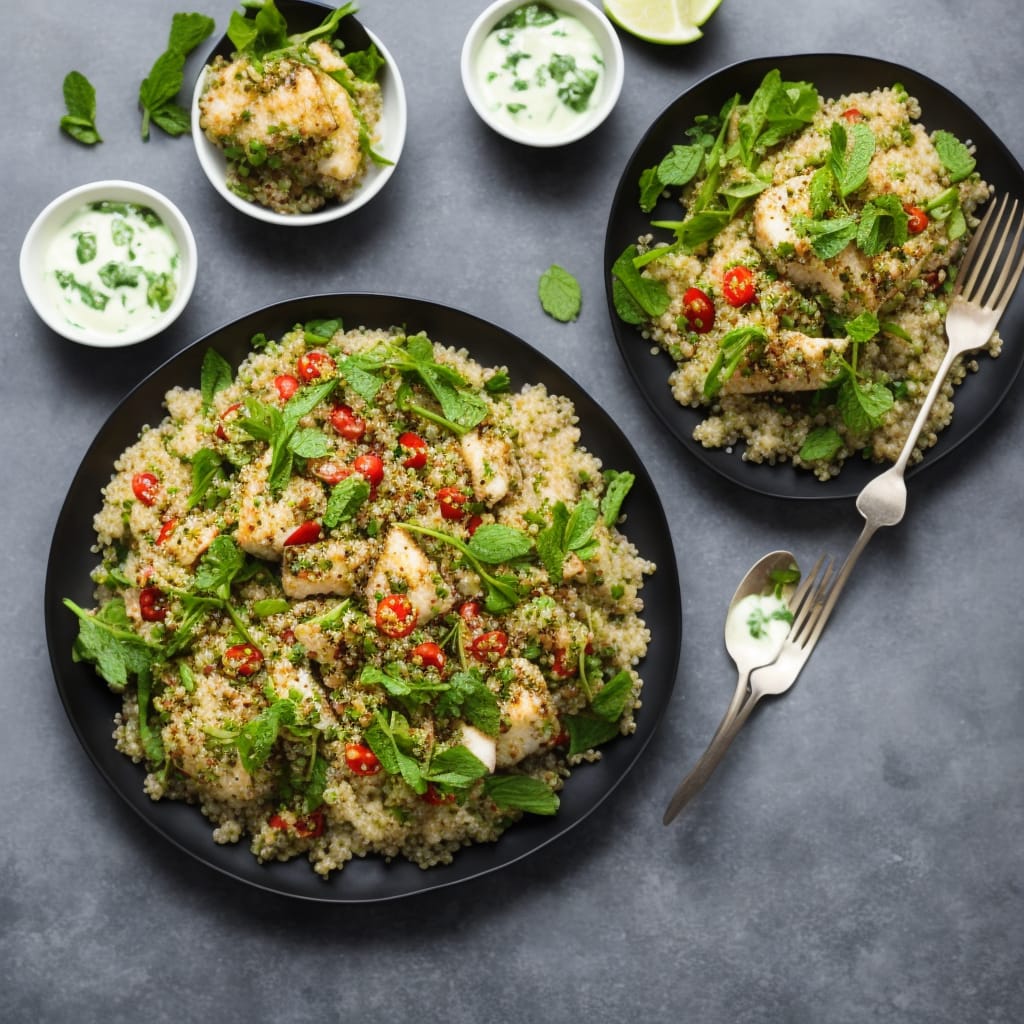 Spiced Cod with Quinoa Salad & Mint Chutney Recipe
How To Make Spiced Cod with Quinoa Salad & Mint Chutney
Cooking fish can be very tricky, especially if some are too delicate to be cooked. Well, with our fish recipes, it'll be easy as 1-2-3. We've got the details on different cooking methods for the perfect fish dish.
Ingredients
4 cod fillets
1 tsp ground cumin
1 tsp ground coriander
1/2 tsp paprika
Salt and pepper, to taste
1 cup quinoa
2 cups water or broth
1 cup cherry tomatoes, halved
1/4 cup diced red onion
1/4 cup chopped fresh parsley
1/4 cup chopped fresh mint
1/4 cup chopped fresh cilantro
3 tbsp lemon juice
2 tbsp olive oil
1/4 cup Greek yogurt
1/4 cup chopped fresh mint leaves
1 clove garlic, minced
Salt and pepper, to taste
Instructions
Preheat the oven to 400°F (200°C).

In a small bowl, mix together the ground cumin, ground coriander, paprika, salt, and pepper. Rub the spice mixture onto both sides of the cod fillets.

Place the cod fillets on a greased baking sheet and bake for 12-15 minutes, or until the fish is cooked through and flakes easily with a fork.

Meanwhile, rinse the quinoa under cold water. In a saucepan, bring the water or broth to a boil. Add the quinoa, reduce heat, cover, and simmer for about 15 minutes, or until the quinoa is tender and the liquid is absorbed. Fluff with a fork.

In a large bowl, combine the cooked quinoa, cherry tomatoes, red onion, parsley, mint, cilantro, lemon juice, and olive oil. Season with salt and pepper to taste.

For the mint chutney, combine the Greek yogurt, chopped mint leaves, minced garlic, and salt and pepper in a small bowl. Mix well.

Serve the spiced cod on a bed of quinoa salad, with a dollop of mint chutney on top.
Nutrition
Calories :

320kcal

Total Fat :

8g

Saturated Fat :

1g

Cholesterol :

50mg

Sodium :

250mg

Total Carbohydrates :

35g

Dietary Fiber :

6g

Sugar :

2g

Protein :

28g