Amp up your appetizer game with this flavorful tuna tartare recipe. It combines diced tuna with lime, wasabi powder, and avocado.
Ingredients
3¾

lbs

tuna steak,

very fresh

1¼

cups

olive oil

5

limes,

zest grated

1

cup

lime juice,

freshly squeezed

2½

tsp

wasabi powder

2½

tbsp

soy sauce

2

tbsp

hot red pepper sauce

2½

tbsp

kosher salt

1½

tbsp

freshly ground black pepper

1¼

cups

scallions,

(12 scallions) minced, white, and green parts

3¼

tbsp

fresh jalapeno pepper,

minced, seeds removed

5

ripe hass avocados

1½

tbsp

sesame seeds,

toasted, optional
Instructions
Cut the tuna into ¼-inch dice and place it in a very large bowl. In a separate bowl, combine the olive oil, lime zest, lime juice, wasabi, soy sauce, hot red pepper sauce, salt, and pepper.

Pour over the tuna, add the scallions and jalapeno, and mix well. Cut the avocados in half, remove the seed, and peel. Cut the avocados into ¼-inch dice.

Carefully mix the avocado into the tuna mixture. Add the toasted sesame seeds, if using, and season to taste. Allow the mixture to sit in the refrigerator for at least 1 hour for the flavors to blend. Serve on crackers.
Topics:
Related Recipes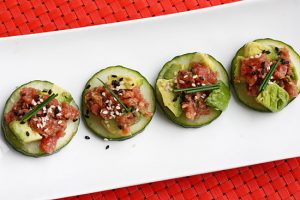 Finger Foods
Spicy Crunchy Tuna Tartare Recipe
Tuna tartare is a delicate and elegant dish that's surprisingly easy to make! Get the freshest tuna to make an appetizer that's perfect for light lunch too.