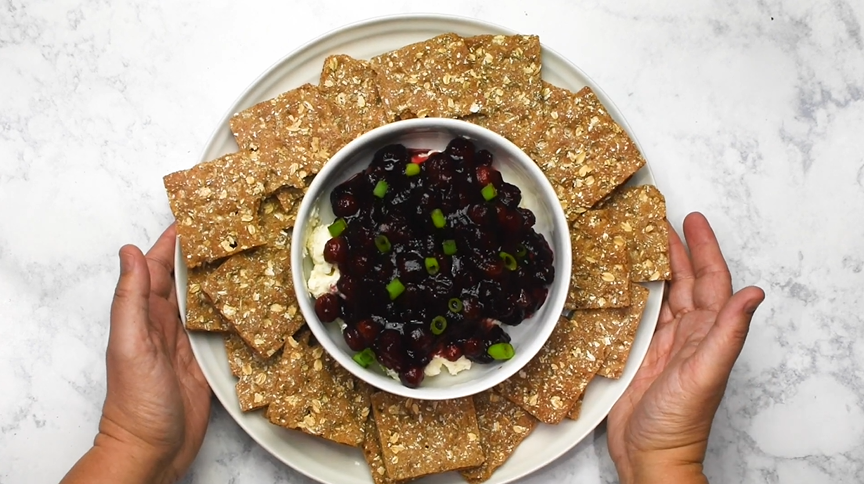 Cranberry Jalapeno Cream Cheese Dip Recipe
One of my favorite dips for Thanksgiving is this creamy and flavorful cranberry jalapeno dip. This is not your typical cranberry dip served during the holiday season. My homemade cranberry jalapeno dip is packed with fresh cranberries, cream cheese, diced jalapeno peppers, lemon juice, and cilantro. When mixed together, the cranberry jalapeno cream cheese dip has a distinct sweet, spicy, and subtle salty flavor that is just perfect for dipping! So, if you're looking for more cream cheese dip recipes to try, I recommend starting with this delicious cranberry jalapeno cream cheese dip!
There are a lot of variations to this jalapeno cranberry dip. Other people would include sour cream into the mix so it's much thicker and tangier in flavor and consistency. Sometimes, they would make the cranberry mixture first without the cream cheese, and then serve it separately with the cranberry mixture placed on top of the cream cheese. This makes it easier to store the cranberry mixture in the fridge. Although, my issue with this is that the longer the dip chills, the runnier the cranberries will become. You'll have to deal with unwanted cranberry juice in your dip in this case.
For my recipe version, I simply combined both the cream cheese and cranberries, jalapeno pepper, and other ingredients together. What I got was a smoother, creamier, and flavorful dip. I really liked the delicious blend of flavors ranging from spicy to sour and then sweet. It's so much better than any cream cheese dips I've ever made. This one is packing all the flavors!
To make this cranberry jalapeno dip, start out by choosing your cranberries. I used dried sweetened cranberries for this recipe, but you can also use fresh cranberries as an alternative. If you are going to use it, I suggest skipping the boiling process and going straight to blending! Just make sure that the cranberries are rinsed and washed. Lastly, remember that fresh cranberries have a lot of juices so you might want to wipe away any excess juice when you're storing the cranberry jalapeno dip.
I chose to boil my dried sweetened cranberries with water and the other ingredients for a bolder flavor. Blending them afterwards really sets the consistency of the cranberry jalapeno dip. It's a much better and more delicious cracker dip when it's smooth and velvety in texture! I had a wonderful time using this as a dip for my crackers, and even saved some for my relatives to taste.
How To Make Cranberry Jalapeno Cream Cheese Dip
This cranberry jalapeno dip is mixed with cream cheese for a sweet, salty, and spicy flavor combination perfect for any dish!
Ingredients
¼ cup vegetable oil

1

2

oz dried sweetened cranberrie

s, or f

resh cranberries

½ cup white sugar, or to taste

½ cup water, or more as needed

2 small jalapeno peppers, seeded and finely diced

1 tbsp lemon juice

2 tsp cilantro

, fresh or dried

¼ tsp salt

16 oz cream cheese, softened
Instructions
Heat a saucepan over medium heat; add oil. Stir cranberries into hot oil and cook until cranberries absorb most of the oil for about 5 to 10 minutes.

Mix sugar, water, jalapeno peppers, lemon juice, cilantro, and salt into cranberries; cook until reduced and softened, 10 to 15 more minutes. Add more water if needed.

Pulse cranberry mixture in a food processor

,

hand mixer

, o

r blender until very smooth then cool completely.

Stir cooled cranberry mixture and cream cheese together in a bowl until smooth and

creamy.
Nutrition
Calories: 

160.83kcal

Fat: 

13.24g

Saturated Fat: 

5.70g

Trans Fat: 

0.03g

Monounsaturated Fat: 

4.97g

Polyunsaturated Fat: 

1.02g

Carbohydrates: 

9.72g

Fiber: 

0.86g

Sugar: 

7.94g

Protein: 

1.77g

Cholesterol: 

31.18mg

Sodium: 

140.59mg

Calcium: 

29.75mg

Potassium: 

58.77mg

Iron: 

0.16mg

Vitamin A: 

105.14µg

Vitamin C: 

4.29mg