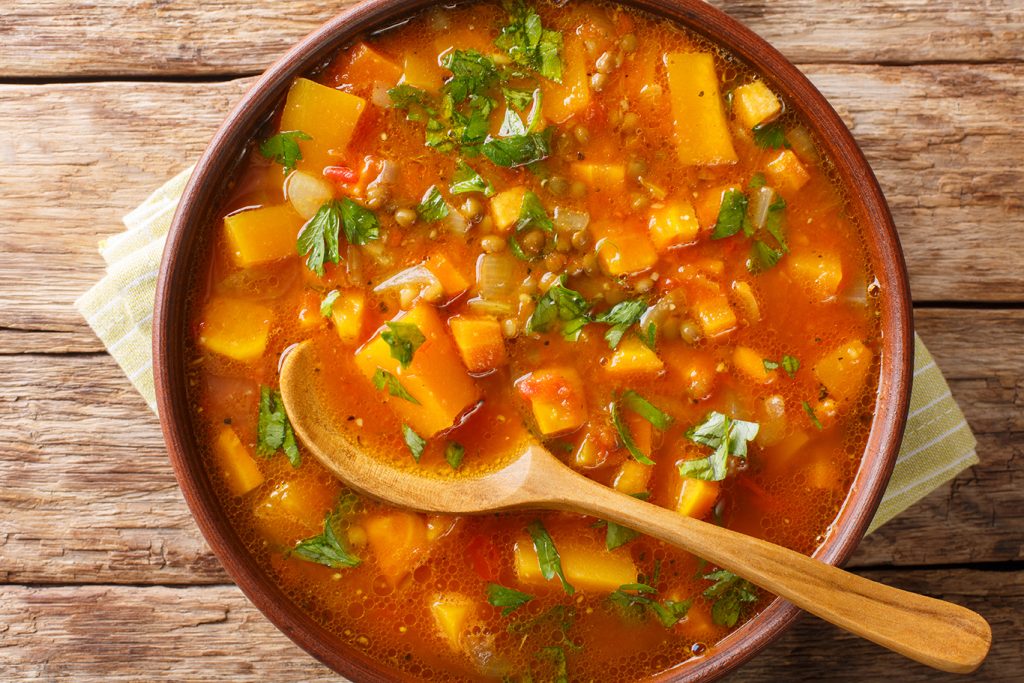 Moroccan Sweet Potato and Lentil Soup Recipe
How To Make Moroccan Sweet Potato and Lentil Soup
This Morrocan sweet potato and lentil soup is a healthy and hearty, vegetarian soup that's so delicious, even meat-lovers will come back for seconds!
Instructions
Heat 2 tablespoons of olive oil in a large pot over medium-high heat. Add onion and carrot and saute for 4 minutes.
Add garlic and ginger and saute for 1 minute longer. Add remaining 1 tablespoon of olive oil, cumin, coriander, turmeric, paprika and cinnamon.
Saute for 1 minute. Stir in vegetable broth, tomatoes, sweet potatoes, and lentils. Season with salt to taste.
Bring to a light boil then reduce heat to medium-low, cover pot, and allow to simmer, stirring occasionally for about 25 to 30 minutes, until sweet potatoes are soft and lentils are tender
Thin with up to 1 more cup of broth if desired. Stir in half of the cilantro then serve with remaining cilantro. Enjoy!
Nutrition
Monounsaturated Fat: 

7.85g
Polyunsaturated Fat: 

1.59g