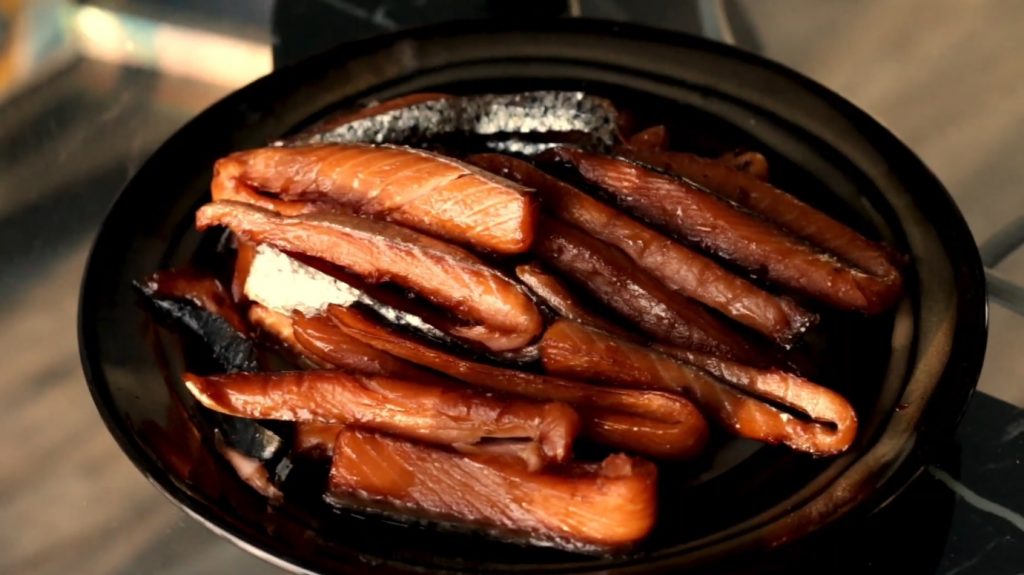 Salmon Jerky Recipe
Sweet and chewy, this salmon jerky is made using only 4 ingredients for a delicious snack that's smoked to perfection.
Ingredients
4

lbs

salmon,

cut in strips

1

cup

kosher salt

1

cup

brown sugar

½

cup

maple syrup,

or birch syrup
Instructions
Mix the salt and sugar together. Sprinkle a thin layer of this over the bottom of a lidded container. Arrange the strips of salmon in the container in 1 layer. Cover with the remaining cure.

Cover the container and let this cure in the fridge for 12 hours. Turn the container upside down once during this time, or mix the salmon pieces around, for an even cure.

Remove the salmon from the cure and quickly dunk it in a large bowl of ice water to rinse off excess cure. Pat the fish dry with paper towels and set on a rack over a baking sheet in the fridge overnight if possible, or in front of a fan, or in a cool and shaded place for at least 1 hour.

Fire up the smoker. Shoot for an internal temperature of about 200 degrees F. Smoke the salmon for at least 3 hours or longer until dried, but still chewy. Paint maple syrup on the fish every 30 minutes or so after 1 hour has elapsed.

Put salmon jerky back on the cooling rack to return to room temperature.

Serve and enjoy.