Slow cooker recipes are simply the best. Why do you ask? They take little effort but taste like you've spent hours perfecting the taste. It's like all of that wait comes in full blast of flavor reminding you that it's all worth the wait.
Tip: Take the time to dice the vegetables into similar, cube-sized pieces. This allows the ingredients to cook at the same time. You also don't want to end up with huge chunks of vegetables.
Stir the rice into the jambalaya, or scoop a serving on top of the rice. You can store this in the fridge for 2 to 3 days. Though freezing doesn't make this dish better, unlike other slow-cooker recipes. Freezing and reheating tends to make the shrimp rubbery.
Tip: When using meat dishes, you also want to brown the meat before starting with slow cooking. While you can skip this step and proceed with combining the ingredients into the slow cooker, browning will increase the flavor of the meat and therefore the overall dish.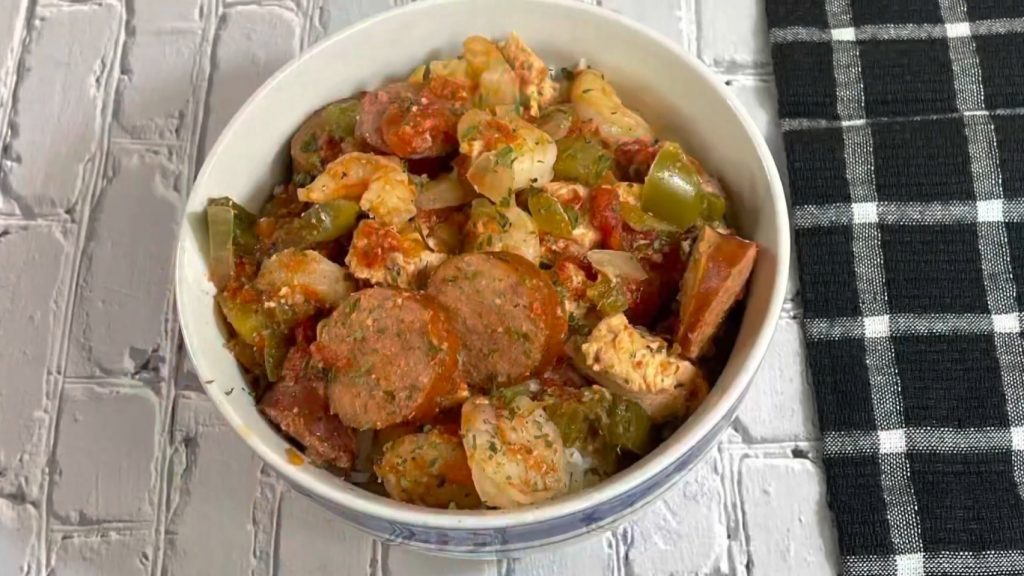 Colleen's Slow Cooker Jambalaya Recipe
How To Make Colleen's Slow Cooker Jambalaya
If you've ever wondered how to make jambalaya, here's the recipe for you. These combinations of ingredients and creole seasonings will please a crowd, or warm up a family on a chilly winter day.
Ingredients
28

oz

tomatoes,

diced with juice (1 can)

500

g

Andouille sausage

1

large onion,

chopped

1

medium green bell pepper,

chopped

1

cup

celery,

chopped

1

cup

chicken broth

1

pound

chicken breast,

skinless, boneless, cut into cubes

½

lbs

shrimp

1

large onion,

chopped

2

tsp

cajun seasoning

2

tsp

paprika seasoning

2

tsp

Italian seasoning

1

tsp

cayenne pepper

½

tsp

dried thyme
Instructions
If you're using frozen ingredients, prepare them ahead by taking them out of the freezer and allowing them to thaw at room temperature.

Chop the sausages and chicken breast into cubes or bite-sized pieces. Chop the vegetables into small-size pieces, too.

Combine all ingredients in a slow cooker starting with chopped celery, bell pepper, and onions. Add andouille sausages, chicken breast, and unpeeled shrimp.

Stir in the seasonings including cajun, paprika, Italian, cayenne, and thyme. Mix the ingredients well until they are mostly coated with the seasonings. Then add one cup of chicken broth and a can of diced tomatoes with the juice.

Cover and cook for 5 to 6 hours on High or 7 to 8 hours on Low.

Stir the pot a couple of times during the last 30 minutes of slow cooking to further let the meat, vegetables, and seasonings blend.
Recipe Notes
If you're serving jambalaya with the rice mixed in, prepare the rice at least 30 minutes to an hour before the slow cooker finishes cooking. Then mix them up well before transferring to a serving plate. You can also just scoop a serving of the jambalaya over a cup of rice. Any kind of barbeque food pairs well with jambalaya. That gives you a tip on how to serve this at a party.
Nutrition
Sugar:

4g

:

Calcium:

68mg

Calories:

276kcal

Carbohydrates:

7g

Cholesterol:

128mg

Fat:

16g

Fiber:

2g

Iron:

2mg

Potassium:

647mg

Protein:

25g

Saturated Fat:

5g

Sodium:

776mg

Vitamin A:

1289IU

Vitamin C:

26mg
Nutrition Disclaimer
Commonly Asked Questions
What to serve with Jambalaya?
Cornbreads are one of the most preferred food pairings with jambalayas. Barbeque foods also make a perfect pairing.
What is the difference between gumbo and jambalaya?
Gumbos and jambalayas are both meat and rice dishes that both came from New Orleans and both with Creole origins. Though with a lot of similarities, a gumbo is cooked as a stew served on top of rice. A jambalaya, on the other hand, can be mixed with rice like paella or serve on top of the rice, too.

Can I store slow cooked jambalaya in the fridge?
You can store this in the fridge for 2 to 3 days. Though freezing doesn't make this dish better, unlike other slow-cooker recipes. Freezing and reheating tends to make the shrimp rubbery.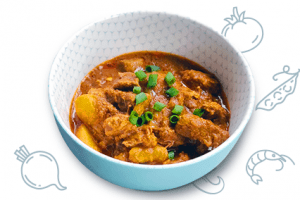 Conclusion
What makes jambalayas an even easier dish to make is you can use whatever vegetable ingredients you already have in the fridge. You can make them if you have some leftover vegetables that you want to prevent getting wasted.