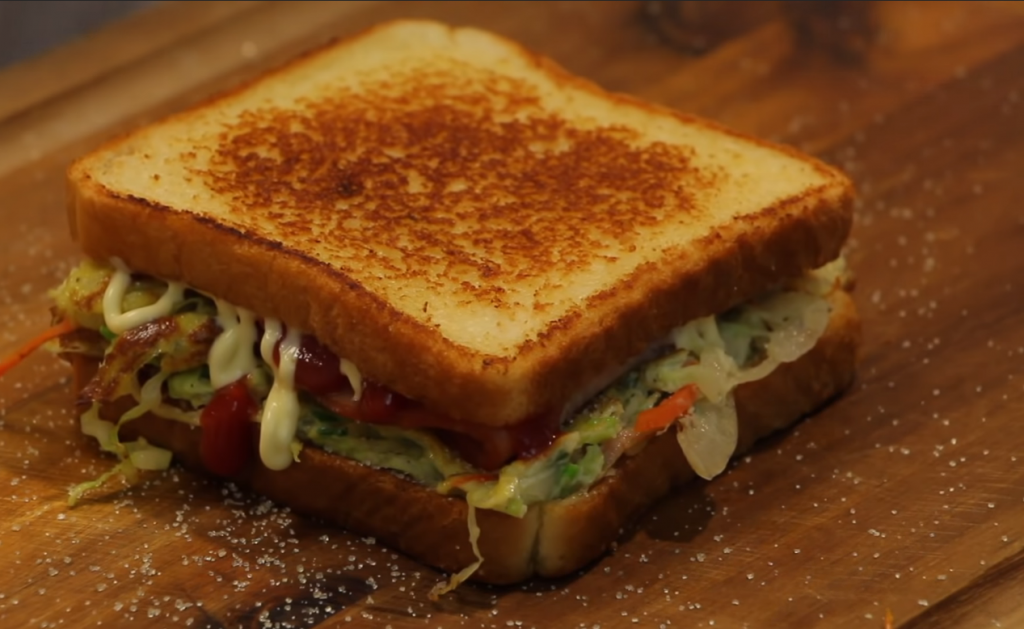 Korean Street Toast Recipe
How To Make Korean Street Toast
Switch up your usual snack & try this loaded Korean street toast! This smoked ham-filled sandwich offers a crunchy bite with fresh veggies.
Ingredients
⅓

cup

carrot,

julienned

1

cup

green cabbage,

thinly sliced

1

green onion stalk,

thinly sliced

¼

tsp

ground black pepper

1

pinch

cayenne pepper

½

tsp

kosher salt,

or to taste

2

eggs,

large

3

tbsp

salted butter,

divided

2

white bread,

thick slices

½

tsp

white sugar,

or to taste

2

ham,

smoked, thin slices

1

slice

mild Cheddar cheese,

slice

1

tbsp

ketchup,

or to taste

1

tbsp

mayonnaise,

or to taste
Instructions
Combine carrot, cabbage, green onion, black pepper, cayenne, and salt. Mix using hands for about 30 seconds until soft and seasoned. Add eggs and mix thoroughly with a fork; set aside.

Heat 2 tablespoons of butter in a nonstick skillet over medium-high heat. Add bread slices and toss to make sure both sides are well buttered. Grill bread until both sides are beautifully toasted and golden brown and starting to get a little crispy. Remove to a plate.

Heat remaining butter in the same skillet over medium heat. Add cabbage mixture; cook and simultaneously mix by using the edge of a spatula to chop down on the surface while pushing the edges up and over the top.

As the mixture starts to hold its shape, form into a rectangle that's about twice as long as it is wide. Split the rectangle in half and continue to cook for 3 to 4 minutes total until golden brown; flip and continue on the opposite side.

Stack cabbage pieces on top of one another and transfer to toast. Top with sugar.

Add ham to the same skillet over medium heat; cook until sizzling. Flip and top ham with Cheddar cheese. Cook for about 1 minute until melted.

Place ham on sandwich and squeeze over mayonnaise and ketchup. Top with remaining slice of toast, slice in half, and serve. Enjoy!