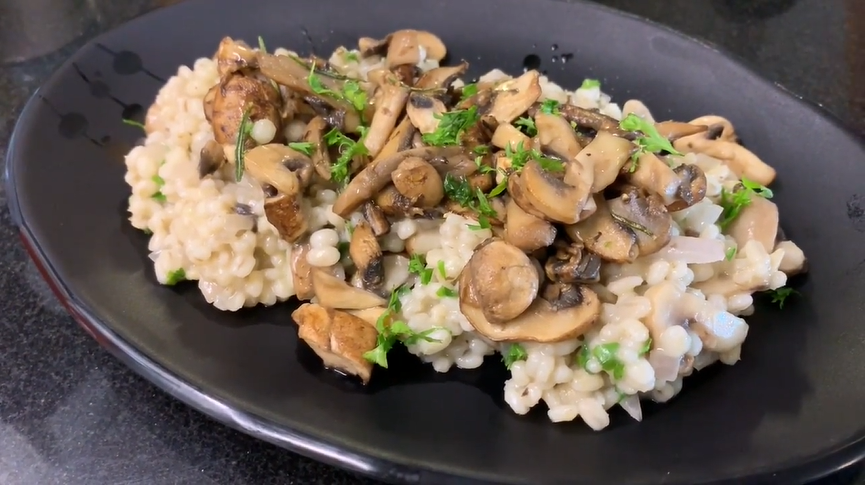 Barley Risotto with Mushrooms and Beef Recipe
How To Make Barley Risotto with Mushrooms and Beef
Nutty and chewy barley and fresh mushrooms are tossed together to create a creamy barley risotto, that's also topped off with a succulent beef tenderloin!
Cooking:
1 hour 10 minutes
Ingredients
For Risotto:
4

cups

vegetable broth

1

cup

pearl barley

¼

tsp

extra virgin olive oil

¼

cup

onion,

chopped

½

tsp

garlic,

minced

1½

cups

fresh mushrooms,

assorted, seasonal, shiitake, oyster, portobello, chanterelle

1

bay leaf

½

tsp

fresh thyme,

chopped

½

tsp

fresh oregano,

chopped

pinch

freshly ground pepper

2

tbsp

parmigiano reggiano cheese
For Red Wine Reduction:
2

cups

red wine

2

tbsp

light corn syrup
For Tenderloin:
4

filet mignons,

(beef tenderloin steaks)

1

tbsp

fresh herbs,

like basil, oregano, parsley, and thyme, finely chopped

½

tsp

salt

½

tsp

pepper

½

tsp

extra virgin olive oil

2

cups

vegetables,

assorted, steamed
Instructions
Risotto
In a 2-quart saucepan over high heat, bring broth and 1 cup water to a boil. Then reduce heat to maintain a simmer.

In a medium skillet over medium heat, toast ½ cup of barley, stirring constantly, for 5 minutes, until golden brown and fragrant. Set aside.

In a medium saucepan over medium heat, heat oil. Add onion and garlic; cook, stirring, for about 2 minutes, until onion softens. Add mushrooms and cook for 2 minutes.

Stir in toasted barley, remaining ½ cup of barley, and bay leaf. Add about ½ cup of simmering broth to barley, stirring until liquid has been absorbed.

Continue cooking, adding broth ½ cup at a time and stirring, for 30 to 35 minutes, until all liquid has been absorbed and barley is tender. Stir in thyme, oregano, pepper, and cheese. Remove bay leaf.
Wine Reduction
In a small saucepan over medium-high heat, bring wine and corn syrup to a boil for about 20 minutes, until reduced to a syrupy consistency. Set aside.
Tenderloin
Sprinkle the filets with herbs, salt, and pepper. In a large nonstick skillet over medium-high heat, heat oil. Add the filets and cook for about 3 minutes on both sides for medium-rare or until browned and to desired doneness.
To Assemble
Press ½ cup of risotto into a 4-ounce ramekin or custard cup and unmold in center of plate. Repeat to make 3 more molds.

Slice each filet horizontally into 4 round medallions. Arrange ½ cup of steamed vegetables on each plate. Lean beef slices against risotto. Drizzle 1 tablespoon wine reduction over beef, risotto, and vegetables.

Serve and enjoy!
Nutrition
Calories: 

807.46kcal

Fat: 

35.30g

Saturated Fat: 

13.98g

Monounsaturated Fat: 

14.74g

Polyunsaturated Fat: 

2.02g

Carbohydrates: 

55.64g

Fiber: 

11.05g

Sugar: 

10.68g

Protein: 

45.40g

Cholesterol: 

153.61mg

Sodium: 

520.36mg

Calcium: 

164.87mg

Potassium: 

1144.83mg

Iron: 

5.83mg

Vitamin A: 

138.98µg

Vitamin C: 

8.26mg