With this quick and easy tortellini alfredo recipe, you can easily make a delicious pasta dish for the family anytime. And if you're a fan of Italian dishes from Olive Garden, then you're definitely going to love this pasta recipe. I personally love white sauce on any pasta. There's just something about the creaminess of alfredo sauce that really gets me slurping on the noodles! And this alfredo tortellini pasta is no exception to the richness and creaminess of a homemade alfredo sauce. 
I've made a lot of pasta dishes before, but this one was really delightful to eat since it used tortellini pasta. It's a kind of Italian pasta that's ring-shaped and stuffed with either cheese or meat. If you're wondering how to cook tortellini, then it's really just the same as any other pasta. It needs to boil in a large pot of boiling water mixed with oil for about 7 minutes. After that, it's ready to be drained and cooled.  
For this recipe, I used cheese tortellini which is best paired with the alfredo sauce and freshly grated parmesan cheese topping. You can also add in Romano cheese for that extra cheesiness. Or, if you're a fan of spice just like me, I recommend sprinkling some red pepper flakes as well. Then, finish it off with fresh parsley on top. 
This cheese tortellini with alfredo sauce is definitely one of my favorites. Making the homemade alfredo sauce is so easy with the butter, milk, and parmesan cheese. But, of course, the secret ingredient to making this extra scrumptious is using fresh tortellini. It's better than the dried or frozen tortellini pasta. If you want your alfredo cheese tortellini recipe to be soft and creamy, then it's best to use the fresh packaged ones. 
The creamy alfredo sauce poured delicately over the cheese-filled tortellini was such a sight to see that I couldn't wait to eat it. I prepared a big serving just so my family could also enjoy my homemade tortellini alfredo – which I'm very proud of, by the way! With each bite, I could taste both the richness of the creamy alfredo and the soft, cheese stuffed tortellini pasta. It was a very appetizing and delicious meal. I highly recommend pairing it with homemade garlic bread.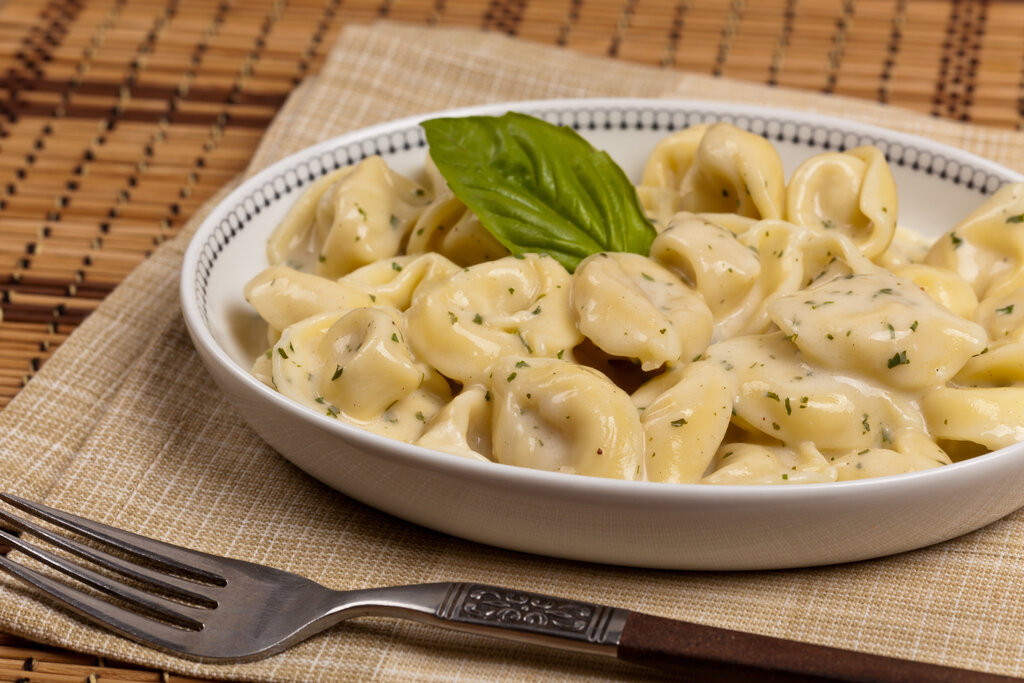 Tortellini Alfredo Recipe
How To Make Tortellini Alfredo Recipe
This cheese tortellini alfredo recipe offers a creamy and scrumptious pasta dish that's smothered in a rich white sauce, made with milk and parmesan.
Ingredients
18

oz

cheese tortellini,

refrigerated

3

tbsp

butter

1

tbsp

garlic,

minced

3

tbsp

flour

3

cups

milk,

or heavy cream

salt and black pepper,

to taste

1½

cups

pasta water,

reserved

½

cup

parmesan cheese,

freshly grated, plus more for optional topping

parsley,

freshly chopped, for topping
Instructions
Bring a large pot of water to a boil. Add tortellini. Boil for 3 minutes. Use a slotted spoon to remove from the pot or strain and reserve the pasta liquid for later.

In a large skillet over medium heat, melt the butter. Stir in garlic for 1 minute until fragrant.

Sprinkle flour over the melted butter and minced garlic, and stir until a paste forms.

Gradually whisk in milk until smooth and fully incorporated.

Stir in salt, pepper, and ½ cup of reserved pasta water.

Stir in salt, pepper, and parmesan cheese until cheese is fully melted and incorporated.

Gradually whisk in remaining pasta water as needed to reach a smooth, pourable sauce.

Taste, then add salt and pepper if needed. Stir in tortellini for 2 to 3 minutes until hot throughout and top with cracked black pepper, parsley, and grated parmesan, if desired.

Serve and enjoy.