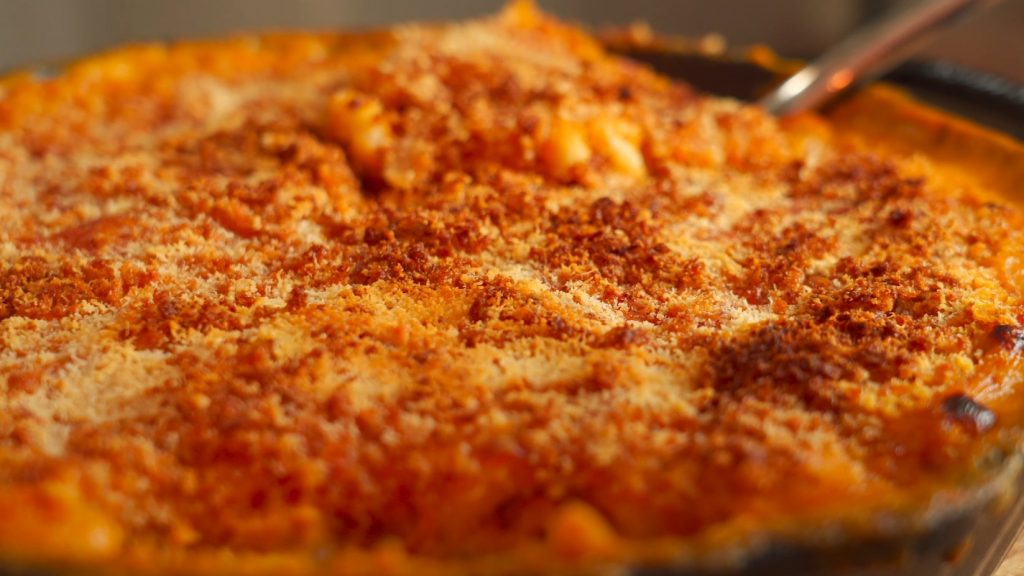 Pumpkin Mac and Cheese with Roasted Veggies Recipe
How To Make Pumpkin Mac and Cheese with Roasted Veggies
Here's a nutritious version of mac and cheese recipe. Made with pumpkin purée, not only does it give a buttery, cheesy taste but it's also very filling!
Ingredients
28

oz

pie pumpkin,

1 organic or 15oz (1 can) pumpkin puree

Olive oil,

cooking spray

16

oz

cauliflower florets,

cut into 1-in. pieces

16

oz

brussels sprouts,

quartered

1½

tsp

olive oil

¾

tsp

kosher salt,

or more to taste

12

oz

rotini pasta,

gluten-free or wheat

1½

tbsp

butter

¼

cup

onion,

minced

2

tbsp

all purpose,

or gluten-free flour

1½

cups

fat free milk

⅔

cup

chicken or vegetable broth,

reduced sodium

5

oz

Sharp Light Cheddar,

freshly grated

4

oz

Gouda,

freshly grated

2

tbsp

parmesan,

freshly grated

pinch

nutmeg

fresh pepper,

to taste
Instructions
Preheat the oven to 400 degrees F. Line 2 large baking sheets with aluminum foil, and coat with olive oil spray.

Toss cauliflower and Brussels sprouts with olive oil, and season with salt. Spread in an even layer on the prepared baking sheet.

For DIY roasted pumpkin, cut the top of the pumpkin as if carving a jack-o-lantern. Then cut it in quarters. Scoop out the seeds.

Place the pumpkin on the prepared sheet pan and roast with the other veggies in the oven at 400 degrees F for 35 to 37 minutes, stirring the vegetables and rotating pans halfway through cooking time, until vegetables are soft and have begun to brown around the edges and the pumpkin is soft if pierced with a knife.

Remove the vegetables and pumpkin from the oven, and when cool enough to handle, remove the pumpkin from the skin. This will come off easily. Discard the skin and place pumpkin in a food processor. Purée until smooth, adding about 3 tablespoons of water if needed, until smooth.

While vegetables roast, bring a large pot of salted water to a boil. Cook pasta according to package directions, omitting fat and salt. Drain, and set aside.

Over medium heat, melt the butter. Add the onion and cook over low heat for about 2 minutes.

Add flour and cook for about one minute, or until the flour is golden and well combined.

Add milk and broth and whisk, raising heat to medium-high until it comes to a boil; cook for about 4 to 5 minutes until it thickens slightly. Season with ¾ teaspoon salt, nutmeg and pepper.

Once it begins to thicken, stir in pumpkin and cook for about 2 minutes, until heated through. Remove from heat, add cheeses and parmesan and mix well until melted. Add the cooked macaroni and mix well, fold in the roasted vegetables.
Recipe Notes
To make roasted pumpkin seeds, rinse and lay them out on a baking sheet overnight to dry out.
For variation, swap out the pumpkin and use butternut squash in its place. Rotini pasta may also be used for any small pasta shape, such as elbows.
As a substitute to broccoli florets, Brussels sprouts can make a good choice.
Add sautéed chicken sausage for more protein.
For a baked mac and cheese, top it with breadcrumbs and finish it in the oven.
Nutrition
Calories: 

445.01kcal

Fat: 

19.63g

Saturated Fat: 

8.83g

Trans Fat: 

0.30g

Monounsaturated Fat: 

7.70g

Polyunsaturated Fat: 

1.42g

Carbohydrates: 

50.16g

Fiber: 

5.51g

Sugar: 

9.06g

Protein: 

19.94g

Cholesterol: 

42.46mg

Sodium: 

501.18mg

Calcium: 

414.39mg

Potassium: 

955.37mg

Iron: 

2.63mg

Vitamin A: 

601.65µg

Vitamin C: 

85.34mg