Tarragon and dijon mustard are two classic ingredients used in the famous French cuisine. Most people think of a complex mix of ingredients when they think of French cooking techniques, but that's not the case for our chicken tarragon recipe. All you need to do is to rub the chicken with a generous amount of dijon mustard. Its tarragon cream sauce gives a very sophisticated and rich flavor. Have it with yellow rice or sautéed zucchini and cherry tomatoes for an interesting dining experience.
Tips on How to Make Dijon-Tarragon Cream Chicken
This tarragon chicken recipe is simple and packed with tangy and herby flavors. You can't go wrong with a juicy, seared chicken topped with a creamy dijon-tarragon sauce. We cook this very easy chicken recipe in a skillet. You'll find below some tips to help you with this divine dish.
Always use cling wrap to cover the chicken breasts when you're pounding them so the chicken juices don't make a mess all over your kitchen counter. You could also use chicken thighs for this recipe.
A rolling pin works perfectly if you do not have a mallet. You can also use anything heavy and solid (such a heavy-bottomed pan) to pound the chicken breast.
For this recipe, you must coat the chicken well in flour. By doing this, your chicken breast will be able to develop a golden brown crust. Don't forget to shake off the excess flour so it doesn't get cooked and burnt, which will alter the cooking oil and cause it to darken and have a bitter taste.
You can use a teaspoon of dried tarragon if you don't have any fresh tarragon available to you.
If you don't want a dairy-based cream sauce, you can use soya cream instead.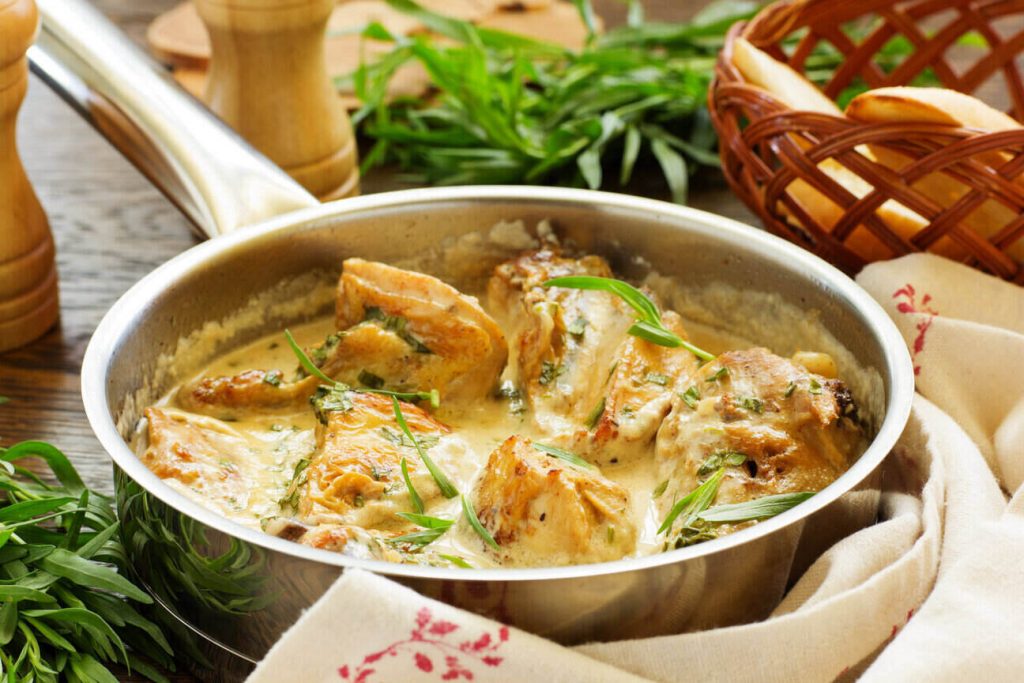 Dijon-Tarragon Cream Chicken Recipe
How To Make Dijon-Tarragon Cream Chicken
This tarragon chicken cooked in a skillet is simple and full of different flavors. The seared and juicy chicken breasts pair perfectly with a made from scratch tarragon mustard sauce. We're certain you'll want to have this dish everyday and will be serving it to guests.
Ingredients
1

tbsp

butter

1

tbsp

olive oil

4

chicken breast,

skinless, boneless, halves

salt and pepper,

to taste

½

cup

heavy cream

1

tbsp

Dijon mustard

2

tsp

fresh tarragon,

chopped
Instructions
Season the chicken breasts with salt and pepper.

Heat up your pan to medium-high and melt butter and oil.

Sear the chicken breasts until brown on both sides.

Once browned, cover the pan and cook for 15 minutes, or until the meat is no longer pink and juices run clear.

Take the chicken breasts out and set aside. Keep warm.

On the same pan, pour the heavy cream and scrape drippings from the bottom of the pan.

Add the mustard and tarragon and mix.

Cook while stirring for 5 minutes, or until the sauce has thickened.

Return the chicken breasts to the pan and coat with sauce.

Transfer the chicken to a serving dish, pour remaining sauce on top.

Serve and enjoy!
Nutrition
Sugar:

1g

:

Calcium:

34mg

Calories:

420kcal

Carbohydrates:

1g

Cholesterol:

193mg

Fat:

23g

Fiber:

1g

Iron:

1mg

Potassium:

868mg

Protein:

49g

Saturated Fat:

10g

Sodium:

317mg

Vitamin A:

606IU

Vitamin C:

3mg
Nutrition Disclaimer
Commonly Asked Questions
How do you use tarragon in cooking?
Aside from tarragon chicken, tarragon is often used in different sauces and salad dressings. In addition, it can be used as part of your green salad or just as a garnish. Tarragon is also commonly used in herbed vingears.
What does tarragon chicken taste like?
Flavor-wise, tarragon tastes like licorice or anise. Some even compare it to fennel. Moreover, one would say it's an acquired taste. When cooked with meat with mild flavors such chicken, the bold taste of tarragon is able to penetrate through the chicken, leaving you with an incredibly tasty dish.
What does tarragon go well with?
Tarragon pairs will with chicken and salmon as well as vegetables like classic asparagus or grilled artichokes. Some chefs like to put tarragon leaves under roasted chicken skin to give the meat extra flavor.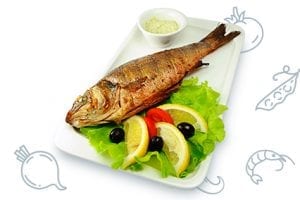 Conclusion
You don't need to invest in an incredibly expensive dutch oven and simmer this dish for hours. You only need a regular skillet and you're set. This tarragon chicken recipe is full of flavor thanks to the amazing combination of tangy, strong dijon, and fresh tarragon. You'll be making bigger batches in no time after trying this out once.