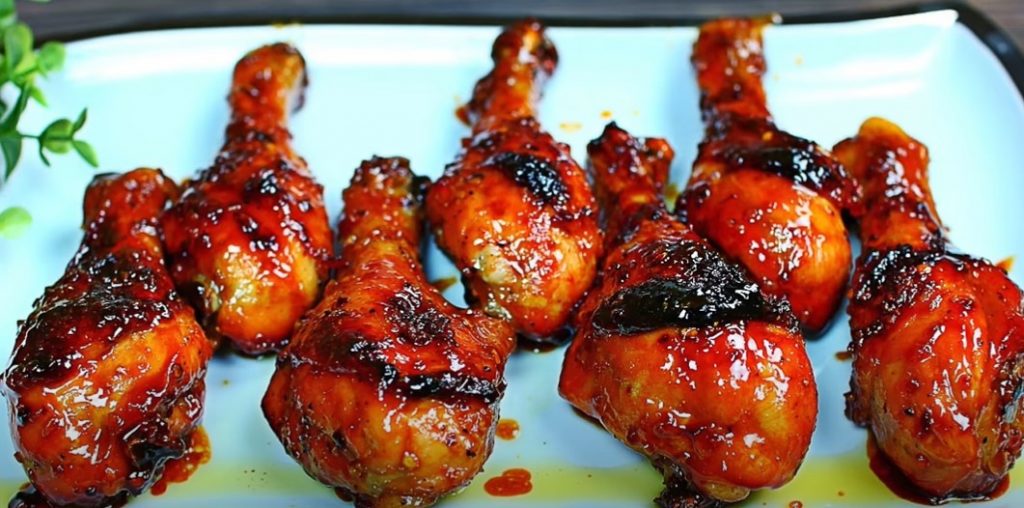 Browned Butter Honey Garlic Chicken Recipe
How To Make Browned Butter Honey Garlic Chicken
The fresh, tangy sweetness with a hint of bitterness of this creamy garlic chicken recipe is something that you have to have for Sunday lunch.
Ingredients
6

chicken thighs

Salt and pepper

to taste

6

tbsp

butter

divided

¼

cup

honey

1

tbsp

garlic

minced

2

tbsp

lemon juice

fresh squeezed, or juice of half a lemon

4

tbsp

chicken broth

3

cups

broccoli florets

raw or steamed

4

lemon

wedges

to serve

2

tbsp

parsley

fresh chopped
Instructions
Arrange oven shelf about 8-inches away from heat element in your oven. Preheat your oven to broil (or grill in Australia) on medium heat.

Pat chicken dry with paper towel, then season with salt and pepper.Melt one tablespoon of butter in an oven-proof pan or cast iron skillet over medium high heat.

Sear chicken thighs, skin side down first, until the skin is nice and crispy (about 5 minutes). Flip and sear again until golden and crisp (about another 5 minutes).Drain most of the excess oil from the pan, leaving about 2 tablespoons of the pan juices for added flavour.Transfer chicken to a warm plate; set aside.
Sauce:
Melt the butter in the same pan or skillet the chicken was seared in over medium heat, scraping any bits left over in the pan from the chicken with a spatula. Stir the butter and swirl the pan occasionally for about 3 minutes or until the foam settles; the butter begins to change in colour to golden brown and has a nutty fragrance.

Pour in the honey and let it dissolve into the butter while mixing it through. Then add in the garlic and sauté for about 1 minute until fragrant. Add in the lemon juice; stir well to combine all of the flavours together.
After Making The Sauce:
Add the chicken back into to the browned butter/honey mixture in the pan.Cook SKIN SIDE UP for 5 minutes in the sauce, while occasionally basting the tops or skin with the pan juices. Reduce heat, cover skillet with a lid and continue cooking until the chicken is cooked through, while turning every 5 minutes or so until done. Season with a little extra salt and pepper, to your taste, if desired. Add in 2-3 tablespoons of chicken broth if the sauce becomes to thick (this is an option only).

Transfer the skillet to your oven to broil (or grill) for a further 2-3 minutes, or until the tops of the chicken are nicely charred. (If serving with broccoli, move the chicken to one side of the pan and arrange your florets on the other side. Season broccoli with salt, pepper, a pinch of garlic powder and a drizzle of olive oil. For tender-charred broccoli, steam first. For crisp-charred broccoli, use raw.)

Alternatively For Oven Baked Chicken: Preheat oven to 400°F or 200°C. Sear chicken in an oven proof skillet or pan, skin side down first for 3 minutes. Flip and sear for a further 3 minutes until browned. Transfer chicken to a plate; make the sauce following recipe directions, then add the chicken into the sauce in the pan. Transfer to the oven for a further 20-25 minutes until completely cooked through and no longer pink inside. Change oven settings to broil (or grill), until nicely charred on the tops.

To serve, add the lemon wedges around the chicken, garnish with parsley and drizzle with the pan juices. Serve with steamed vegetables; over rice or noodles, or with a salad!
Nutrition
Calories: 

591.97kcal

Fat: 

43.89g

Saturated Fat: 

16.10g

Trans Fat: 

0.63g

Monounsaturated Fat: 

16.46g

Polyunsaturated Fat: 

7.22g

Carbohydrates: 

16.21g

Fiber: 

0.46g

Sugar: 

12.04g

Protein: 

33.64g

Cholesterol: 

219.97mg

Sodium: 

651.36mg

Calcium: 

44.94mg

Potassium: 

565.95mg

Iron: 

1.93mg

Vitamin A: 

200.47µg

Vitamin C: 

39.74mg