How To Make Banana Fritters
Satisfy your sweet tooth craving with these banana fritters, made of mashed bananas, flour, and milk, for deliciously fried 25-minute treats.
Ingredients
6

bananas,

saba or plantain, ripe, mashed

1

cup

all-purpose flour

1½

tsp

vanilla extract

1

egg,

beaten

1

tsp

baking powder

¾

cup

granulated white sugar

1

cup

fresh milk

¾

cup

cooking oil

½

tsp

salt
Instructions
In a large bowl, combine flour, baking powder, salt, and ½ cup of sugar. Mix well.

Gradually add the mashed bananas while mixing. Add the egg, vanilla extract, and milk. Mix to incorporate all the ingredients.

Heat ½ of the oil in a pan. When the oil becomes hot, scoop about ½ cup of the mixture and then pour into the pan. Add the remaining oil in the next batches.

Fry both sides until the color turns golden brown.

Sprinkle the remaining sugar on both sides.

Serve. Share and enjoy!
Topics:
Related Recipes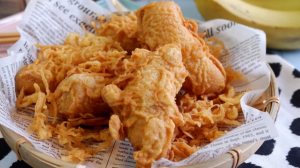 Fruit Dessert
Fried Banana Fritters À La Mode Recipe
Topped with vanilla ice cream, whip up these sweet banana fritters in just 30 minutes for a crunchy on the outside and soft on the inside fruit desserts.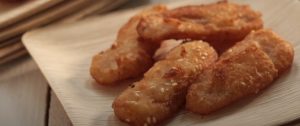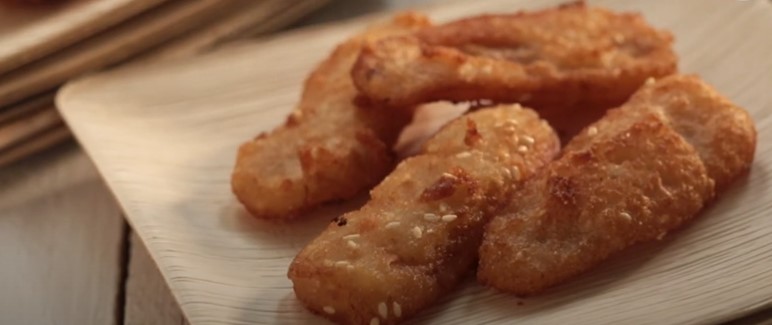 Fruit Dessert
Low Fat Banana Fritters Recipe
For these banana fritters, ripe bananas are mashed and shaped like pancakes before pan-frying in minimal fat. They're delicious even when not deep-fried.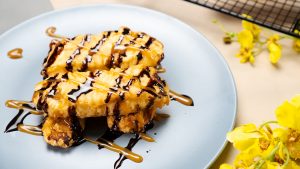 Fried
Hawker-Style Plantain Fritters Recipe
This plantain recipe yields a plate of ripe and sweet plantains that are golden-fried intro crunchy fritters!