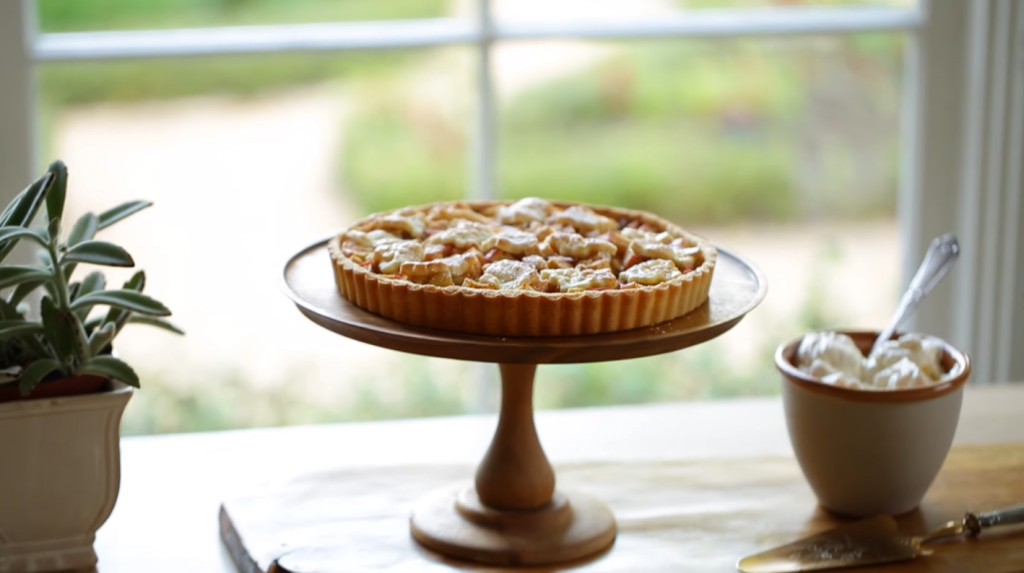 Walnut-Garlic Tart with Chili Syrup Recipe
How To Make Walnut-Garlic Tart with Chili Syrup
This walnut-garlic tart lends a medley of sweet and savory flavors, with a filling of cream-infused garlic, and a sweet and sticky chili syrup!
Ingredients
12

garlic clove

1

tsp

olive oil

2

cups

walnut pieces

2

cups

heavy cream

2

tbsp

light brown sugar

1

cup

light brown sugar

½

cup

granulated sugar

2

tbsp

granulated sugar

1

small hot red chili,

fresh, not dried

1

cup

all purpose flour

2

tsp

salt

¼

tsp

salt

2

stick

unsalted butter,

cold

½

cup

golden syrup,

or light corn syrup

½

can

sweetened condensed milk

1

tsp

vanilla extract
Instructions
Place 6 whole cloves garlic (with peel on) in a small baking dish. Drizzle with olive oil and cover.

Bake at 400 degrees F for about 15 minutes, until very soft. Remove from oven, and as soon as they are cool enough to handle, squeeze out garlic from peel to cool.

Spread walnuts on a baking sheet, and toast at 400 degrees for about 5 to 10 minutes, until fragrant and very slightly browned. Remove and set aside to cool.

Pour the heavy cream into a saucepan, and gently stir in 2 tablespoons brown sugar to dissolve. Add 2 cloves roasted garlic, slightly crushed, and heat very gently over very low heat, stirring occasionally. Do not boil or even simmer.

When thoroughly warmed, remove from heat and place in refrigerator to chill.
Chili Syrup:
Combine ½ cup of granulated sugar and ½ cup of water in a small saucepan. Bring to a boil, then turn down heat to a low simmer.

Simmer briefly, until sugar is dissolved and syrup is clear.

Deseed and finely chop chili. Remove syrup from heat and add chopped chili.

Cool slightly, then pour into a serving pitcher to cool at room temperature.
Crust:
Place the flour, 2 tablespoons granulated sugar, and 2 teaspoons salt in a food processor and pulse once or twice to combine. Add 1 stick butter, cut into about 16 chunks, and remaining 4 cloves roasted garlic.

Pulse until dough begins to come together, drizzling in ice water as needed, about 3 to 4 tablespoons. Process until dough begins to form a ball.

By hand, shape the dough into a disk, wrap in plastic, and chill in refrigerator at least 30 minutes.

Roll out and fit into a 9-inch tart pan, patching and trimming as needed.

Blind bake, weighted, at 400 degrees F for about 10 minutes, until edges begin to brown, then remove pie weights.

Bake a few more minutes until entire crust is lightly browned. Set aside to cool at room temperature.
Filling:
Peel and thinly slice remaining 6 cloves garlic.

Melt 1 stick butter over medium-low heat, then mix in 1 cup brown sugar to dissolve. Stir in syrup and sweetened condensed milk.

Heat slowly to 245 degrees F.

Remove from heat, and stir in vanilla and ¼ teaspoon of salt. Stir in toasted walnut pieces and sliced garlic.

Pour into baked crust. Refrigerate to cool.
To Serve:
Strain the chilled cream, and whip to light, soft peaks.

Serve slices of tart with a dollop of cream and a drizzle of syrup, or decorate whole tart with cream and syrup before slicing. Enjoy!
Nutrition
Calories: 

6404.72kcal

Fat: 

395.51g

Saturated Fat: 

242.78g

Trans Fat: 

7.41g

Monounsaturated Fat: 

109.44g

Polyunsaturated Fat: 

19.25g

Carbohydrates: 

696.14g

Fiber: 

4.89g

Sugar: 

453.96g

Protein: 

51.07g

Cholesterol: 

1235.43mg

Sodium: 

3763.61mg

Calcium: 

1445.08mg

Potassium: 

2132.03mg

Iron: 

9.88mg

Vitamin A: 

3717.16µg

Vitamin C: 

24.38mg