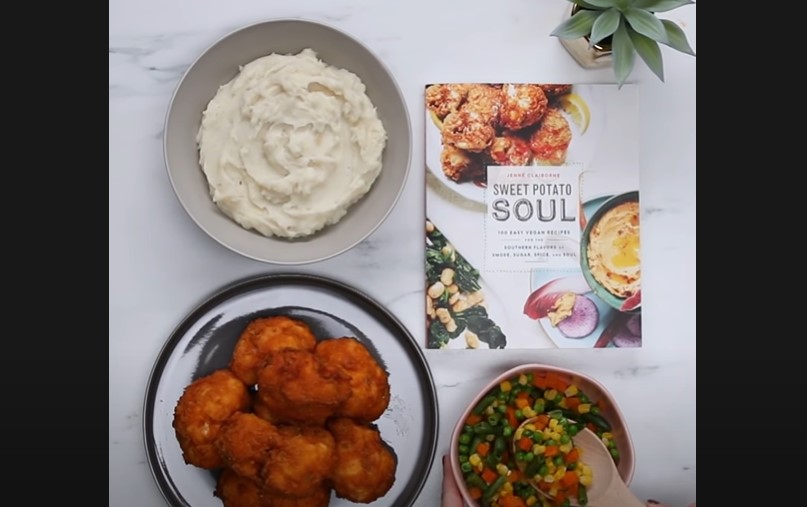 Orange Cauliflower "Chicken" Recipe
How To Make Orange Cauliflower "Chicken"
It's a prank! Get your meat-lover friends into eating this meat-substitute orange cauliflower chicken recipe. Honestly, they won't even notice.
Ingredients
nonstick cooking spray,

for greasing

2

cups

non dairy milk

2

cups

all purpose flour

2

tsp

kosher salt

1

cauliflower,

cut into 1½ inch (3cm) florets

1

tbsp

canola oil

3

garlic cloves,

minced

1

pc

fresh ginger,

minced

¼

tsp

red pepper flakes

½

cup

orange juice

½

cup

brown sugar

¼

cup

distilled white vinegar

¼

cup

soy sauce

2

tbsp

cornstarch

2

tbsp

cold water

1

tsp

sesame oil

white rice,

for serving

3

scallions,

thinly sliced, for garnish
Instructions
Preheat the oven to 450 degrees F. Line a baking sheet with parchment paper and grease with nonstick spray.

In a medium bowl, whisk together the non-dairy milk, flour, and salt.

One at a time, dip each cauliflower floret in the batter to coat, letting any excess batter drip off. Arrange the battered cauliflower on the prepared baking sheet, making sure they aren't touching one another. Lightly spray with cooking spray.

Bake for 30 to 35 minutes, until the coating is crispy and beginning to brown.

While the cauliflower is baking, make the sauce.
To make the Sauce:
Heat the canola oil in a medium skillet over medium heat. When the oil is shimmering, add the garlic, ginger, and red pepper flakes.

Cook for 2 to 3 minutes, until fragrant, stirring frequently to prevent burning.

Add the orange juice, brown sugar, vinegar, and soy sauce. Cook for another 2 to 3 minutes, until the brown sugar is dissolved and the mixture begins to simmer.

In a small bowl, stir together the cornstarch and cold water with a fork.

Add the slurry to the sauce, stirring to combine. Simmer for another 2 minutes, until the sauce thickens.

Mix in the sesame oil, then transfer the sauce to a large bowl.

Toss the hot cauliflower florets in the sauce until well coated.

Serve the cauliflower over rice and garnish with the scallions.
Nutrition
Calories: 

1154.97kcal

Fat: 

16.89g

Saturated Fat: 

1.58g

Trans Fat: 

0.01g

Monounsaturated Fat: 

8.72g

Polyunsaturated Fat: 

5.47g

Carbohydrates: 

239.59g

Fiber: 

6.44g

Sugar: 

169.77g

Protein: 

16.92g

Sodium: 

1857.78mg

Calcium: 

239.48mg

Potassium: 

1465.08mg

Iron: 

6.31mg

Vitamin A: 

31.06µg

Vitamin C: 

197.87mg