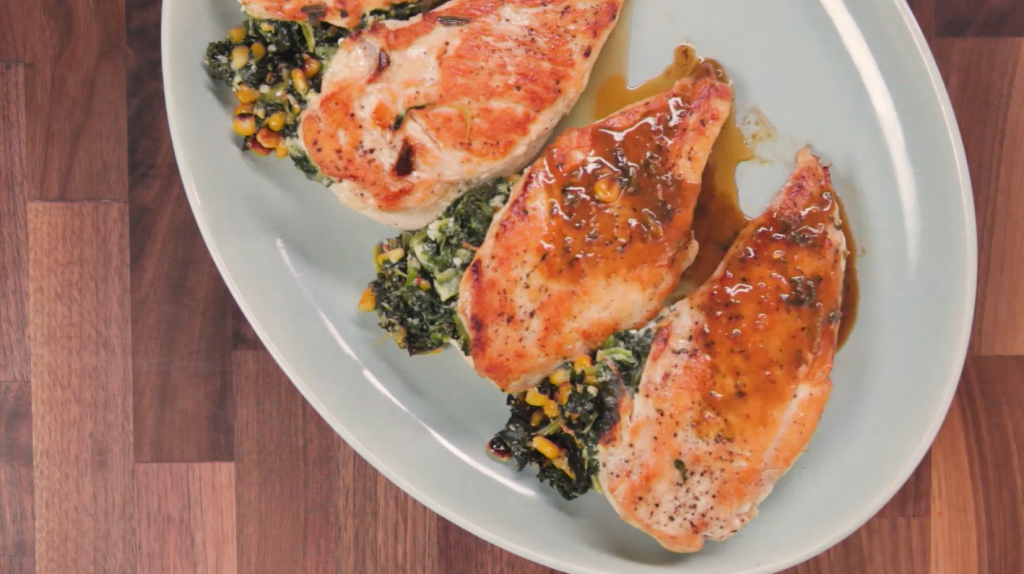 Kale and Goat Cheese Stuffed Chicken Thighs Recipe
How To Make Kale and Goat Cheese Stuffed Chicken Thighs
Bites of crisp, earthy kale, and creamy, soft goat cheese tucked in with tangy lemon, is packed into these stuffed chicken thighs for a belly-filling meal!
Ingredients
1½

cups

dino kale leaves,

(from ½ bunch), finely chopped, plus more leaves for serving

2

tsp

lemon juice,

fresh, if desired

1

tbsp

extra-virgin olive oil,

plus 2 tsp

kosher salt

4

chicken thighs,

boneless, skin-on

3

oz

goat cheese,

(about 8 heaping tsp)

black pepper
Instructions
Preheat oven to 350 degrees F.

In medium bowl, add the chopped kale. Drizzle with lemon juice and 2 teaspoons of of olive oil; season with salt, then toss to distribute.

Cut out eight 8-inch pieces of kitchen twine. Lay the chicken thighs flat on clean work surface with skins facing down and one of the long sides facing you. Season insides lightly with salt.

Place 2 teaspoons of goat cheese in vertical line down center of each chicken thigh. Place 2 tablespoons of prepared kale vertically down center of each chicken thigh, covering goat cheese.

Working one at a time, carefully roll up thighs from short ends so they almost completely cover the kale. Tie the thighs at both ends with kitchen twine; the twine should be at least 1 inch away from edges of chicken to prevent falling off during cooking, knot securely, then trim away any dangling twine pieces.

Stuff any fallen pieces of kale or cheese back into thighs. Dry off outsides of thighs carefully with paper towel, then season outsides all over with salt and pepper.

Preheat large stainless steel skillet over medium-high heat, and add remaining 1 tablespoon of olive oil.

When the oil is hot but not yet smoking, carefully add chicken thighs skin side down to the pan, leaving plenty of room between each thigh. Let cook for 3 to 4 minutes, until skin is golden brown and thigh releases easily from pan.

Using tongs, rotate each thigh one-quarter turns, cooking for 5 to 6 minutes more total, until each side is golden brown and easily releasing from pan. Turn the thighs skin side up with open parts facing down against pan.

Transfer pan to oven and cook for about 10 minutes, until thighs spring back when touched and no more visible pink remains.

Remove and serve immediately on bed of fresh kale leaves. Enjoy!
Nutrition
Calories: 

1035.40kcal

Fat: 

80.00g

Saturated Fat: 

24.62g

Trans Fat: 

0.33g

Monounsaturated Fat: 

33.77g

Polyunsaturated Fat: 

14.36g

Carbohydrates: 

3.23g

Fiber: 

0.79g

Sugar: 

0.41g

Protein: 

72.32g

Cholesterol: 

397.84mg

Sodium: 

1055.10mg

Calcium: 

111.27mg

Potassium: 

880.87mg

Iron: 

3.79mg

Vitamin A: 

271.62µg

Vitamin C: 

16.37mg