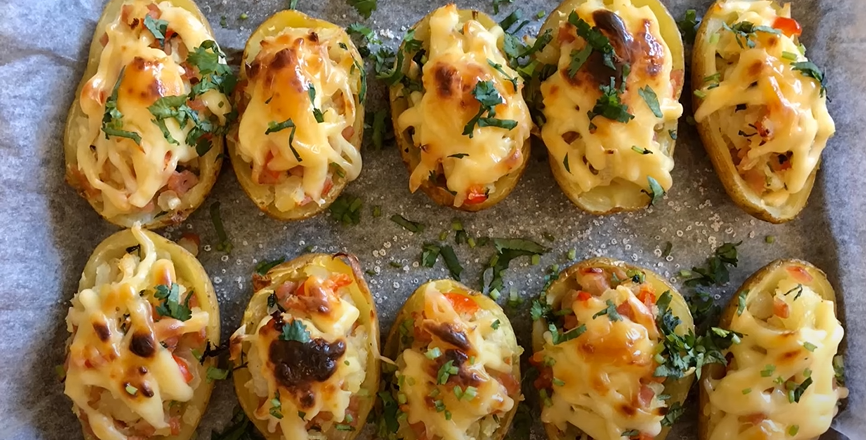 Easy Baked Potato Recipe
How To Make Easy Baked Potato
A simple and delicious dish, this baked potato is rubbed with oil for a shiny, crisp skin and salt for some flavor. Ready for the oven in 5 minutes!
Ingredients
1

russet potatoes,

or more

vegetable oil,

olive oil, or bacon grease, as needed

salt
Instructions
Position a rack in the center of the oven and preheat it to 400 degrees F.

Wash the potatoes and dry them with a kitchen towel. If they have big eyes or tiny sprouts, dig those out (the tip of a potato peeler is the best tool for the job).

Poke each potato all over 10 to 12 times with a dinner fork. Don't be afraid to really get in there; drive the tines about an inch into the potato.

Rub the potatoes with oil or bacon grease about t ¼ teaspoon per potato. They should be a little slick, but not dripping with grease.

Rub as much salt as preferred.

Set the potatoes on a wire rack set over a baking sheet (or, if the oven racks are clean, directly on the rack). The rack helps air circulate for even baking. If baking a lot of potatoes, don't crowd them on the baking sheet; they'll steam if crowded.

Bake for 30 to 60 minutes until a fork or skewer can easily slide into the center of the potato. The baking time will depend on the size of the potatoes.

They're done when the skins are slouchy and wrinkled. There may be a slight hissing sound, or tiny bubbles coming from one of the poke holes. If squeezed, it should yield to the pressure of the fingers easily and quite likely crack open a little. If the potato is still hard, keep baking it until it's done.

To serve, prick the center of a potato with a fork and pry it open to expose its crumbly and fluffy flesh. Season and top as preferred, and dig in!
Nutrition
Calories: 

222.96kcal

Fat: 

3.53g

Saturated Fat: 

0.28g

Trans Fat: 

0.03g

Monounsaturated Fat: 

2.40g

Polyunsaturated Fat: 

0.67g

Carbohydrates: 

44.26g

Fiber: 

3.18g

Sugar: 

1.52g

Protein: 

5.24g

Sodium: 

577.39mg

Calcium: 

32.19mg

Potassium: 

1021.58mg

Iron: 

2.11mg

Vitamin C: 

13.96mg