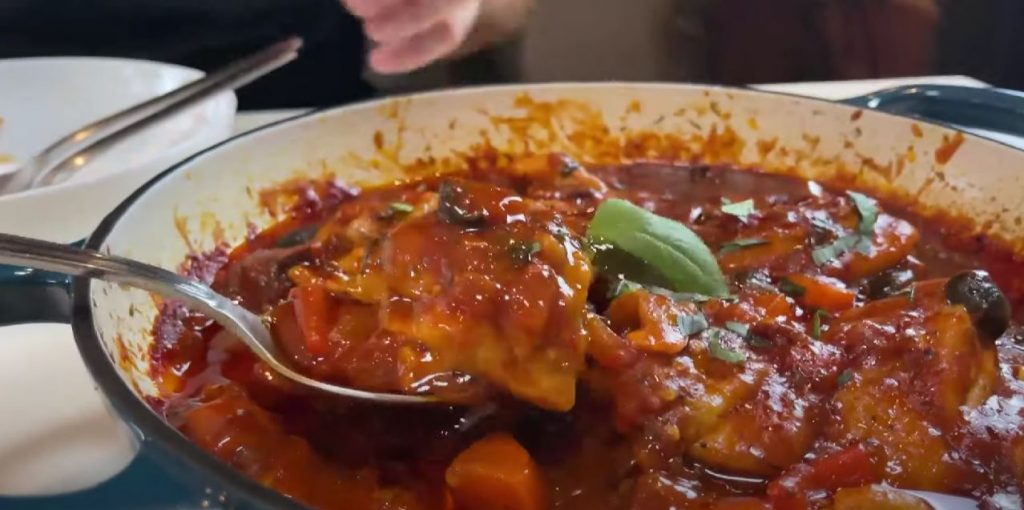 Baked Chicken Cacciatore Recipe
How To Make Baked Chicken Cacciatore
This recipe for chicken cacciatore is an Italian-inspired dish with seared chicken thighs baked in a rich tomato sauce with bell peppers, garlic, & celery.
Instructions
Preheat oven to 375 degrees F.
Heat olive oil in a large sauce pan on medium-high heat.
Season chicken with salt and pepper and add to pan skin-side down. Cook for 5 to 6 minutes.
Flip chicken and cook for an additional 5 to 6 minutes.
Remove chicken from pan and place into a 9×13-inch baking dish.
Scatter the bell peppers, celery, onion and garlic around the chicken.
In a large bowl mix the wine, diced tomatoes, crushed tomatoes, Italian seasoning, salt and pepper until combined.
Pour the mixture over the chicken and vegetables.
Cover with aluminum foil and bake in the oven for 25 to 30 minutes.
Uncover and bake for an additional 25 to 30 minutes.
Nutrition
Monounsaturated Fat: 

16.73g
Polyunsaturated Fat: 

7.32g
Topics: