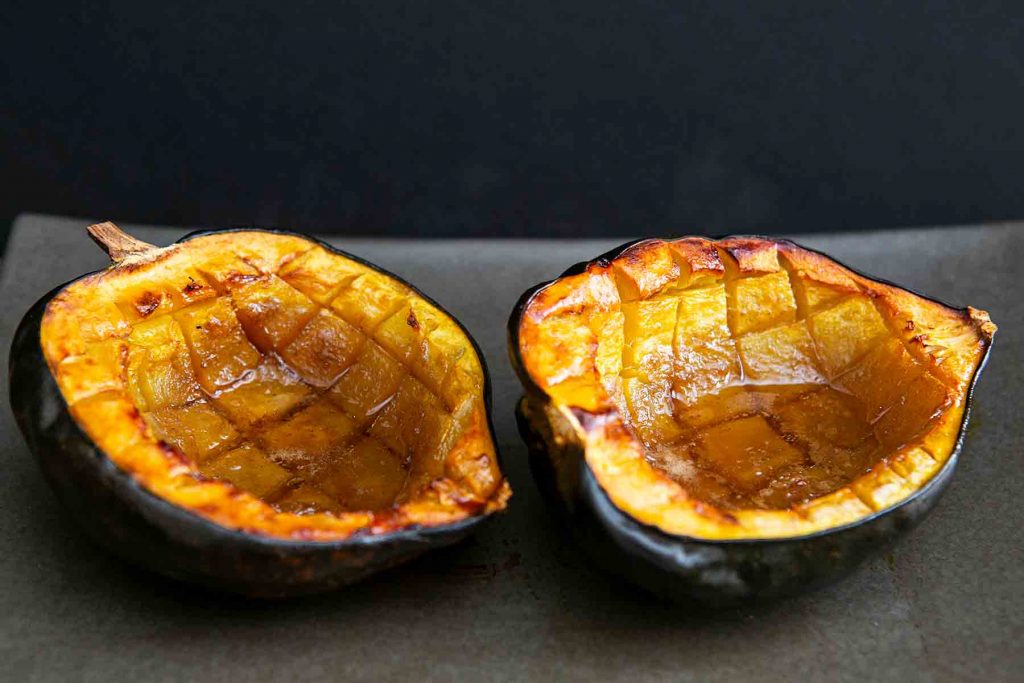 Baked Acorn Squash with Butter and Brown Sugar Recipe
How To Make Baked Acorn Squash with Butter and Brown Sugar
Whip up a quick and flavorful addition to the Thanksgiving table with this baked acorn squash rubbed with butter and maple. Ready to bake in 10 minutes!
Cooking:
1 hour 15 minutes
Ingredients
1

acorn squash

1

tbsp

butter

2

tbsp

brown sugar

2

tsp

maple syrup

dash of salt
Instructions
Preheat the oven to 400 degrees F.

Microwave the squash for 1 minute each, to make it easier to cut. Stabilize the squash on a cutting board, stem end down if the stem is short enough, otherwise on the side.

Using a sharp, sturdy chef's knife, carefully cut the acorn squash in half, from tip to stem. If on its side, the squash can rock back and forth, so take care while cutting it.

Use a sturdy metal spoon to scrape out the seeds and stringy bits inside each squash half until the inside is smooth.

Take a sharp paring knife and score the insides of the acorn squash halves in a cross-hatch pattern about ½-inch deep cuts.

Place the squash halves cut side up in a roasting pan. Pour ¼-inch of water over the bottom of the pan so that the squash doesn't burn or get dried out in the oven.

Rub ½ tablespoon of butter into the insides of each half. Sprinkle with a little salt if using unsalted butter. Crumble 1 tablespoon of brown sugar into the center of each half and drizzle with a teaspoon of maple syrup.

Bake at 400 degrees F for about an hour to an hour 15 minutes until the tops of the squash halves are nicely browned and the squash flesh is very soft and cooked through. It's hard to overcook squash, it just gets better with more caramelization. But don't undercook it.

Remove from oven, spoon brown sugar butter sauce over squash: When done, remove the squash halves from the oven and let them cool for a bit before serving.

Spoon any buttery sugar sauce that has not already been absorbed by the squash over the exposed areas.
Nutrition
Calories: 

94.30kcal

Fat: 

2.99g

Saturated Fat: 

1.85g

Trans Fat: 

0.12g

Monounsaturated Fat: 

0.75g

Polyunsaturated Fat: 

0.15g

Carbohydrates: 

17.87g

Fiber: 

1.62g

Sugar: 

6.38g

Protein: 

0.90g

Cholesterol: 

7.63mg

Sodium: 

160.32mg

Calcium: 

43.61mg

Potassium: 

387.76mg

Iron: 

0.79mg

Vitamin A: 

43.68µg

Vitamin C: 

11.85mg