This recipe for bacon-wrapped water chestnuts will help you achieve the perfect appetizer for your holiday parties or simple weekend hangouts. Imagine bite-sized water chestnuts wrapped in bacon with crunchy centers and crisp, meaty exteriors. These are then coated in a sticky-sweet teriyaki-like glaze, mostly made of soy sauce, Worcestershire sauce, vinegar, and sugar. Poured over the crispy bacon-wrapped chestnuts, this homemade sauce completes this delicious party appetizer. Serve the dish alongside a nourishing green bean casserole so it's extra filling!
What Are Water Chestnuts?
Water chestnuts are vegetables, and not actual nuts. They are aquatic tubers with rootlike parts similar to potatoes or yams. These so-called chestnuts grow underwater in freshwater marshes, and they have a papery brown skin over white flesh that resembles a chestnut – hence the name. Water chestnuts are native to Asian countries, and they're popular in Chinese cuisine. These can be eaten raw or cooked.
In the U.S., you can find both fresh or canned water chestnuts in most grocery stores. Fresh water chestnuts are much sweeter in flavor and are very crisp and juicy. Though they are more expensive than their canned counterparts, they're are better for recipes where they will be showcased as the main ingredient. Canned water chestnuts, on the other hand,  are way cheaper and easier to find in grocery stores. They're a lot more convenient to use for cooking than the fresh variety, but this comes with a catch. They're still crispy, but they might lack in terms of flavor. For this reason, canned water chestnuts are best reserved only for adding texture in stir-fries, chop sueys, soups, and stuffings. 
Tips on Making Bacon-Wrapped Water Chestnuts
These bacon-wrapped water chestnuts are easy appetizers to make at home since you will only need pantry staples for the sauce. It's a fairly simple dish, and we're here to give you some helpful tips on how to properly make it presentable for your guests!
Use whole water chestnuts

so it's easier to consume and wrap in bacon. The sliced version will not work, since you won't get to fully enjoy the full flavors of the crisp vegetable. 
Avoid thick bacon slices.

Thicker slices take a much longer time to cook and get crispy. It's also best to use center-cut bacon which has less fat and more meat to get the most out of your delicious

bacon-wrapped water chestnuts

appetizer!
Secure the bacon-wrapped water chestnuts with a toothpick while baking so they retain their shape

. You can just remove the toothpicks after for a more elegant presentation. 
Use a low-sodium soy sauce

as a healthier alternative to soy sauce. It's the perfect substitute for people who are cutting down on their sodium intake. There won't be much of a difference in taste if you use this in the dish. 
Garnish with fresh parsley.

Make these appetizers even more presentable with a sprinkle of fresh parsley! Chop up some parsley leaves and sprinkle a generous amount over the glaze to make your dish even tastier!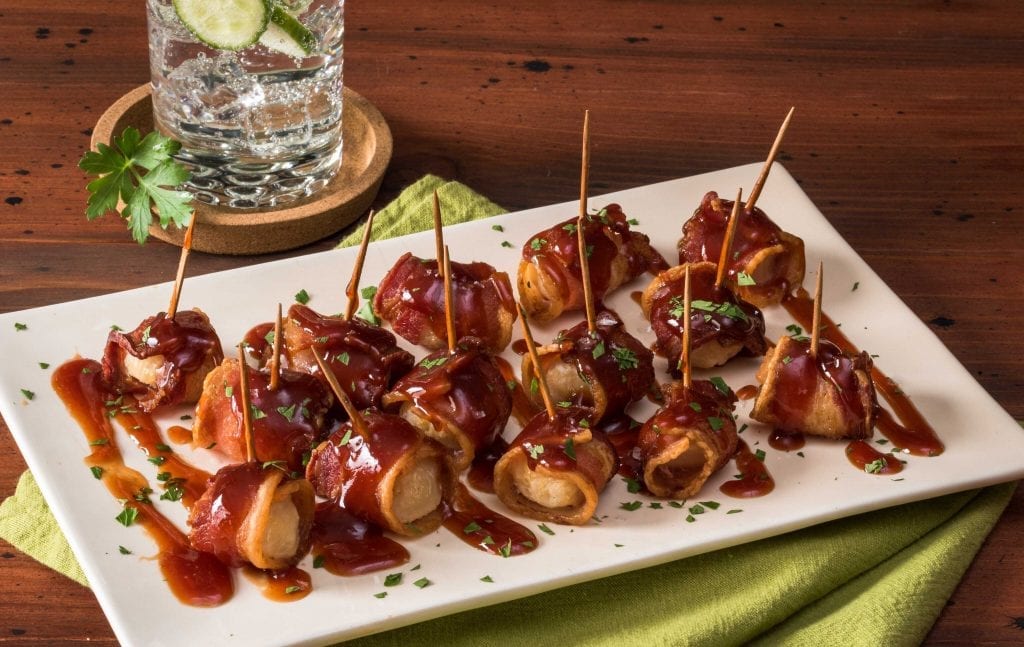 Bacon-Wrapped Water Chestnuts Recipe
How To Make Bacon-Wrapped Water Chestnuts
Enjoy a sweet and savory appetizer with these bacon-wrapped water chestnuts. They are coated in a tasty sauce made of sugar, soy sauce, and vinegar.
Ingredients
16

oz

whole water chestnuts,

(2 cans), drained and rinsed

1½

lb

bacon slices,

cut into thirds

¾

cup

ketchup

⅓

cup

white sugar

⅓

cup

brown sugar

1

tbsp

Worcestershire sauce

2

tbsp

vinegar

1

tbsp

soy sauce

fresh parsley,

chopped, for garnish, optional
Instructions
Wrap bacon around chestnuts, and use a toothpick to hold it in place. You can cut the bigger water chestnuts in half if needed.

Place on a foil-lined baking sheet and bake at 350 degrees F for 20 minutes or until the bacon looks done. Transfer bacon-wrapped water chestnuts to a 9x12-inch cake pan.

Mix the remaining ingredients together in a saucepan, and heat to a boil.

Pour the mixture over the water chestnuts.

Before serving, microwave them or warm them in the oven.

Garnish with fresh parsley if desired. Serve and enjoy!
Recipe Notes
For an air fryer recipe version, simply marinate the chestnuts first in the sauce mixture for up to 1 hour. Then, wrap each water chestnut with the bacon slices and secure with a toothpick. Transfer each bacon-wrapped water chestnut to the air fryer basket and air fry at 390 degrees F for 8 to 10 minutes, turning once halfway through.

You can also make these bacon-wrapped water chestnuts ahead of time. Simply pre-wrap the water chestnuts with bacon the night before, and freeze on a baking sheet. Transfer to an airtight freezer container and store in the freezer for up to 3 months. Make sure to thaw them first before cooking. Finally, create the sauce according to the recipe, and drizzle all over the baked dish.
Nutrition
Sugar:

31g

:

Calcium:

24mg

Calories:

636kcal

Carbohydrates:

42g

Cholesterol:

75mg

Fat:

45g

Fiber:

2g

Iron:

1mg

Potassium:

431mg

Protein:

16g

Saturated Fat:

15g

Sodium:

1200mg

Vitamin A:

196IU

Vitamin C:

2mg
Nutrition Disclaimer
Frequently Asked Questions
What are bacon wrapped water chestnuts called?
These are also known as rumaki or rumaki teriyaki, which is basically an hors d'oeuvre of tiki culture origin. It was a popular appetizer during the 50s and 60s when it was first served at Polynesian restaurants. Traditional rumaki is made with water chestnuts and pieces of chicken liver or duck. These are then wrapped in bacon and served with a teriyaki sauce. It's easier to call our simplified version as "bacon-wrapped water chestnuts" since it doesn't have a chicken liver or duck component.

Are water chestnuts good for you?
Yes, they are very nutritious vegetables. Water chestnuts are high in fiber and vitamins, low in calories, and have no fat. They also contain antioxidants which help in reducing possible health risks such as chronic diseases and conditions. They can also help improve the digestive system and aid in weight loss. More reasons to try other water chestnut recipes!

Do you rinse canned water chestnuts?
Yes, we recommend rinsing your water chestnuts under cool, running water. Cleaning canned water chestnuts beforehand helps remove some of the "canned tin" taste from the vegetables, so that this doesn't affect the flavor of your bacon-wrapped water chestnuts. After rinsing, you can also try soaking the water chestnuts in fresh water with a teaspoon of baking soda for 10 minutes before wrapping with bacon.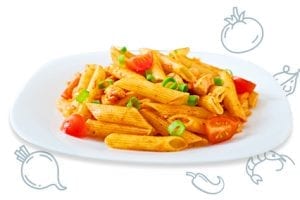 Conclusion
Upgrade your usual appetizers with these deliciously crispy, savory, and sweet bacon-wrapped water chestnuts! Make some in 35 minutes or less with this quick and easy recipe. Enjoy it with other tasty appetizers and dips for a fun and filling meal.