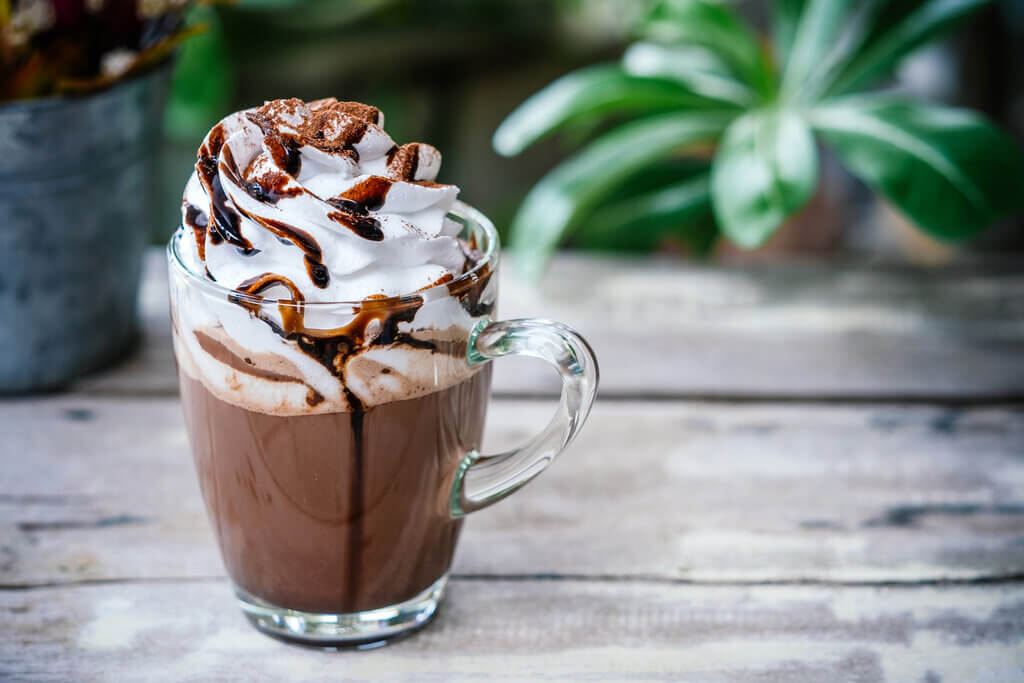 Baileys Hot Chocolate Recipe
This Baileys hot chocolate combines two of life's greatest pleasures: alcohol and chocolate. It's sweet, rich, and creamy with the right amount of punch. A steamy mug of this spiked hot chocolate is just the thing when you need a drink to combat the iciest of evenings. 
On chilly nights, I love to curl up in my pajamas with a movie streaming and a cup of homemade hot chocolate in one hand. Sometimes, though, I love to jazz things up a little by adding alcohol to my steaming chocolate drink. Enter this boozy hot chocolate with Baileys. It's deeply intoxicating, all while stirring up memories of you sipping a chocolate beverage as a child but with a grown-up spin.
The key to this alcoholic hot chocolate is the liqueur. Sure, you can enliven your chocolate beverage with vodka, rum, and whiskey. But I have a penchant for decadent cream liqueurs. Spiked with Baileys Irish cream, my hot chocolate came off tasting even more intense! After all, any drink with a splash of Baileys Irish cream, with its vanilla bean, cocoa powder, and whiskey, is guaranteed to tickle your palate. Baileys' alcohol content might be relatively low, but it can still booze up your drink.
My Baileys hot chocolate recipe, naturally, starts with a cup of hot chocolate. Purchased hot chocolate or a hot chocolate mix will surely make the preparation easier. But perhaps we can all agree that nothing can beat the decadence of a homemade hot chocolate. And if you're a chocoholic like me, you also have the best hot chocolate recipe in your arsenal. My version usually just includes cocoa powder and vanilla extract. You can also whip up a regular hot chocolate drink with water or milk, it's up to you. Although, some say the chocolate flavor shines through if it's purely made with hot water.
The combination of Baileys and hot chocolate is already a dream for every chocolate lover. But I'd be a fool to say no to a Baileys hot chocolate with heavenly whipped cream. This creamy delight melting on top of steaming cocoa already has me so beguiled. Chocolate toppings are also an indulgent addition. There's an array of chocolatey options to zhoosh up your Baileys mixed drink, from chocolate sprinkles and chocolate syrup to cacao powder. You can also add crushed candy canes and marshmallows on top.
Wondering how to make Baileys hot chocolate? Good news! It's actually one the best and easiest Baileys Irish cream recipes I've ever tried. Simple as it is, you can easily make a cup for yourself whenever it's cold outside. When making homemade hot chocolate, simply heat the milk in your microwave or on the stovetop, then add the chocolate or a little cocoa powder. After that, pour your homemade hot chocolate in a mug. Then, just add the required amount of Baileys Irish cream. Garnish your hot chocolate and Baileys drink with desired toppings and serve. See? My adult hot chocolate recipe is that easy!
If you have a bottle of Baileys in your bar cart, you're in luck. There are so many drinks with Baileys that you can prepare without a sweat. I'm particularly enthusiastic about Baileys cocktails. But a boozy hot chocolate with Baileys just hits differently. This decadent alcoholic drink is the perfect partner for cool weather!
How To Make Baileys Hot Chocolate
Jazz up your homemade hot chocolate with a splash of Baileys Irish cream. Then, top with whipped cream or chocolate toppings for a truly decadent drink. It's perfect for cold nights!
Instructions
Prepare the hot cocoa and pour it into a mug. 

Stir in the Baileys® Original Irish Cream.

Top with whipped cream and drizzle with chocolate syrup.

Serve warm, and enjoy!
Recipe Notes
When preparing your homemade hot chocolate, you can also use coconut milk or almond milk.

Feel free to use semi-sweet or dark chocolate chips for your hot chocolate.

For a dairy-free version, use Baileys Almande, a Baileys liqueur made from almond milk. Then, top your Baileys hot chocolate with Coconut whipped cream.
Nutrition
Monounsaturated Fat: 

4.22g
Polyunsaturated Fat: 

0.59g