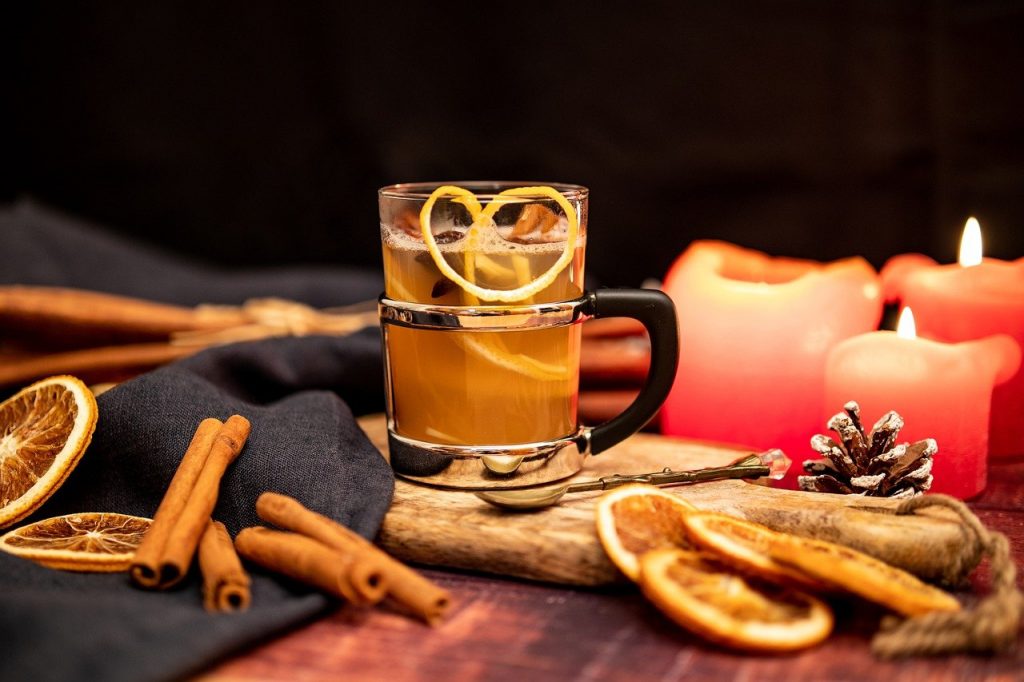 Apple Cider Hot Toddy Recipe
Apple Cider Hot Toddy will warm you right up on a chilly evening! Hot toddy has long been one of my favorites to enjoy come winter nights. You aren't often allowed to drink alcohol and call it "healthy", but the hot toddy might be one exception. This spiked hot beverage is the perfect drink for colds or if you're feeling under the weather. FANTASTIC. And while it's usually made with hot water, liquor, lemon, and honey, I love to tinker around with the ingredients. I tried using hot tea and adding apple cider to the mix, and the result is the BEST hot toddy recipe ever!
My favorite way of making a hot toddy is to mix a good-quality rye whiskey with green tea. Then, I love to add my "secret" ingredient: real apple cider. Basically, apple cider easily transforms hot toddy into a cozy wintertime beverage.
A hot toddy can be made with pretty much any alcohol, including tequila, gin, vodka, or rum. As a nod to the classic hot toddy recipe, I used rye whiskey for my apple cider hot toddy recipe. Feel free to use whichever you think is the best whiskey for your apple cider drink. But don't leave out bourbon from your options. A little sweeter than whiskey, bourbon complements the tartness of apple cider. Don't want a boozy beverage? You can just skip the liquor to make a cozy and non-alcoholic hot toddy with apple cider.
So, how to make apple cider hot toddy? For my version, I just let the tea steep in warm water for a few minutes. Then, I added the whiskey and a splash of apple cider. In my opinion, a squeeze of lemon juice adds a citrusy touch to this hot apple cider cocktail. If you're making a big batch for guests, it's better to make this beverage with your crockpot or slow cooker. They'll hold more drinks and keep the hot toddy as warm as possible during parties.
For more seasonal goodness, I love to garnish my warm apple cider cocktail with lemon slices, a cinnamon stick, and star anise. Happy drinking!
How To Make Apple Cider Hot Toddy
Make your holidays extra special with this apple cider hot toddy recipe. Light and warming, this cocktail will surely be a favorite at your parties.
Ingredients
1 cup water

1 bag green tea, (or black tea)

1½ oz rye whiskey, (or bourbon)

1 oz apple cider

½ lemon, for garnish
Instructions
Bring the water to a simmer and carefully pour it over the tea bag into a standard-sized mug, leaving about an inch of room in the mug for the whiskey and cider.

Let the tea steep for a few minutes, then discard the bag so the tea doesn't get bitter.

Pour in the whiskey or bourbon and a hefty splash of apple cider.

Squeeze in the juice of half a lemon.

Garnish with lemon slices, a cinnamon stick, and a star anise.

Serve and enjoy!
Nutrition
Calories: 

83.94kcal

Fat: 

0.04g

Saturated Fat: 

0.01g

Monounsaturated Fat: 

0.00g

Polyunsaturated Fat: 

0.01g

Carbohydrates: 

3.24g

Fiber: 

0.06g

Sugar: 

2.76g

Protein: 

0.03g

Sodium: 

10.70mg

Calcium: 

9.38mg

Potassium: 

30.03mg

Iron: 

0.04mg

Vitamin C: 

0.26mg