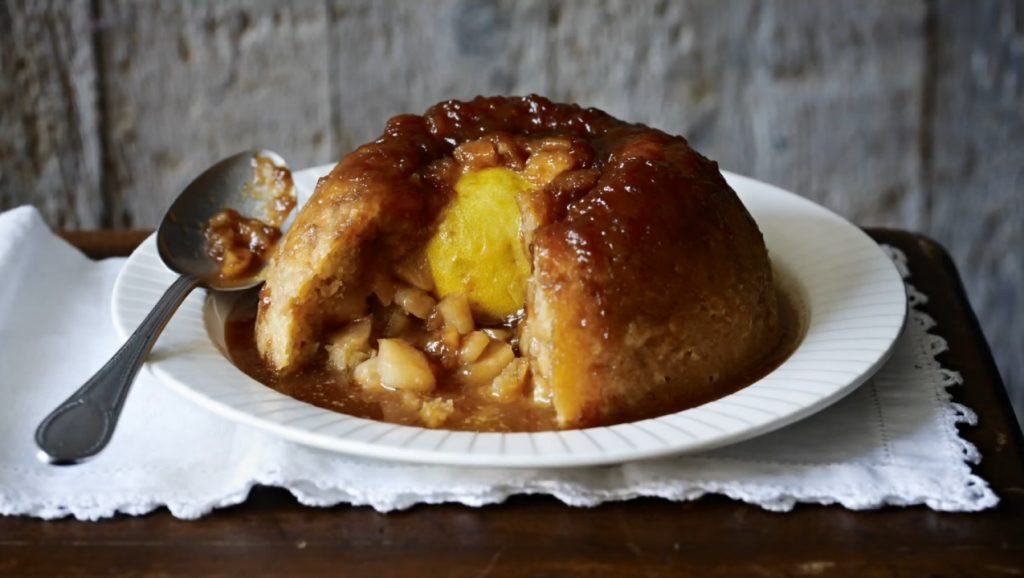 Sussex Pond Pudding Recipe
How To Make Sussex Pond Pudding
This Sussex pond pudding serves a sweet-tangy dessert perfect for tea time! Whip up a tasty serving with just less than 10 ingredients.
Ingredients
250

g

self-raising flour,

plus extra for dusting

1

pinch

salt

1

cup

vegetable suet,

light shredded

3

cups

milk,

semi-skimmed

1

cup

unsalted butter,

chilled and cut into very small pieces, plus extra for greasing

250

g

demerara sugar

1

lemon,

unwaxed
Instructions
Butter a 1.2-liter pudding basin and line the bottom with a circle of baking parchment, then grease the parchment circle.

Sift the flour and salt into a large bowl and add the suet. Mix the milk with 75ml water and stir into the flour mixture to make a soft but not sticky dough. Knead for a few minutes, then break off a quarter of the dough and set aside.

On a lightly floured surface, roll out the remaining dough to a thickness of 1-cm and use to line the basin. Leave an overhanging lip of 3-cm all the way round.

Place ½ the butter and ½ the sugar in the bottom of the pastry-lined basin. Using a skewer, prick the lemon all over and place it in the basin. Cover with the remaining butter and sugar.

Roll out the reserved pastry to a circle to make a lid. Moisten the edges of the overhanging pastry lip and the lid with water. Place the lid on top and bring up the overhanging lip to the edge, pressing firmly together to seal.

Cover the surface with a well-buttered circle of baking parchment, slightly bigger than the top of the basin. Cover with a pleated sheet of foil and secure with kitchen string, making a loop for easy removal.

Place an inverted heatproof plate in the bottom of a large saucepan, and put the basin on it. Pour in enough boiling water to come ⅔ of the way up the sides of the basin. Bring to a boil, then cover with a tight-fitting lid and steam for 3 1⁄2 to 4 hours, topping up the water from time to time, if necessary.

When the pudding has cooked, carefully remove it from the saucepan and leave to cool for 10 minutes. Remove the string, foil, and baking parchment. Place a serving plate over the top of the basin, then up-end it and carefully turn out the pudding onto the plate.

Serve and enjoy.