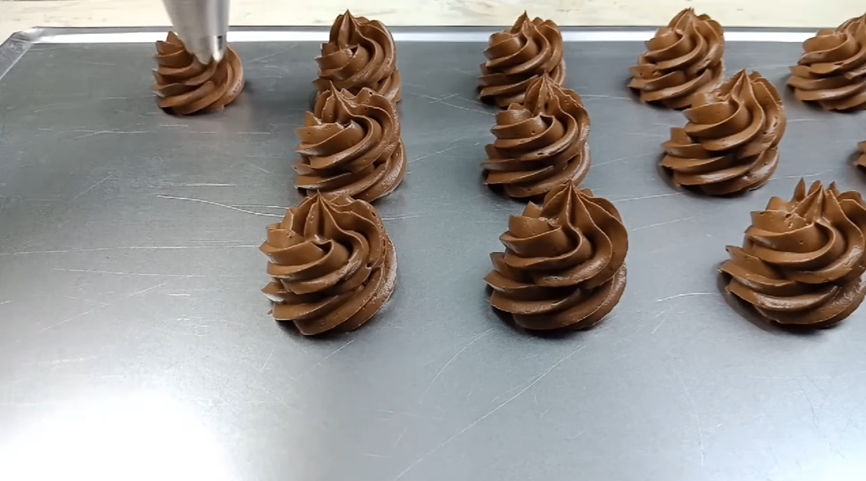 Chocolate Swiss Meringue Buttercream Recipe
How To Make Chocolate Swiss Meringue Buttercream
Silky with the right amount of sweetness, this Swiss meringue buttercream, made with whipped egg whites, bittersweet chocolate, and vanilla.
Ingredients
5

egg whites

1¾

cup

granulated sugar

1½

cup

unsalted butter,

(3 sticks), softened

10

oz

bittersweet chocolate,

melted

1

tsp

vanilla extract

¼

tsp

kosher salt
Instructions
In a medium saucepan set over low heat, add the chopped chocolate, stirring it every 30 to 60 seconds to prevent it from burning and allowing it to melt evenly. This should take about 8 minutes.

In a small saucepan, add the 3 inches of water and set the pan over medium heat. Bring the water to a simmer.

Place the egg whites and sugar in a large metal or glass bowl. Set it over the pan of simmering water. Make sure the bottom of the bowl doesn't come in contact with the water.

Whisk continuously until the sugar has dissolved completely. It will transform from thick and gelatinous to grayish-white and finally thickened white and slightly frothy.

Check to see if the sugar has dissolved by dipping a finger into the egg mixture and rubbing it between a finger and thumb. If it feels smooth and silky, it's ready.

Remove the bowl from the heat and whip the mixture at high speed for 10 to 12 minutes until it has cooled completely. When ready, the mixture will look like marshmallow fluff.

While the mixture is whipping, add the salt and extract.

Add the butter one tablespoon at a time until incorporated. The mixture will look glossy and turn slightly yellow, then fluff up again.

Fold the melted chocolate into the egg white mixture just until incorporated. Then whip it on high for about 3 to 4 more minutes. The mixture should look thick, fluffy, and the whisk will leave lines in it.

Frost cake as desired. Use the back of a spoon to create swoops and swirls, or scoop it into a piping bag for cupcakes or decorative embellishments on the cake.
Nutrition
Calories: 

436.45kcal

Fat: 

30.12g

Saturated Fat: 

18.77g

Trans Fat: 

0.93g

Monounsaturated Fat: 

8.32g

Polyunsaturated Fat: 

1.09g

Carbohydrates: 

44.40g

Fiber: 

1.39g

Sugar: 

42.12g

Protein: 

2.43g

Cholesterol: 

61.01mg

Sodium: 

63.50mg

Calcium: 

15.49mg

Potassium: 

112.08mg

Iron: 

0.77mg

Vitamin A: 

194.09µg