Looking for alcoholic desserts to serve for a fun night with friends? Try this no-bake chocolate rum balls recipe. In this recipe, we combined cream cheese, coffee, and chocolate with rum. Its sweet and strong flavors go well with its round and spongy texture. If you're up for more alcoholic desserts, then you can also enjoy some whiskey chocolate truffles on the side to complete your boozy night out. 
Tips on Making Chocolate Rum Balls
It's easy to make these homemade chocolate balls with rum, but there are a few tips to remember when making them. Making rum balls or rum truffles can be quite tricky especially if you're not familiar with its resulting texture. You might also have a hard time choosing which kind of rum to get. That's why we listed some wonderful tips below to guide you through the process of making this delicious alcoholic dessert.
Choose either a gold or dark rum

for a more flavorful and richer taste. Depending on your preference, you can even use a rum with higher alcohol content. You can even choose a spiced rum that goes well with vanilla wafers as a coating. 

Add butter to prevent dryness.

If your mixture is too dry, add just a small amount of melted butter so that it can retain its round shape.

Try adding desiccated coconut

into the mix. You can try making a variety of flavors with these chocolate balls. Experiment with desiccated coconut or coconut flakes as a coating to make deliciously flavored coconut rum balls that are sugar-free. 

Use a rolling pin to crush cookies

. If you don't have a food processor, then you can use a rolling pin instead to easily crush the cookies. Place cookies on a flat surface, and roll back and forth until you get fine and crushed crumbs. 

Chill the chocolate rum balls before coating

to prevent the dough mixture from sticking on your hands or gloves. 

Double coat the chocolate rum balls

with confectioner sugar. Since confectioner sugar has a very light and fine texture, you would need to double coat or recoat your rum balls so that it sticks well.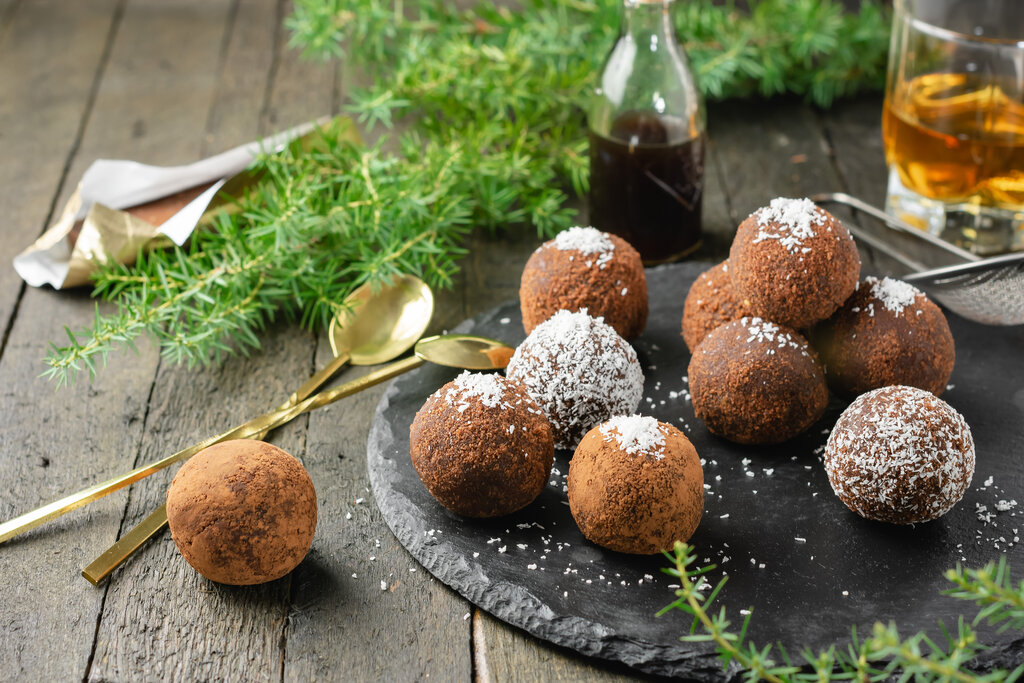 Chocolate Rum Balls Recipe
Chocolate Rum Balls Recipe
Enjoy a boozy night out with a quick and easy chocolate rum balls appetizer. These chocolate-covered rum balls have a rich and strong taste that goes well with other fun party snacks. It's served best when chilled.
Ingredients
1

shot

rum

1

tsp

instant coffee

4

oz

cream cheese

1

cup

almond flour

1

cup

confectioners' sugar

1

cup

melted chocolate

1

cup

crushed cookies
Instructions
Dissolve the coffee in rum, then set aside.

Using a mixer, soften the cream cheese at a slow speed.

Add in the flour and the confectioners' sugar, then pour in the rum mixture.

Melt the chocolate in the microwave and add it to the mixer.

Mix all ingredients thoroughly and refrigerate for at least an hour.

Using an ice cream scoop, start shaping the chocolate into balls.

Spread out crushed cookies on a plate or baking sheet.

Roll the chocolate rum balls in the crushed cookies and thoroughly coat.

Serve and enjoy!
Nutrition
Sugar:

8g

:

Calcium:

35mg

Calories:

292kcal

Carbohydrates:

28g

Cholesterol:

29mg

Fat:

17g

Fiber:

1g

Iron:

1mg

Potassium:

71mg

Protein:

4g

Saturated Fat:

6g

Sodium:

267mg

Vitamin A:

288IU
Nutrition Disclaimer
Commonly Asked Questions
Can you get drunk from rum balls?
Yes and no. It really depends on the amount of rum you add into the recipe, and how long it's been chilling in the refrigerator. Chocolate rum balls tend to develop an even stronger taste after it's chilled. This is because the rum in the recipe takes a while to fully absorb the other ingredients. The taste gets stronger and richer, which will possibly make you drunk.

How long can you store rum balls?
These chocolate rum balls can last for about two weeks inside the refrigerator, and up to two months in the freezer. Rum balls are best served when they are chilled so it's ideal to keep them inside the fridge. If you choose to freeze them, remember to thaw first at room temperature inside a container for about 4 hours before serving.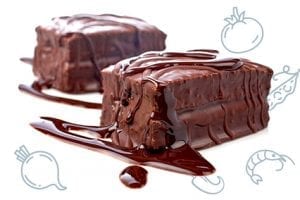 Conclusion
This quick and easy chocolate rum balls recipe lets you enjoy a boozy dessert that's both sweet and rich in flavor. Enjoy these firm yet chewy chocolate rum balls during the holiday season with other delicious party snacks and even more drinks on the side.