Enjoy spooking the kids with this fun and creative pumpkin-shaped cake! It's not just any ordinary cake with pumpkin flavorings. The pumpkin-like design of this Halloween cake will surely impress your guests. Our pumpkin cake recipe is a twist on the usual spine-chilling cakes, plus you can have fun making it with the kids!
But our Halloween bundt cake isn't the only delicious cake dish you can try out for your scary gatherings. There are so many ways to make your Halloween cake, and we have the perfect recipes for them. For another cake like this, try our spooky Jack-O-Lantern Cake! And for a more dark, but flavorful taste – our luscious Black Magic Cake is here to serve some chocolate-goodness.
Now that we've mentioned some pretty sick Halloween cakes, let's dive into making this tasty Halloween classic!
A Wicked Halloween Pumpkin Cake
It's unclear how the pumpkin-shaped cake became a popular Halloween dessert, but it's a genius idea. Our cake might not be pumpkin flavored but it imitates the usual Halloween Jack-O-Lanterns for a scarier effect to the tasteful cake. They're then finished off with some Halloween cake decorations before serving.
There's no right or wrong way to make a Halloween pumpkin cake. It all depends on how you wish to add your own touch of spooky designs to it. But if you ever need a guiding hand, here's how to make pumpkin cake to start you off.  You don't only get to enjoy the delicious taste of this dessert, but you also get yummy candies laid outside to imitate the pumpkin "puking".
READ ALSO: 29 Fun Halloween Dinner Ideas For A Spooky Celebration
Tips On How To Make A Halloween Pumpkin Cake
Our recipe for pumpkin cake is going to be a classic favorite that we know everyone will love! Many bakers go through the trouble of carving their cakes to look like a pumpkin. But our pumpkin bundt cake lessens the carving job for you. Bake your cakes in a bundt pan for easier assembly and to get the detailed ridges from actual pumpkins.
The best part about our bundt cake recipe is that you have free reign on the cake flavor. A lot of recipes call for using a pumpkin cake mix to stay on theme with the flavor and look. But we say that you can stray from that and use a flavor of your choice. You can take a look at our CAQ section down below, for flavor recommendations that work brilliantly with our recipe.
To make your Halloween cake even more flavorful, don't forget to mix and match candies! Each piece should be coming out of the cake to imitate the "puking" part. For that, we've used red fruit roll-ups for the tongue and did some mixtures of gummy worms and cake crumbles for the vomit. But you can absolutely customize your Halloween cake decorations to your liking.
This recipe is so versatile, from the cake flavors down to the decorations. Try using red velvet, chocolate, or even pumpkin for your batter. And for decorations, feel free to toss in some spider gummies, bone candies, black M&Ms, or any of your favorite Halloween candies. Have fun making it, or gather the kids around to help assemble this icky-looking cake!
You must be craving for a treat with actual pumpkin in the ingredients after this recipe. So go ahead and check out our Pumpkin Dump Cake Recipe made in a crockpot! For something more filling, our rich Pumpkin Pound Cake Recipe makes the perfect afternoon tea treat.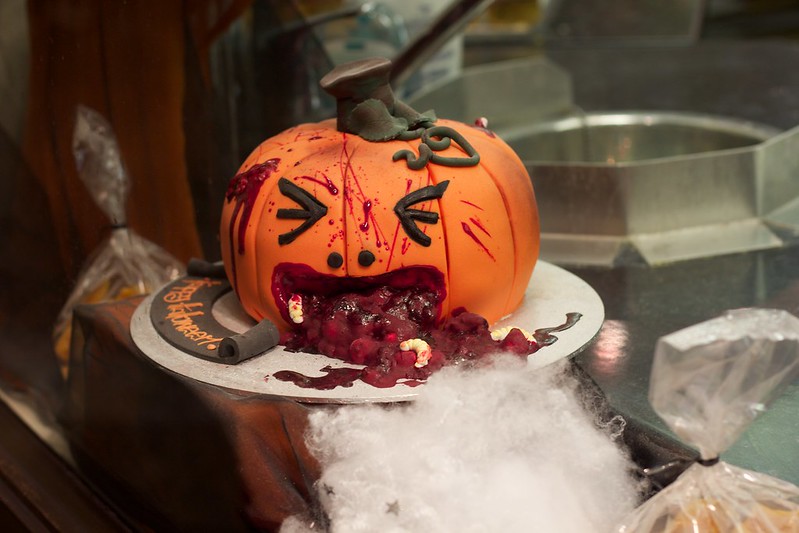 Joel Pan | Flickr
Joel Pan | Flickr
How To Make Pukin' Pumpkin Cake
A moist and tasteful pumpkin cake recipe paired with chewy gummy worms and candies! This chilling puking cake is sure to be the center-piece of your snacks table this Halloween.
Ingredients
2

boxes

cake mix,

preferably spice flavor

32

oz

white icing,

(2 cans)

4

drops

orange food coloring

green food coloring,

few drops

4.25

oz

black icing,

(1 tube)

assorted gummy worms, gummy bugs, or candy corn,

(1 package), for decoration

1

ice cream cone

fruit roll up,

(1 package), red for mouth

2

googly eyes candy
Instructions
Bake the cake mixes in a bundt pan according to box directions.

Add the drops of orange food coloring onto the white icing. Save a tablespoon or so of uncolored white icing.

Coat the whole cake with the orange icing.

Add drops of green food coloring onto the reserved white icing.

To create the "stem" of your pumpkin, coat the ice cream cone with the green icing. Then place the iced cone on top of the cake.

Once assembled, cut a circle out for the mouth, then cover with either fondant or some fruit roll-ups.

Shape the red fruit roll-up into the mouth to make it look like a tongue sticking out.

For the

Attach the googly eyes candy onto the face of the cake. Then outline the eyes with some black icing.

Decorate and add more details to your liking, then serve!
Recipe Notes
If you baked your cakes on two bundt pans, simply cut off the domed part of one of the cakes to have a flat surface. To hold the second cake on top of the cut cake, simply ice the flat surface before topping it with your second cake flat part down.

If you don't have any googly eyes on hand, you can use your blacking icing to imitate spooky-looking eyes.
Nutrition
Sugar:

48g

:

Calcium:

2mg

Calories:

317kcal

Carbohydrates:

52g

Fat:

12g

Iron:

1mg

Potassium:

26mg

Protein:

1g

Saturated Fat:

2g

Sodium:

140mg
Nutrition Disclaimer
Commonly Asked Questions
What kind of cake flavors work for this recipe?
You can easily go for a pumpkin-flavored cake mix to get a truly spiced dessert! Another flavor to go with is plain vanilla, then use a few drops of orange food coloring to imitate the orange inside of a pumpkin. For something to contrast the sweetness of the icing, a dark chocolate cake mix will work amazingly.
What candies should I use for this cake?
We highly recommend using gummy worms or any gummy bugs, which can all be found in many grocery stores. You can also try your hand on making some homemade gummy worms if you have some time! A few other candies you can mix in are Whopper candies, M&Ms or any crunchy candies for added texture.
How do I store my pumpkin cake?
Do not store your cake in the fridge so it will not go stale! Instead, store your cake at room temperature. To do this, place your finished cake on a plate and cover it with an acrylic cake lid. This can last for up to three days covered on your counter, away from any sunlight or heat. You can store the candies within the covered plate, or store them separately in a container in the fridge or leave it in your counter at room temperature.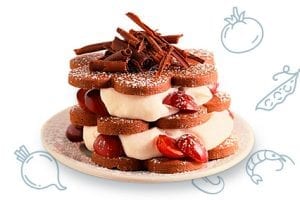 Conclusion
Petrify your Halloween guests with this icky, pukin' cake that's shaped like a pumpkin! After the initial shock of its puking aesthetic, the crowd will love the amazing combo of cake and candy. Thrive off that sugar high and enjoy this cake with our
Wormy Swamp Punch
for a complete Halloween treat.