Halloween is one of the most awaited events of the year. Many people look forward to wearing their spooky costumes, kids can't wait to go trick-or-treating, and, of course, the spooky treats served in Halloween parties! Included in our list of incredible Halloween treats are Jack-o-Lantern bundt cakes. This bundt cake recipe not only do they look spooky, but they are amazingly delicious that everyone will enjoy!
In this recipe, we'll be making pumpkin bundt cakes that will be your classic Halloween staple. It's similar to our Pumpkin-Pecan Bundt Cake Recipe only it's spookier and cuter since we're baking it in mini bundt pans. This bundt cake recipe is full of flavor and fun to make! It will surely be the star of your party.
All About Bundt Cake Recipes
To make a bundt cake we simply bake it using a bundt pan. A bundt cake pan usually has fluted sides and a tube in the center, giving the cake's distinct shape that resembles a doughnut. Although the shape is inspired by Gugelhupf, a traditional European cake, you can find bundt cake recipes that use different flavors, from chocolate to pumpkin spice. We also made a Limoncello Bundt Cake that has a perfect balance of flavors between sour and sweet, and it's definitely a must-try!
This particular shape makes a pumpkin bundt cake the perfect option in making Jack-o-Lantern cake. It makes it easier to make your cake look like a pumpkin-shape lantern without spending time carving a regular layered cake. You can also use the frosting to make Halloween cake decorations into your Jack-o-Lantern bundt cake to make it look spooky.
Making Your Halloween Dessert: Jack-o-Lantern Bundt Cake
Making Jack-o-Lantern bundt cake is like making regular cakes. But instead of using regular cake pans, you will use a bundt cake pan. You can use a large bundt cake pan for a big Jack-o-Lantern bundt cake. Since we love mini bundt cake recipes, we use two mini bundt pans with six mini bundt molds. We'll have cute little Jack-o-Lantern cakes on our table.
In this recipe, we're using a yellow cake mix for ease and flavor. Feel free to use other mixes, like white cake mix or devil's food mix, depending on what you prefer or you can make it from scratch! Remember to make sure your bundt cakes have completely cooled off before you start frosting. Otherwise, the frosting will melt and will be hard to work with.
When making bundt cakes, measuring the flour correctly is crucial. This is a common mistake among home bakers who tend to add more, especially when they use a measuring cup to scoop the flour. The best weight to measure flour is by using a scale. It helps you measure the ingredient accurately. In case you don't have a scale, fluff your flour using a spoon and sprinkle it into the measuring cup. Use the back of a knife to level it off.
While waiting for the cakes to bake and cool down, start working with the frosting. For this recipe, we're using vanilla cans but homemade frosting, of course, is a better option. If you're making your own frosting, go for Swiss meringue buttercream. It's so soft and fluffy, making it perfect for frosting. Italian meringue buttercream is also a great alternative but it requires extra work. Color your frosting orange and green using food colors to make our cakes look like pumpkins.
Fill the hole in the middle of your bundt cake with candies and other treats to create a surprise center. What's Halloween without the candies and chocolate bars, right? The kids will definitely feel excited to cut through it!
How to Frost A Bundt Cake
When your bundt cakes are completely cooled, you can start frosting and decorating!
Due to its shape, frosting bundt cakes can be a tedious process. There are several ways you can do it. For example, you start by crumb coating it. This is a technique where you apply a thin layer of frosting to the cake, then place it in the fridge to firm up the frosting. It helps lock in crumbs, giving you a smooth surface to work on when applying the rest of the frosting.
Another way of frosting your bundt cakes is by pouring the frosting over the cake until it's fully covered, just like what we did in this recipe. Once your cakes are covered with frosting, you can now decorate them. You can use candies and chocolates to add details to your Jack-o-Lantern bundt cake. You can use your leftover frosting to make your cake look spooky, like drawing eyes and mouth on the cake or by making green vines around it.
If you want to go all out and want to make your Jack-o-Lantern bundt cake extra scary, carve a circle at the front-facing side of the pumpkin to create a mouth. Cut a red fruit roll-up and stick it in the mouth to create a tongue. Add some cake crumbs and gummy worms in front of the mouth like what we did for our Pukin' Pumpkin Cake recipe.
Now that you have the idea on how to make Jack-o-Lantern cakes, here is a step-by-step guide you can follow when you make your own bundt cake for your next Halloween party.
How to Make Jack-o-Lantern Cake
This Jack-o-Lantern bundt cake is the perfect treat for a spooky Halloween party. This pumpkin bundt cake doesn't only look terrifying, but it also tastes delicious that kids and adults alike will surely enjoy!
Ingredients
For Cake:
18.25

oz

yellow cake mix,

(1 package)

1

cup

pumpkin puree

4

eggs

⅓

cup

oil

1

tsp

pumpkin pie spice

½

cup

water

11.18

oz

Snickers Fun Size Bars,

(1 bag, pack of 6)
For Frosting:
32

oz

vanilla frosting,

cans

orange food coloring

green food coloring
For Cake Decorations:
10

oz

M&M'S Milk Chocolate Candies,

(1 bag, perferrably Pumpkin Pie Flavor or Halloween Ghoul's Mix)

0.68

oz

tube black decorating gel

10.83

oz

Twix Fun Size Bars,

(1 bag)
Instructions
Cake:
Preheat oven to 350 degrees F.

Grease and flour 2 mini Bundt pans (each with 6 mini Bundt molds). Set aside.

Combine the cake mix, pumpkin puree, eggs, oil, water, and pumpkin pie spice in a large bowl.

Beat until the mixture for about 2 minutes until it becomes thick. Divide the batter evenly between the mini Bundt pans.

Chop 1 cup Snickers bars and sprinkle on top of batter.

Bake for 20 to 27 minutes until golden, or toothpick inserted in center comes out clean.

Remove from oven, transfer to wire rack and let cool for 10 minutes.

Invert. Let cool completely and then remove from pan.
Frosting:
Meanwhile, tint ½ cup of frosting with green food coloring, spoon into resealable plastic bag, and set aside.

Tint remaining frosting with bright orange food coloring.

Spoon ¼ cup orange frosting into resealable plastic bag and set aside.

Stack 2 cakes together (bottom to bottom) resembling a pumpkin shape.

If necessary, trim bottoms so they are flat.

Place stacked cakes on wire rack set over sheet pan.

Heat the orange frosting in the microwave for about 1 minute until it's thin enough to be poured, stirring well every 10 seconds.

Pour frosting evenly over cakes, covering completely. You can use a small knife or spatula to cover cover the sides with frosting.

Scrape up excess frosting and remember to reheat and reuse if needed.

Refrigerate cakes for about 1 hour, until the frosting sets.

Transfer the cakes into a serving platter.
Cake Decorations:
Snip a small corner from plastic bags of tinted frosting. Pipe green frosting vines on top of the cakes and orange frosting dots to attach the M&M's.

Pipe eyes, nose and mouth with black decorating gel.

Trim 6 Twix bars and insert at tops of cakes for stems.
Recipe Notes
Use jumbo cupcake pans if you don't have mini Bundt cake pans. This recipe will yield 12 cupcakes.
Nutrition
Calcium:

96mg

Calories:

776kcal

Carbohydrates:

102g

Cholesterol:

63mg

Fat:

38g

Fiber:

2g

Iron:

1mg

Potassium:

221mg

Protein:

6g

Saturated Fat:

14g

Sodium:

291mg

Sugar:

89g

Vitamin A:

3369IU

Vitamin C:

1mg
Nutrition Disclaimer
Commonly Asked Questions
How to get the cake out of the pan?
One of the problems home bakers encounter when baking bundt cakes is taking them out of the pan easily. You can avoid this by greasing your pan using butter or non-stick spray before adding the batter. If the pans are not properly greased, the cake will stick to the pan and it will be difficult to remove without breaking them up. You can also dust the pans with little flour. It helps release the cake from the pan easily.

How can I store my bundt cake?
If you're planning to make the cake a day before the party, you can store the cake uncut at room temperature covered with a plastic lid. You can also store it in a cardboard box to keep the design intact. Once you've cut your cake, however, you need to cover the exposed areas with plastic wrap to prevent them from drying out.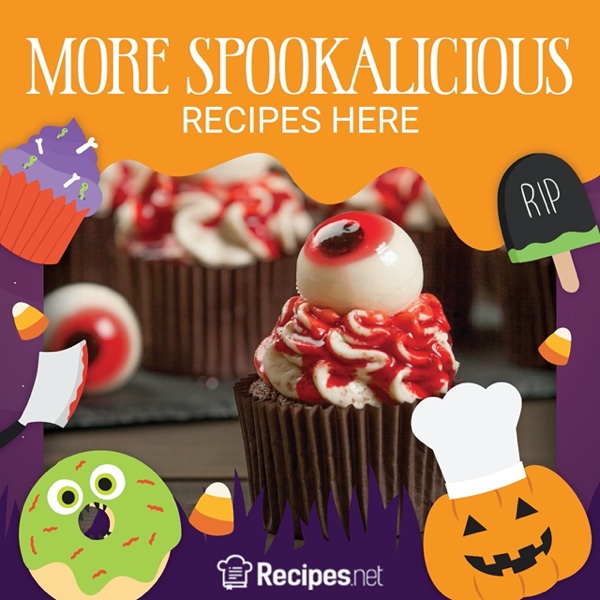 Conclusion
Jack-o-Lantern bundt cake is a delicious and spooky cute dessert to serve at your next Halloween party. These mini bundt cakes will surely please all your guests, especially the kids! It's easy and fun to make and you get to be creative with the design. The cake is perfectly spiced covered with sweet frosting and lots of candies.