I had the pleasure of making these delicious dessert bars for my kid's birthday party. And let me tell you: they were a hit with the crowd, especially with the adults. Each piece of these hello dolly bars did not go to waste. That's why I'm sharing my hello dolly bars recipe so that you can also enjoy its sweet, nutty flavors with a hint of coconut. You can make a whole batch of these in just under an hour!
These hello dollies are known by a lot of names. They're also known as magic bars, magic cookie bars, seven layer bars, or hello dolly cookies. What I do know about its original name is that it's a reference to the 1969 Broadway musical, "Hello, Dolly!" These hello dollies were created during the musical's popularity. Eventually, the name evolved, but the recipe stayed the same (or as close to the original as it can get, I'll get to this later!). 
These dessert bars are assembled in seven layers. The last layer, which is the sweetened condensed milk, is the highlight of the whole dessert since it binds all of the ingredients together. It also gives the dessert bars a slightly gooey texture. I started off with melting the butter on a baking dish, and then sprinkling a lot of graham cracker crumbs on top of it. 
Now comes the fun part. You can either follow the original recipe or make fun variations! Try switching up some of the ingredients. Instead of butterscotch chips, you can use peanut butter chips. Feel free to replace chopped walnuts with pecans, or semi sweet chocolate chips with white chocolate chips. When you're done choosing, layer these out and then top with shredded sweetened coconut and condensed milk. 
Transfer the assembled dessert in the oven, bake it, and then you're done! Enjoy these tasty chunky hello dolly bars while they're warm. It's a delicious dessert that's oozing with chocolate chips, butterscotch chips, and sweetened condensed milk with the shredded coconut and chopped nuts giving you that extra subtle crunch!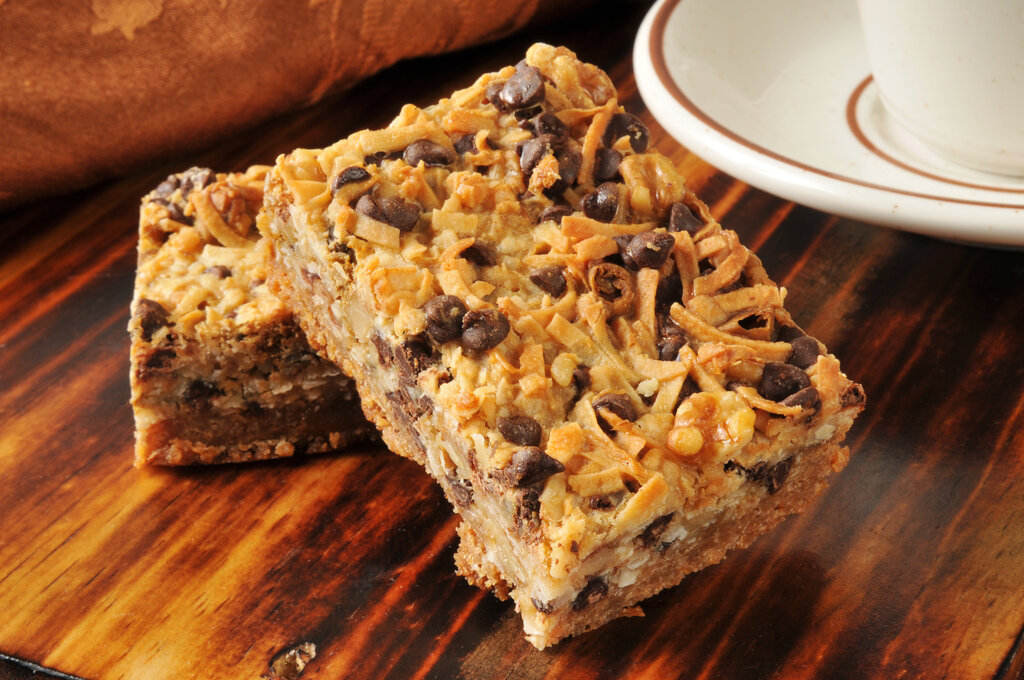 Hello Dolly Bars Recipe
How To Make Hello Dolly Bars
These Hello Dolly Bars are gooey sweet treats overflowing with condensed milk, walnuts, chocolate chips, shredded coconut, and feature a graham cracker crust base.
Ingredients
½

cup

butter,

(1 stick)

1¼

cups

graham crackers,

(about 7 pieces) finely crushed

1

cup

walnuts,

chopped, (or pecans)

1

cup

semi sweet chocolate chips,

(or white chocolate chips)

1

cup

butterscotch chips,

(or peanut butter chips)

1

cup

coconut,

shredded

14

oz

sweetened condensed milk,

(1 can)
Instructions
Preheat oven to 350 degrees F. Place the butter in an 8x8-inch square glass baking dish and set it in the oven to let the butter melt for about 5 minutes.

Carefully take the hot dish out of the oven and sprinkle the graham cracker crumbs evenly over the melted butter. Then layer, in order, the nuts, chocolate chips, butterscotch chips, and coconut.

Pour the milk slowly, and evenly over the top. Bake for 30 minutes, cool at room temperature, and then cut into bars.

Serve and enjoy!