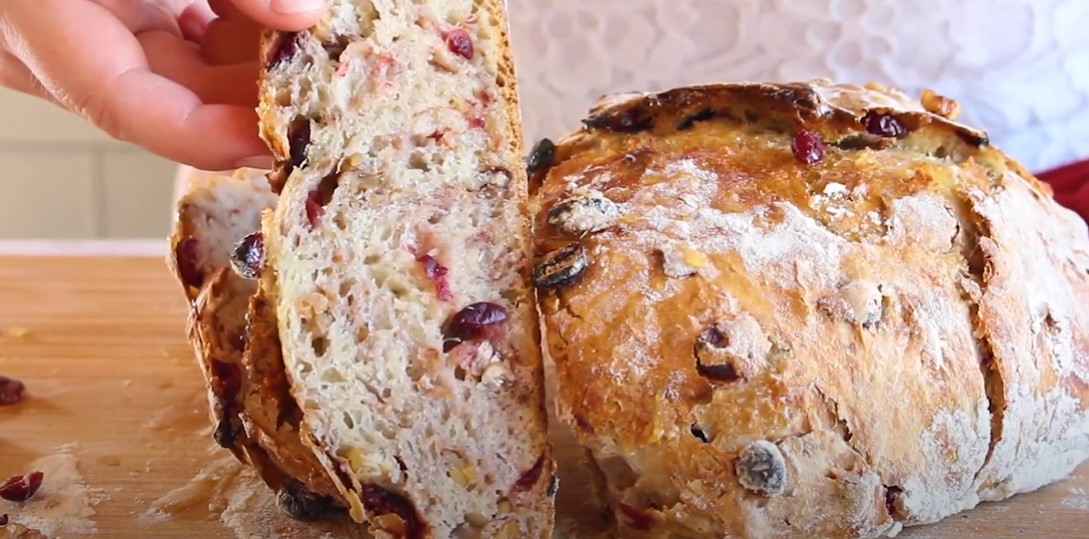 Crusty Cranberry Nut No Knead Bread Recipe
How To Make Crusty Cranberry Nut No Knead Bread
Make a sweet crusty bread with none of the hard work with this delicious no knead bread that's baked with cranberries, honey, and nuts.
Rest Time:
12 hours 30 minutes
Total:
13 hours 25 minutes
Ingredients
3

cups

all purpose flour,

plus 2 tbsp and more for hands, spoon & leveled

2

tsp

coarse sea salt

½

tsp

Red Star Platinum yeast,

(instant yeast)

¾

cup

nuts,

chopped

¾

cup

cranberries,

dried

1

tbsp

honey

1½

cups

warm water,

about 95 degrees F
Instructions
Stir the first 6 ingredients together in a large bowl. (No need to grease). Stir in the warm water. The dough will be pretty sticky– don't add more flour.

Gently shape into a ball. Cover tightly with plastic wrap or aluminum foil. Set on the counter at room temperature and allow to rise for 12- to 8 hours. The dough will double in size, stick to the sides of the bowl, and be covered in air bubbles.

Turn the dough out onto a lightly floured work surface and, using lightly floured hands, shape into a ball.

Transfer dough to a large piece of parchment paper. (Large enough to fit inside your pot and one that is safe under such high heat.)

Using a very sharp knife, gently score an X into the top. Cover dough lightly with plastic wrap and leave alone for 30 minutes.

During this 30 minutes, preheat the oven to 475 degrees F. Place the dutch oven (with the lid) or heavy-duty pot inside for 30 minutes so that it's extremely hot before the dough is placed inside.

After 30 minutes, remove the dutch oven from the oven and carefully place the dough inside by lifting it up with the parchment paper and sticking it all– the parchment paper included– inside the pot. Cover with the lid.

Bake for 25 minutes with the lid on. Carefully remove the lid and continue baking for 8 to 10 more minutes until the bread is golden brown.

Remove pot from the oven, carefully remove the bread from the pot. Allow to cool on the counter for 30 minutes before breaking, slicing, and serving.

Cover and store leftover bread at room temperature for 1 week.
Nutrition
Calories: 

208.36kcal

Fat: 

5.68g

Saturated Fat: 

0.77g

Monounsaturated Fat: 

3.27g

Polyunsaturated Fat: 

1.27g

Carbohydrates: 

34.04g

Fiber: 

2.37g

Sugar: 

2.16g

Protein: 

5.77g

Sodium: 

218.30mg

Calcium: 

14.86mg

Potassium: 

111.53mg

Iron: 

2.16mg

Vitamin A: 

0.35µg

Vitamin C: 

1.15mg