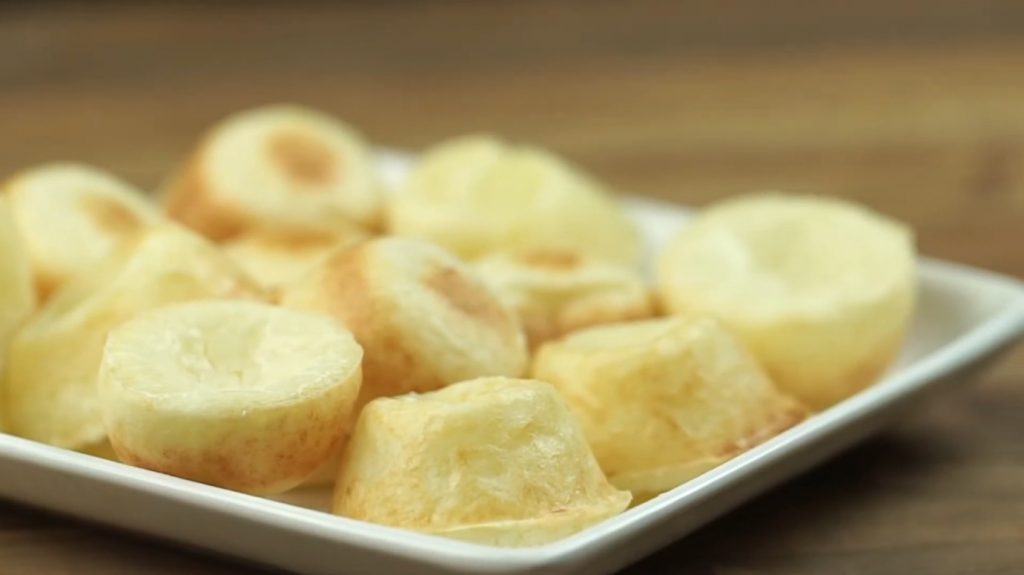 Chao Cheese Recipe
These addicting Chao cheese bread offer puffy and fluffy Brazilian snacks, made with parmesan, tapioca flour, and milk, for a tasty bite.
Ingredients
2

large eggs

½

cup

olive oil

1

cup

whole milk

10

oz

tapioca flour

1½

cups

parmesan cheese,

grated, packed

1

tsp

salt
Instructions
Arrange 2 racks to divide the oven into thirds and heat to 450 degrees F.

Line 2 baking sheets with parchment paper, foil, or a silicone baking mat.

In a medium saucepan over medium-high heat, place the milk, oil, and salt in and bring to a gentle boil over medium heat. Stir occasionally to prevent burning.

When bubbles are forming, remove them from heat.

Add tapioca flour and stir in until completely mixed. The dough will be very heavy and sticky at this point.

Transfer dough to a stand mixer fitted with the paddle attachment.

Beat dough for a few minutes until it is slick and cool to touch.

When the dough is cool enough to hold for a few seconds, beat eggs in 1 at a time, let the mixer incorporate the eggs completely before adding in the next. Scrape down the sides of the bowl if needed.

Beat in the cheese until fully mixed through. The dough will be soft, lumpy, sticky, and consistency between cake and cookie dough.

Using a small ice cream scoop, scoop out small balls and place them on the lined baking sheet.

Place the baking sheets in the oven and immediately reduce the heat to 350 degrees F. Bake for 15 minutes.

Bake for 10 to 15 minutes more until the puffs have puffed, the outsides are dry, and they are just starting to turn golden-brown on the bottoms.

Cool for a few minutes and eat warm. Enjoy!