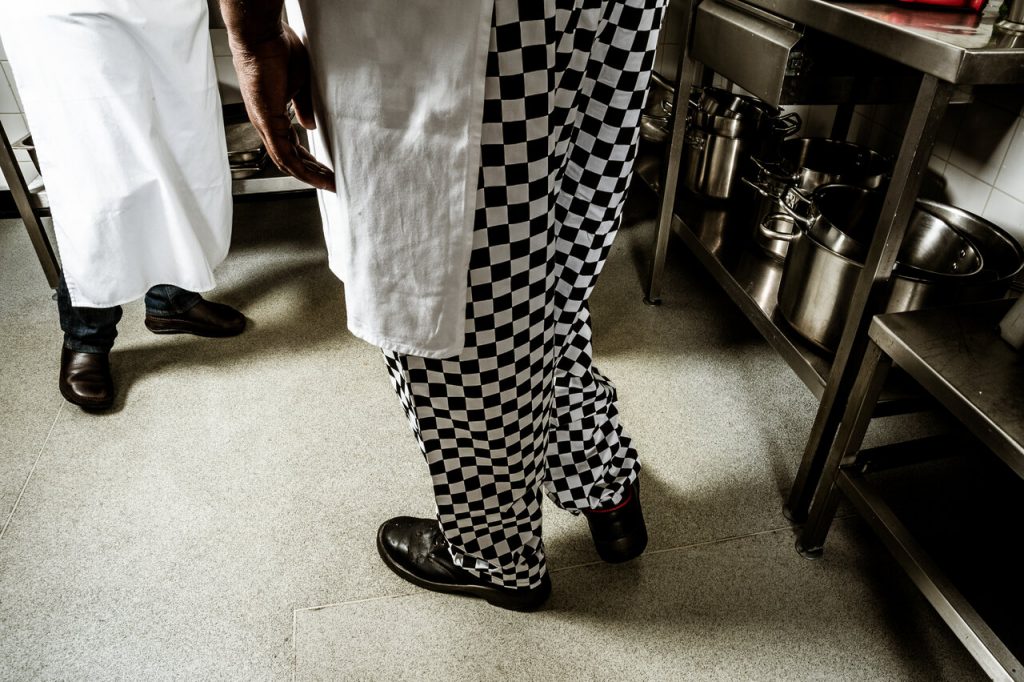 10 Best Kitchen Shoes of 2022
Working in the kitchen is hard. You'll find yourself standing and running all day most of the time. It's also messy, with spills guaranteed here and there. That said, you need to fortify yourself against kitchen warfare! And one thing to do this is by donning a pair of kitchen shoes.
Kitchen shoes are essential. They are as necessary as oven mitts are for bakers. Oil on the floor from frying all day? Water spills everywhere? Standing all day because the restaurant is a full house? These are some typical scenarios one might encounter in the kitchen. And finding the right pair of kitchen shoes will not only provide you protection but comfort as well.
With that, what kitchen shoes should you gift yourself this 2022? After all your hard work, we believe you deserve it. That is why we curated a list of the best kitchen shoe options from which you can choose!
Our Favorite Kitchen Shoes at a Glance
10 Kitchen Shoes for Kitchen Professionals
People tend to overlook their footwear. But aside from the safety standards, wearing appropriate shoes is vital to achieve a pain-free workday and maintain optimum health. However, the use of kitchen shoes does not only apply in professional cooking.
If you are a home cook, you probably spend most of your time working in your kitchen. And though the chaos is not extreme compared to professional cooking, comfort, support, and safety are still important. And wearing proper kitchen shoes that will provide this is also essential for you to create wonderful dishes and for your well-being.
Now, do you want to know the best kitchen shoes to include in your next purchase? We got you covered. Here is a list of the latest kitchen shoes on the market to provide you with comfort and style.
---
What You Should Look For in Kitchen Shoes
First and foremost, we know that finding the best kitchen shoes that will match your taste and lifestyle can be overwhelming. But keep in mind that having the right pair of work shoes is vital in maintaining your work performance and overall health.
It is also critical to ensure not only your safety but as well as the safety of your co-workers. A lot of things are happening simultaneously in a commercial kitchen. Puddles, fire, and hot food can cause a severe accident with even just a slip or fall.
To help you narrow down your choice, you must first know the qualities of kitchen shoes that you should be looking for.
Material and Durability
Remember, no matter their price, durable work shoes will always be an excellent investment. Some example materials used by shoemakers for kitchen shoes are leather, rubber, and polyethylene. These make shoes sturdy, easy to maintain, and clean.
Another thing that you might also need to consider is breathability. Indeed it is vital since you will be running and walking around all day. And it matters, especially if your feet tend to be sweaty.
Comfort and Arch Support
The best kitchen shoes should also have good ankle support. It is to ensure its maximum comfort, something that is best for people on their feet all day. More importantly, working in comfortable shoes will help you maximize your energy and work to the fullest.
Aside from that, choosing a pair of footwear with good arch support will help improve your overall health. Uncomfortable shoes can affect your posture. Poor posture can lead to back pains and decreased energy. Thus, affecting your confidence.
Prolonged use of uncomfortable shoes may also cause foot problems. It can cause stress fraction, foot deformity, and even nerve irritation. With that, opt for shoes that have a foot cushion. Also, take into consideration your foot length and width. It can significantly help you find the best shoe to fit you. You would also want to choose supportive shoes that will take off the pressure on your spine. Thus, making your workday comfortable and more bearable.
Style and Design
Finally, you should also consider the style and design. Indeed, we are what we wear. And we can show our personality even by simply slipping on a pair of shoes.
But aside from aesthetics, it is essential to ensure that your shoes are also comfortable.  Watch out for the product certification that you usually find on the shoe tag. These tags reflect what kind of surface or environment manufacturers tested your shoes. There are shoes tested on soapy tiles (SRA) and stainless steel surfaces (SRB).
We highly suggest that you look for a nonslip design that is also water and oil-resistant. This will help you avoid slipping and sliding on the floors. Furthermore, aside from the hassle of cleaning your work shoes, owning an oil or waterproof one will help you avoid soiled shoes. Nobody wants that, right?
Frequently Asked Questions (FAQs)
How to clean kitchen shoes?
Before cleaning your footwear, you need to check the cleaning instructions provided in the box or on its tag. It will help you identify the process and the cleaning agents you should use in cleaning your shoes.
Owning a pair of the rubber clog ones? There are easy ways to clean them. First, you may clean these using a brush, gentle soap, and a damp rag. Just remember not to let them dry under the sun's direct heat, as it may cause shrinkage. Thus, it can damage your precious footwear.
Now, can you machine wash your clogs? Yes, you may! You can clean your footwear made of plastic and rubber using a washing machine. Just make sure to use the gentle cycle setting to avoid damaging them. However, handwashing them is still highly recommended.
How about shoes made of canvas and other textile materials? You can also clean them using a brush, soap, and water. Then after washing them, let them dry outside. You can also opt to machine wash them. Just make sure that they do not have buckles or any embellishments that are not machine friendly.
How to make shoes nonslip for the kitchen?
Indeed, prioritizing safety over style is highly recommended. That is why buying a nonslip shoe is essential if you are a kitchen worker. Now, let's say you don't have enough budget to purchase one right now. Here are some things that you can do to make your shoe nonslip.
The first method that we can suggest is the scruffing method. Though it may be the cheapest way to solve this issue, note that this method may also damage your shoes. That's because your main goal is to scruff the bottom soles of your footwear. This way, you will increase your shoes' grip, allowing them to create friction as you walk on the floor. How to do it? Walk on a rough surface. You may look for a rough pavement or a pathway with stones. Let the ground scratch your shoes. You can also do this by using a nail file or sandpaper. Scruff the areas of your bottom soles that usually touches the ground.
You can also use traction sprays (if you want something cheaper, others use hairspray). However, we can only recommend this as an alternative since this is non-permanent. Expect its magic to wear off after a few hours, especially if it comes into contact on a wet floor.
Another solution is to purchase grip pads that you can place on the bottom soles of your shoes. These are easy to install, especially since most shoe grip pads are self-adhesive. Just slap them on the bottom soles of your shoes, then you are good to go. It is a more convenient and easy way to solve this slippery problem.