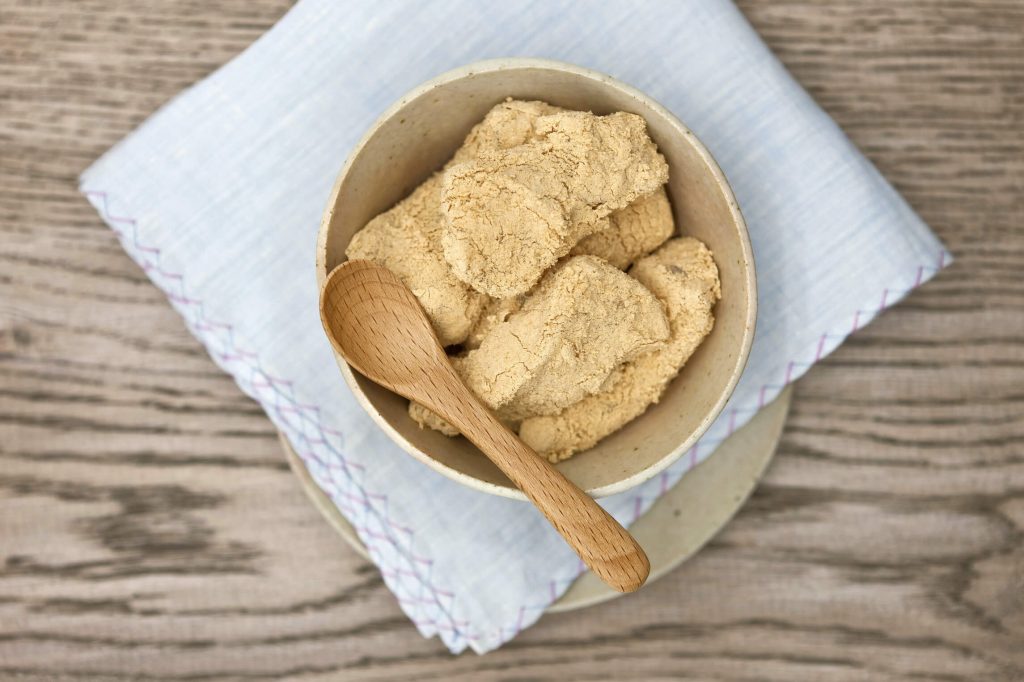 Korean Rice Cake Dessert (Injeolmi) Recipe
How To Make Korean Rice Cake Dessert (Injeolmi)
Try a new vegan and gluten-free snack by making this injeolmi. This is a Korean rice cake with a chewy texture and a nutty flavor.
Ingredients
2

cup

sweet rice flour,

(Mochiko Flour) 2 cups = 300g

2

tbsp

sugar

1

tsp

salt

310

ml

water
For Soybean Powder Coating:
1⁄2

cup

roasted soybean powder,

1/2 cup = 60g, about 2 oz

1⁄2

tsp.

sugar

1⁄8

tsp.

salt
Instructions
On a sheet pan or a brownie pan, coat the bottom of the pan by spreading out the roasted soybean flour with hands.

Sprinkle about 1 teaspoon of sugar and a light sprinkle of salt on top of the soybean flour. Set aside.

In a microwavable bowl, add sweet rice flour (aka mochiko flour), salt and sugar. Mix with a whisk.

Add water to flour mixture and mix with a spatula until everything is well blended and no dry flour exists. Be sure to scrape the bottom of the bowl to mix in all the flour. Even out the top with a spatula and cover with a plastic wrap.

Put the covered bowl in the microwave and cook on High for 2 minutes. Take out the bowl, remove the wrap (be careful of the hot steam).

Using a spatula, mix it so the top layer goes to the bottom and the uncooked mixture comes to the top. Cover with a wrap once again.

Microwave High for 2 minutes again. Uncover, mix and cover with wrap one last time.

Now, microwave High for just 1 minute. Uncover and this time, dip the spatula in cold water and mix a couple of times. Repeat 2 to 3 times. This helps the rice cake not stick to the spatula too much and also cools down the tteok a little bit while adding additional moisture.

Have the soybean flour sheet pan and bowl of cold water ready. Put disposable plastic gloves on. The plastic gloves are not a must but it just makes things easier (not have your hand all covered in tteok).

Form the Injeolmi rice cake into one ball using a spatula (because it will still be too hot for hands) and transfer it over to the center of the sheet pan.

Now, wet the plastic gloves with cold water and quickly press down the rice cake to spread it out. Repeat wetting gloves if it feels too hot or it's sticking.

Press and spread until it covers most of the soybean powder area or until desired thickness.

Cover the top with more soybean powder. Using scissors, cut it into long strips and then each strip into smaller squares or rectangles.

For each cut piece, cover the cut sides with soybean flour so it's fully covered all around. The soybean powder prevents Injeolmi from drying out.

Enjoy with some lovely tea and honey for dipping!
Nutrition
Sugar:

21g

:

Calcium:

16mg

Calories:

373kcal

Carbohydrates:

85g

Fat:

1g

Fiber:

2g

Iron:

1mg

Monounsaturated Fat:

1g

Polyunsaturated Fat:

1g

Potassium:

63mg

Protein:

5g

Saturated Fat:

1g

Sodium:

9182mg
Nutrition Disclaimer