Deviled eggs are essentially boiled eggs cut in half and filled with a creamy paste made from the yolks. It's a tasty appetizer that is served as most parties or dinners.
The term "deviled" dates back to the early 18th century which pertains to food that's either spicy or zesty. This is because the yolk paste uses spices which adds extra zest to cut through the savory eggy taste.
They are usually the go-to dishes after the Easter Holidays when there is an abundance of leftover eggs. It can also be a healthy snack or a fancy party starter at any time of year just as well. For those who are meal prepping, you can whip up a batch of these delicious deviled eggs instead of settling for plain, boring hard-boiled eggs.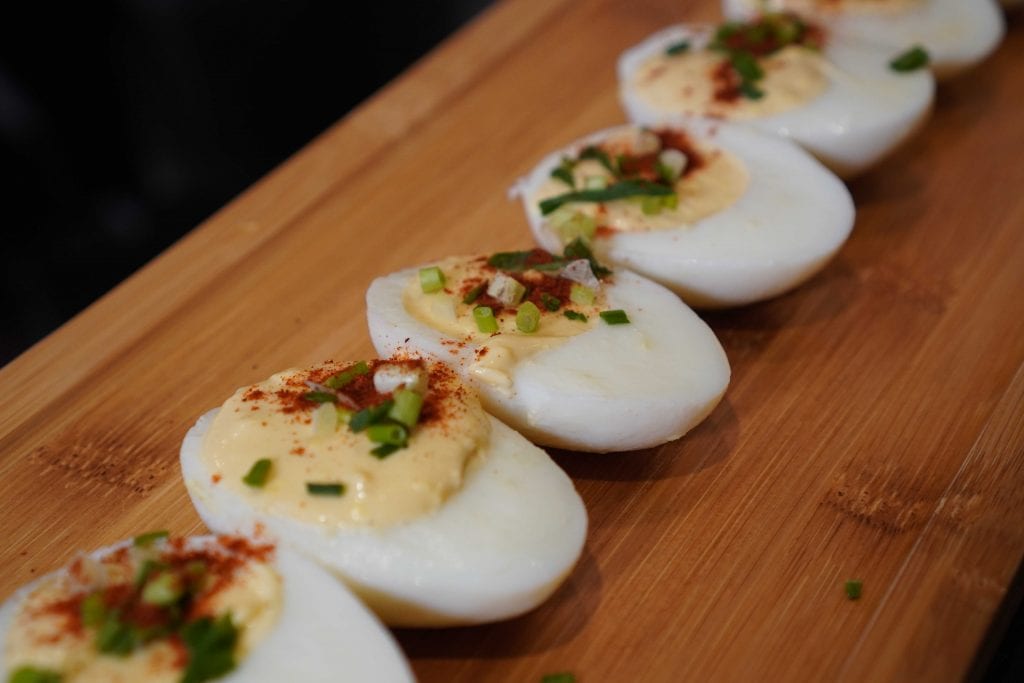 Classic and Easy Deviled Eggs Recipe
How to Make a Classic Deviled Eggs
This classic appetizer is an easy crowdpleaser at any party. They're super easy to make and are a new tasty way to transform your egg dishes.
Ingredients
6

eggs,

large; hard-boiled and peeled

1

tsp

vinegar

1

tsp

dijon mustard

1/4

cup

mayonnaise

Salt and pepper,

to taste

Green onions,

for garnish

Paprika,

for garnish
Instructions
Slice each egg lengthwise. Scoop out the yolk which will be used for filling. Set the whites aside.

In a large mixing bowl, mash the yolks into a fine crumble using a whisk or a fork. Add mayonnaise, vinegar, and mustard in a bowl. Stir the mixture until smooth. Season with salt and pepper.

Now that you have the filling, transfer the mixture to a pastry bag with a 5-inch plain tip. Fill the whites with the mixture and serve on a plate. Garnish with green onions and paprika for presentation.
Recipe Notes
Since we're making classic deviled eggs, we're sticking to the basic ingredients which are mayonnaise and mustard. That said, you can still spice these up by adding almost any ingredient that you like. The list is endless on what you can add — avocados, sausages, shrimp, crabmeat, tomatoes and chopped pickled vegetables are great options.
A secret tip that famous cooking personalities like Julia Child and Martha Stewart recommend putting in your deviled eggs is unsalted butter. Use 2 tbsp per dozen eggs to make the filling stick together better.
Nutrition
Sugar:

1g

:

Calcium:

12mg

Calories:

64kcal

Carbohydrates:

1g

Cholesterol:

84mg

Fat:

6g

Iron:

1mg

Potassium:

30mg

Protein:

3g

Saturated Fat:

1g

Sodium:

66mg

Vitamin A:

119IU
Nutrition Disclaimer
Frequently Asked Questions
What's the best way to cook the eggs?
For the classic deviled eggs, the whites should be tender (not rubbery) and smooth with creamy yolks. To achieve that, place the eggs in a single layer in a pot and fill with water up till an inch above the eggs. Heat on high until the water boils. Remove from heat and leave the pot covered for 12 minutes. Once done, transfer the eggs to a large bowl of ice water. This makes the eggs easy to peel and stops the cooking process. Rinse the peeled eggs under cold water to remove any shell bits then pat dry.
What is the best way to fill deviled eggs?
Using a piping bag allows for more control and you can create a nice swirl design for presentation. If you don't have one on hand, use a regular ziploc bag and cut one of the corners. You can also simply use a spoon to scoop the filling into the egg whites.
How do you avoid lumped deviled egg filling?
If your yolks turned out too well-done, the best way to get a smooth filling is to push the yolks through a fine-mesh sieve. This will produce an even crumb, which means fewer lumps once you've added your other ingredients.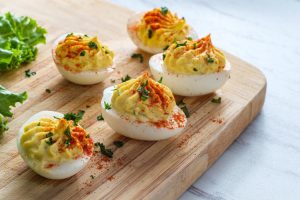 Conclusion
These are one of the times we say you can't go wrong with a classic. This recipe packs a heap of protein for less than 100 calories. Make as many as you need and pop them in the fridge for when you need a quick snack. Alternatively, serve up a plate of classic deviled eggs at a party and they'll be a welcome treat for your guests.